2017 Topps Walking Dead Evolution Trading Cards Checklist, Details
Life comes at you fast when you're in the middle of a zombie apocalypse. Save for a handful of people, you can't really plan ahead for one. So when it happens, things change. You change. That's the focus of 2017 Topps Walking Dead Evolution, a character-driven release that centers on how people have grown over seven seasons.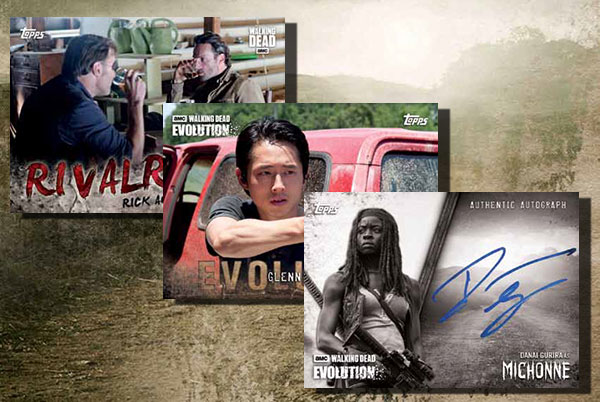 And, no, that doesn't include an insert set dedicated to how Carl's hair has grown over the years.
Each hobby box includes two hits, one of which is guaranteed to be an autograph.
Base Set
The 2017 Topps Walking Dead Evolution base set is comprised of 100 cards. The theme is change. And the characters have been through a lot of them since the show premiered.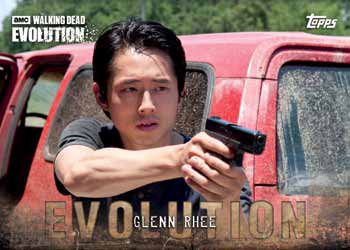 Color-based parallels come in five levels starting with Brown, which are one per pack. Other include Black (/50), Green (/25), Black and White (/10), and Blood Red (1/1). Base cards also have one-of-one Printing Plates.
This isn't the first time that the Evolution theme has been used for a Topps entertainment product. Since 2001, there have been three separate Star Wars sets under the banner. The most recent came out in 2016.
Autographs and Premium Inserts
Autograph signers cover actors from seven seasons worth of The Walking Dead. Parallels come in the same levels as base cards: Brown (/99), Black (/50), Green (/25), Black and White (/10), Printing Plates (1/1), and Blood Red (1/1).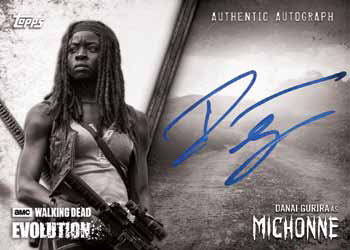 Dual and Triple Autographs are also randomly inserted, both with Blood (1/1) versions in addition to the regular cards.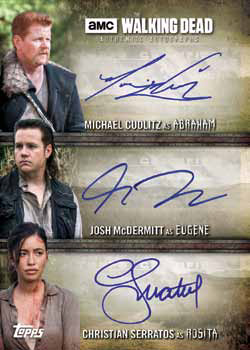 Costume Relics include swatches from wardrobe pieces used in the show's filming. These have the same parallels as Autographs, except there are no Printing Plates.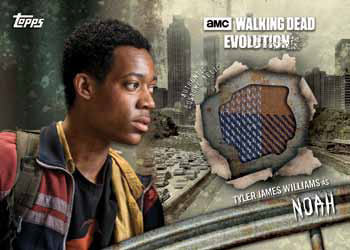 Dual, Triple and Autographed Relics are all numbered to just 10 plus one-of-one Blood parallels.
Sketch cards focus on characters and are not limited to any particular season. Rather the entire series, thus far, is in play.
Inserts
Rounding out 2017 Topps Walking Dead Evolution are four regular insert sets: No Safe Haven, Adversaries, Weapons and Walkers.
The have parallels much like base cards. The only difference is that the Brown cards are numbered to 99 copies instead of being one per pack.
2017 Topps Walking Dead Evolution trading cards at a glance:
Packs per box: 24
Cards per pack: 8
Boxes per case: 8
Set size: 100 cards
Release date: November 29, 2017
What to expect in a hobby box:
• Autographs – 1
• Additional Autographs, Sketch Cards or Relics – 1
• Inserts – 24
• Parallels – 24
2017 Topps Walking Dead Evolution Checklist
Base
Autographs
Memorabilia
Inserts
Comments? Questions? Contact Ryan Cracknell on Twitter @tradercracks or by email.