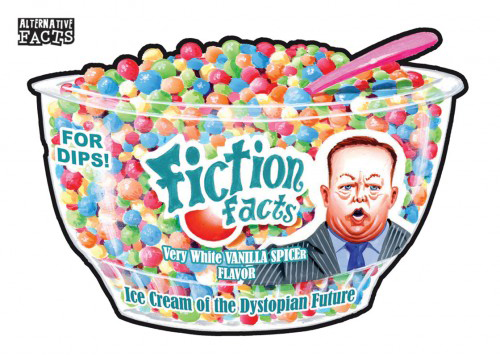 By Ryan Cracknell | Hobby Editor
Alternative facts are not just something you'd expect to read about in a George Orwell. They're already inspired a set of trading cards. 2017 Topps Wacky Packages Alternative Facts add a little more spin and satire to some of the controversial perspectives coming from the White House.
Like the current GPK Trumpocracy and Twitster sets, as well as the earlier DisgRace to the White House, 2017 Topps Wacky Packages Alternative Facts cards are online exclusives. While they available individually, they can also be found bundled with other cards from similar sets sold on the same day.
Cards are offered for 24 hours. After that, it's the secondary market. Only those ordered are printed with Topps putting out the print runs shortly after the sales window closes.
2017 Topps Wacky Packages Alternative Facts Checklist
Print runs and release dates are also noted. New cards will be added as they're announced.
Missed a card? Click on the links to see what's available on eBay.
1 Alternative Tally Counter (January 24) – 354
2 Big Lee Pumpkin Lie Pie (January 25) – 247
3 Fiction Facts (January 25) – 258
4 Lies Potato Chips (February 1) – 288
5 Swedish Fist (February 22)
Comments? Questions? Contact Ryan Cracknell on Twitter @tradercracks.