2017 Topps Twitster Trading Cards Checklist, Print Runs and Details
Donald Trump's Twitter posts have become a source for much news and controversy — enough to inspire a set of satirical trading cards, 2017 Topps Twitster.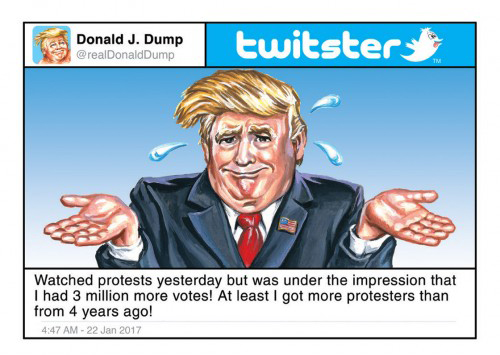 It used to be that the President reached the masses through fireside chats. As technology shifted from radio to television, national broadcasts became the address of choice. Apparently we're moving on to more real-time thoughts in the form of Twitter.
And if the discussion points can be in real-time, so can the cards.
2017 Topps Twitster is another print-on-demand, online exclusive product. Cards are designed and released somewhat informally as newsworthy tweets take place.
Each card is offered on the Topps website for 24 hours. Once that window's up, the cards are made and print runs released.
2017 Topps Twitster Checklist
Print runs and release dates are also noted. New cards will be added as they're announced.
Shop 2017 Topps Twitster cards on eBay.
1 Watched protests yesterday but was under the impression that I had 3 million more votes! At least I got more protester than from 4 years ago! (January 24) – 323
2 Somebody with aptitude and conviction should buy the FAKE and failing United States and either run it correctly or let it fold with dignity! (February 1) – 216
3 Who is this Putin the fake news keeps talking about, and who has deals in Russia? Those haters are going crazy — yet Obama can make a deal with Australia, #1 in terror, no problem! Double standard — people have been prejudiced against me my whole life! (February 9) – 201
4 Liberals are saying that the great border WALL will not be affordable, but I haven't gotten personally involved in the construction yet. When I do, the deal I'll get on the labor cost will be WAY, WAY LOWER! You BETTER believe me, people! (February 14) – 191
5 Congratulations! The Senate has confirmed Ben Farce-son as President of the United States. (March 8) – 157
Comments? Questions? Contact Ryan Cracknell on Twitter @tradercracks.