2017 Topps Tribute Reminds Us of the Randy Johnson, John Kruk 1993 All-Star Game Showdown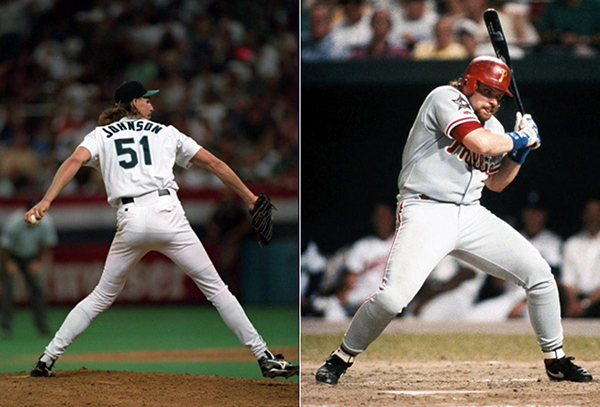 By Ryan Cracknell | Hobby Editor
As a teenage baseball fan, Randy Johnson facing off against John Kruk in the 1993 All-Star Game was one of the most memorable moments I witnessed on TV. Not being a big Blue Jays fan but living in Canada, it even left a bigger impression on me than Toronto winning the World Series in 1992 (Joe Carter's 1993 home run trumps them both, though).
The showdown was comedy gold. It had timing, it had emotion and it played into the personalities of both men. It was a little bit of fun that baseball isn't always known for on a grand stage.
And now Johnson and Kruk have been brought back together with a dual Duel Autograph in 2017 Topps Tribute Baseball.
Few pitchers in the history of baseball have been more intimidating than Randy Johnson.
Under normal circumstances, batters have a mater of milliseconds to decide what to do with a pitch. Swing? Leave it? Dive for the dirt and save your head from getting knocked off? All are viable choices at different points in a ball game.
But there's nothing about Randy Johnson that's normal circumstances. Standing almost seven-feet tall, Johnson's reach and stride cut down that small reaction window even further. His powerful velocity shrunk it even more.
In the early part of his career, Johnson wasn't exactly Greg Maddux with his accuracy. While Maddux could seemingly knock a flea off of a needle every time he threw, it seemed like Johnson could sometimes have a hard time hitting a barn door.
Put that all together and even the most fearless batter would be questioning himself when stepping into the box against Johnson. It became as much a mind game as it was the pitching prowess that came a few years later.
But in 1993, John Kruk wanted nothing to do with it — even at a glorified exhibition game.
It made me laugh then, it makes me laugh now. And now I want the card.
Under normal circumstances, I don't chase multiple autograph cards from players, especially when they're on the high end of my budget and I have plenty of Hall of Fame holes I could use. But more important to me and my collection is the idea that a baseball card tells a story or reminds me of one.
As a baseball fan growing up, this was one of the biggest. It didn't mean much, but it brought me a smile. Watching it on YouTube loops, it still does nearly 25 years later.
The card is part of the seven-card 2017 Topps Tribute Duel Autographs set highlighting major showdowns and rivalries over the past 60 years or so. Among the other pairings on the checklist are Andy Pettitte and John Smoltz who had a pair of epic showdowns in the 1996 World Series. The Yankees and Braves of the 1990s are also represented on a card with Tom Glavine and David Cone. Reaching back in time are cards with Sandy Koufax and Hank Aaron, and Nolan Ryan with Reggie Jackson.
Base versions are numbered to 25 with parallels coming in Red (/10) and Black (1/1).
Unfortunately, I may have to wait to have the Johnson/Kruk card in my possession. First I need to buy one. But there's also the fact that it's a redemption. But for a moment from more than 20 years ago, what's a few extra months?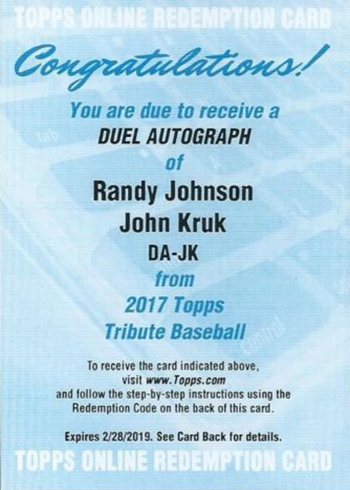 Comments? Questions? Contact Ryan Cracknell on Twitter @tradercracks.