2017 Topps Star Wars: The Force Awakens 3D Widevision Checklist, Details
When you click on links to various merchants on this site, like eBay, and make a purchase, this can result in this site earning a commission.
With The Last Jedi looming, 2017 Topps Star Wars: The Force Awakens 3D Widevision trading cards look back at Rey and Finn's introductions with added depth and online exclusivity.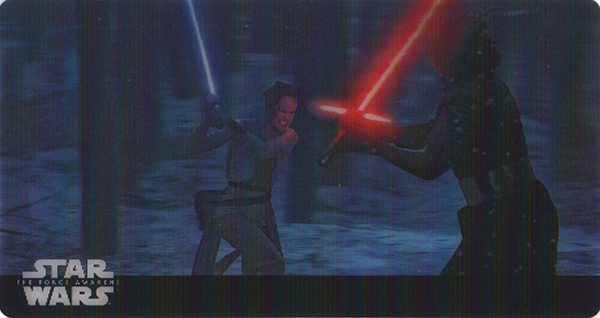 The premium-style factory set joins to ranks of six earlier sets, the last few of which have been available only through the Topps website.
The 44-card base set expands to a larger tallboy format. This allows for everything that's shown on the screen to be transferred to the card.
Of course, there's the 3D design to go with it, offering a unique look that hasn't been used yet in other Force Awakens card sets. Key moments from the movie are recreated with the lenticular technology in mind.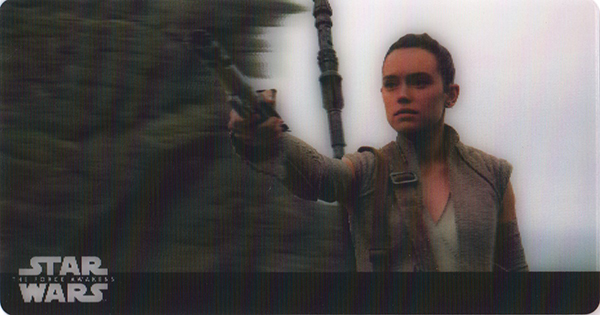 Each 2017 Topps Star Wars: The Force Awakens 3D Widevision factory set also comes with a pair of autographs. This is similar to the last online-exclusive 3D release for Attack of the Clones. While other 3D online exclusives have included memorabilia, sketch and medallion cards, The Force Awakens is just autographs.
Signers for the set are headlined by Daisy Ridley, Harrison Ford, Mark Hamill, John Boyega and the late Carrie Fisher.
Scarce Dual Autographs are also randomly inserted. However, the pairings include only top stars.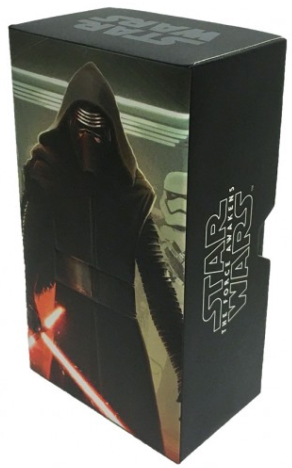 The set has a production run of 2,000 numbered boxes.
2017 Topps Star Wars: The Force Awakens 3D Widevision at a glance:
Cards per factory set: 46
Set size: 44 cards
Release date: June, 2017
What to expect in a box set:
• Autographs – 2
• 44-Card Base Set
2017 Topps Star Wars: The Force Awakens 3D Widevision Checklist
Base
Base Set Checklist
44 cards.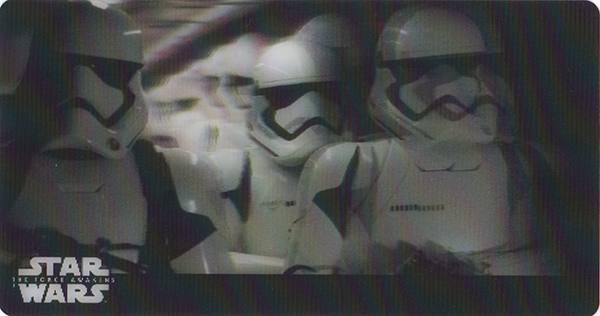 1 Prelude to Invasion
2 Poe's Daring Escape
3 Wrath of the First Order
4 Solitude of the Scavenger
5 Skeletons of the Past
6 Rey comes to Niima
7 Unkar's Upper Hand
8 At Home with Rey
9 Sunset on Jakku
10 Finn and Poe's plan
11 A Rough-Edged Escape
12 Investigating FN-2187
13 BB-8 Connects the Dots
14 Found by the First Order
15 Stuck with the "Junk"
16 Finn Fires Away
17 Rey's Crazy Escape Plan
18 Blasting Free from The First Order
19 Quick and Drastic Falcon Fixes
20 Heroic Homecoming
21 Out-Talking the Gangsters
22 Bypassing the Compressor
23 Starting Up an Old Game
24 Searching for Skywalker
25 Landing on Takodana
26 Filling in Maz
27 Rey Feels the Force
28 The First Order Rallies
29 The End of The New Republic
30 A Very Special Weapon
31 Back in Action
32 Finn Joins the Fight
33 The Resistance to the Rescue
34 Fast Friends Reunited
35 Rey's Interrogation
36 A Strong Influence on the Weak-Minded
37 Looking for a Weakness
38 Infiltrating Starkiller Base
39 Kylo Ren's Demand
40 The Resistance's Frantic Attack
41 Brand-New Rivals
42 Rey Takes Control
43 The Missing Piece to Find Luke
44 Rey and Luke
Autographs
Autographs Checklist
31 cards.
Parallels:
• Blue – /50
• Black – /25
• Orange – /10
• Gold – /5
• Red – 1/1
Sebastian Armesto as Lieutenant Mitaka
Kenny Baker as R2-D2
Erik Bauersfeld as the voice of Admiral Ackbar
John Boyega as Finn
Anna Brewster as Bazine Netal
Thomas Brodie-Sangster as Petty Officer Thanisson
Crystal Clarke as Ensign Pamich Goode
Tosin Cole Lieutenant Bastian
Anthony Daniels as C-3PO
Mark Dodson as the voice of Prashee
Adam Driver as Kylo Ren
Emun Elliott as Major Brance
Carrie Fisher as General Leia Organa
Kate Fleetwood as Chief Petty Officer Unamo
Harrison Ford as Han Solo
Greg Grunberg as Snap Wexley
Mark Hamill as Luke Skywalker
Jessica Henwick as Jess "Testor" Pava
Brian Herring as BB-8 puppeteer
Andrew Jack as Major Ematt
Billie Lourd as Kaydel Ko Connix
Rocky Marshall as Colonel Datoo
Peter Mayhew as Chewbacca
Daisy Ridley as Rey
Yayan Ruhian as Tasu Leech
Andy Serkis as Supreme Leader Snoke
Arti Shah as Gwellis Bagnoro
Iko Uwais as Razoo Qin-Fee
Brian Vernel as Bala-Tik
Harriet Walter as Doctor Kalonia
Paul Warren as Hassk Triplet
Dual Autographs Checklist
5 cards.
John Boyega as Finn and Peter Mayhew as Chewbacca /3
Carrie Fisher as General Leia Organa and Greg Grunberg as Snap Wexley /3
Mark Hamill as Luke Skywalker and Andy Serkis as Supreme Leader Snoke /3
Daisy Ridley as Rey and John Boyega as Finn /3
Daisy Ridley as Rey and Mark Hamill as Luke Skywalker /3
Comments? Questions? Contact Ryan Cracknell on Twitter @tradercracks.