2017 Topps Star Wars 40th Anniversary Trading Cards Checklist and Details
Certain benchmarks in life bring our mortality to the forefront: kids head off to college, the athletes you grew up watching retire, the "home" where you were raised all of a sudden looks different, you lament about what things used to cost. Here's another — 2017 marks four decades of Star Wars. Of course, being Star Wars, the celebration is bound to be big and it's likely to be drawn out. Part of that is the release of 2017 Topps Star Wars 40th Anniversary trading cards.
Base Set
The 200-card base set recaps plots and stories across the many movies and animated television shows. It also goes behind the scenes and delves into the history of the franchise. A variety of posters from the saga and from different parts of the world are also included. The main base design is similar to the one used for 2007 Star Wars 30th Anniversary.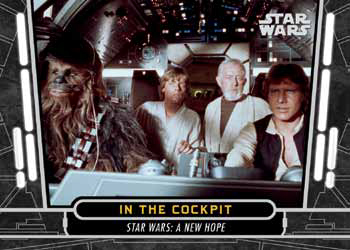 Each pack comes with at least one parallel. Colors come in Green (one per pack), Blue (1:4 packs), Purple (/100), Gold (/40), and Red (1/1). Gold and Red cards are exclusive to hobby packs. Printing Plates are also available.
Autographs
Autographs come from both cast and crew. Although no names have been announced, this approach sounds similar to the Star Wars 30th Anniversary set released in 2007. The deep checklist of signers there includes virtually every major actor (including the first Harrison Ford autographed card as Han Solo). But there was also a small number of important people who worked behind the scenes. Regular autographs of special effects artists may not be appealing in every release, but there can be a certain charm for major Star Wars fans once in a while.
2017 Topps Star Wars 40th Anniversary trading cards feature more than 30 signers, which appears to be a lot smaller than other recent sets that have topped 70.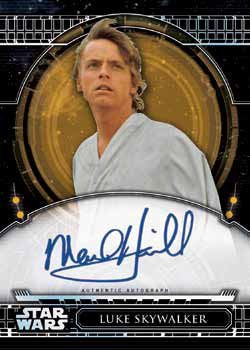 Parallels come in a few formats: Purple (/40), Gold (/10), Red (1/1) and Printing Plates. The Plates, Gold and Red cards are all available only in hobby packs.
Dual and Triple Autographs are also available in limited numbers. There's also one Quad Autograph Book (/2) and 6-Person Autograph Book Cards (/2).
Other Premium Inserts
Medallion cards are considered hits in the product by Topps. These pair characters with metal recreations of either the Death Star or the Millennium Falcon. Parallels come in Blue (/199), Purple (/99), Gold (/25) and Red (/10).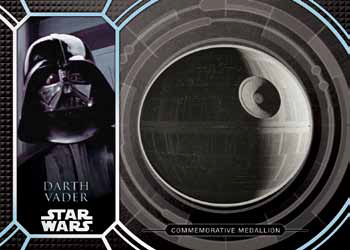 Select Medallion cards also have autographed versions numbered to 10.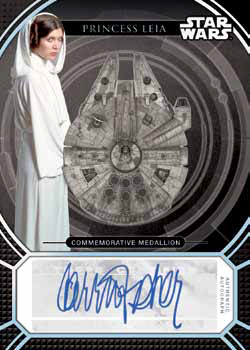 Film Cell cards have a frame from a movie print. Topps considers each of these to be unique because no card has the same card image-frame combination.
Sketch Cards can also be found in packs. The original artwork on these features material related to the original 1977 film.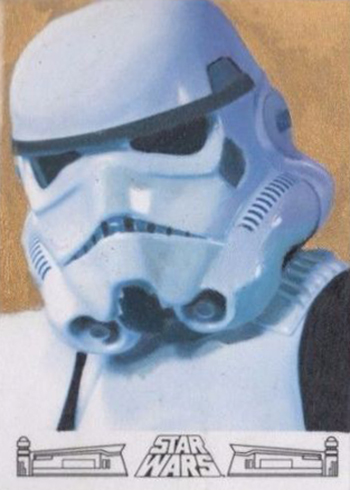 Patch cards are exclusive to Target packs.
2017 Topps Star Wars 40th Anniversary autographs, medallions, sketch cards and Printing Plates combine to land two per hobby box. At least one of those is an autograph.
Inserts
Classic Stickers are the only regular inserts in 2017 Topps 40th Anniversary. These have a code on the back that can be used to unlock a digital version in the Star Wars Card Trader app.
Randomly inserted in boxes are stamped buyback cards. Base card buybacks all come from the original cards that launched the line in 1977-78. They have a special 40th Anniversary stamp added to them showing they're from this set. Also included in those are three complete sets. These ones are numbered to 3 copies each. Other cards are a random assortment of other cards, although some may be more plentiful than others. Autographs and memorabilia cards from previous Topps Star Wars trading card sets are also randomly inserted.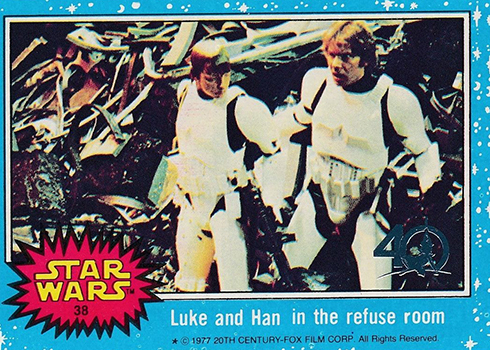 2017 Topps Star Wars 40th Anniversary trading cards at a glance:
Packs per box: 24
Cards per pack: 8
Boxes per case: 8
Set size: 200 cards.
Release date: May 3, 2017
What to expect in a hobby box:
• Autographs – 1
• Additional autographs, Medallion Cards, Sketch Cards, Film Cell Cards or Printing Plates – 2 Total
• Blue Parallels – 6
• Green Parallels – 24
2017 Topps Star Wars 40th Anniversary Checklist
Base
Autographs
Inserts
Sketch Cards
Comments? Questions? Contact Ryan Cracknell on Twitter @tradercracks.