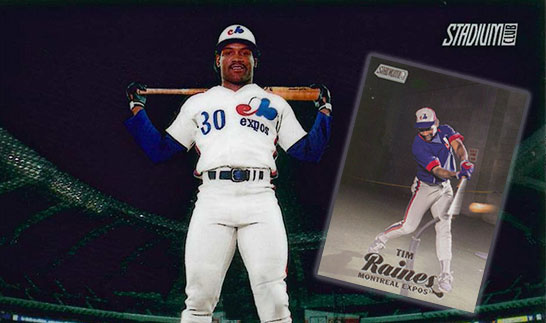 By Ryan Cracknell | Hobby Editor
If you're digging into 2017 Stadium Club Baseball, you're probably going to spend a lot of time looking at photos. And for good reason. But now the 2017 Topps Stadium Club variation short prints are probably going to have you go back and look again.
2017 Stadium Club Baseball Variations: What to Look For
The 2017 Topps Stadium Club variations are your basic SSP cards in that they simply offer another photo. The design is the same as the base cards. In a lot of other sets, the photo variations can usually be pretty easy to spot. That's because the short print photos often use photos that jump out in some way versus the typical batting stance and mid-pitch shots that are used so often.
But the entire Stadium Club base set is a celebration of great photography. Regular cards use images that are often the type you find on variations in places like Topps Baseball.
So if you're looking strictly at the front, finding them here might be tough without basic memorization (or a handy gallery at your disposal like the one below).
One theme that is apparent, though, is the art of the World Series celebration. Several Cubs players are shown with the World Series trophy, others are in the parade. And Kris Bryant? He's got a WWE Championship belt.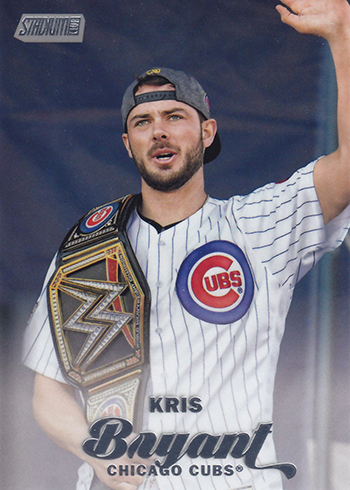 De-Coding the 2017 Topps Stadium Club Variation Backs
So if the fronts can be tough to spot, flip the cards over and the answer is right there. This is one of the sets where you can use the code in the fine print to confirm whether a card is a SSP variation.
At the end of the fine print is a long code. It's intended for internal stuff. But they can also be used to help classify card types in a product. Codes for standard base cards in this set end in 3023. 2017 Topps Stadium Club variations end in 3055.

How Rare Are SSPs?
Variations have become commonplace in a lot of modern sports card products. In some sets, they're fairly common. In others, they can be extremely tough. There's a trade off on both ends. Easy variations aren't necessarily a challenge to put together. However, the rare ones, like Topps Heritage Throwbacks, can fetch big prices on the secondary market.
The 2017 Topps Stadium Club variations fall somewhere in the middle. At 1:72 hobby packs, they're not in every box. It works out to about four per hobby case.
The unknown variable at this point is the total number of variations. The original sell sheet mentioned 50 total. But the checklist Topps released didn't include them, so it's not yet known if things changed (it probably didn't). In instances like this, there is usually an initial frenzy when the product first arrives but further down the road individual cards can become quite tough to find.
In the days ahead, we'll be compiling a 2017 Topps Stadium Club variations checklist and gallery showing you exactly what to look for. So bookmark the page for future reference and check back as more cards are added. If you have a variation that isn't listed, please feel free to drop us an email (images are very helpful) and we'll get it listed.
2017 Topps Stadium Club Variations Checklist
If you're looking for a specific 2017 Stadium Club variation, click on the link to see what's currently available on eBay.
2017 Topps Stadium Club Variations Gallery
4 Nelson Cruz, Seattle Mariners
8 Yu Darvish, Texas Rangers
14 Ben Zobrist, Chicago Cubs
20 Dansby Swanson, Atlanta Braves
31 Salvador Perez, Kansas City Royals
32 Brandon Phillips, Atlanta Braves
37 Jose Bautista, Toronto Blue Jays
39 Bryce Harper, Washington Nationals
41 Kris Bryant, Chicago Cubs
42 Justin Verlander, Detroit Tigers
53 Anthony Rizzo, Chicago Cubs
63 Jason Heyward, Chicago Cubs
75 Eduardo Nunez, San Franciso Giants
94 Carlos Correa, Houston Astros
99 Paul Goldschmidt, Arizona Diamondbacks
114 Nolan Arenado, Colorado Rockies
116 Jose Altuve, Houston Astros
117 Wil Myers, San Diego Padres
120 Jon Lester, Chicago Cubs
123 Kyle Hendricks, Chicago Cubs
130 Jonathan Villar, Milwaukee Brewers
131 Manny Machado, Baltimore Orioles
133 Jeff Bagwell, Houston Astros
149 Andrew Benintendi, Boston Red Sox
151 Tim Raines, Montreal Expos
158 Francisco Lindor, Cleveland Indians
165 Addison Russell, Chicago Cubs
169 Matt Carpenter, St. Louis Cardinals
174 Aaron Nola, Philadelphia Phillies
176 Dustin Pedroia, Boston Red Sox
183 Jose Abreu, Chicago White Sox
195 Alex Bregman, Houston Astros
201 Trea Turner, Washington Nationals
203 Hernan Perez, Milwaukee Brewers
204 Kyle Schwarber, Chicago Cubs
220 Jose Berrios, Minnesota Twins
223 Jake Arrieta, Chicago Cubs
230 Clayton Kershaw, Los Angeles Dodgers
231 Giancarlo Stanton, Miami Marlins
233 Mike Trout, Los Angeles Angels
238 Sonny Gray, Oakland Athletics
246 Javier Baez, Chicago Cubs
247 Gary Sanchez, New York Yankees
253 Evan Longoria, Tampa Bay Rays
266 Starling Marte, Pittsburgh Pirates
268 Jacob deGrom, New York Mets
269 Albert Pujols, Los Angeles Angels
277 Billy Hamilton, Cincinnati Reds
278 Buster Posey, San Francisco Giants
285 Orlando Arcia, Milwaukee Brewers
Comments? Questions? Contact Ryan Cracknell on Twitter @tradercracks.