2017 Topps Pro Debut Baseball Checklist Highlights MiLB Players and Hijinks
2017 Topps Pro Debut Baseball continues with the tradition of putting a minor league spin of the flagship set. That means a checklist of top prospects as well as other cards that highlight the atmosphere and quirks of life leading to the majors.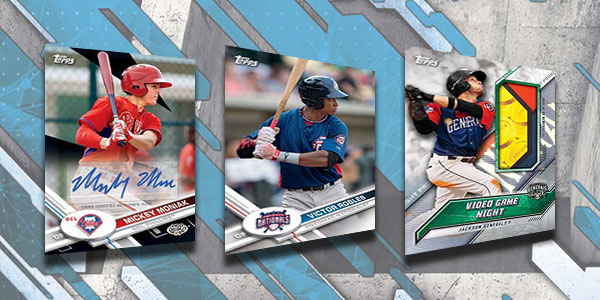 Hobby boxes come with two autographs and two memorabilia or manufactured relic cards.
Base Set
The 2017 Topps Pro Debut base set has the same general look as 2017 Topps Baseball. The means the big base path-style lines at the bottom for the name and logo and full-bleed elsewhere. Included on the checklist are some of the first cards of 2016 draft picks in the MiLB uniforms.
With a much smaller print run than the main Topps sets, parallels are both fewer and produced in smaller quantities. Here, there are just three: Green, Orange (/25) and Black (1/1).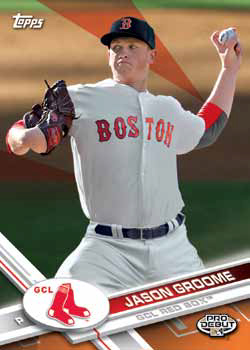 Select players have variation short prints with different photos. Another short print features Tim Tebow, making his MiLB baseball card debut.
Autographs
Base Autographs have the same general design as the main part of the product. Parallels also fall under the same pattern with Green, Orange (/25) and Black (1/1) versions.
Wave of the Future Autographs may be new to Pro Debut, but the name and theme may be similar to those who collected Flair Showcase Wave of the Future cards back in the late 1990s.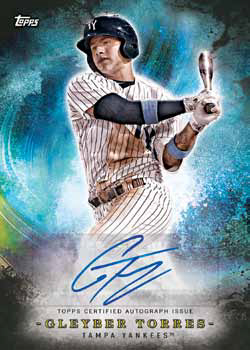 Pro Production Autographs land at least once per 12-box case. These highlight the player's top numbers.
Both Splash of the Future and Pro Production Autographs have one-of-one Black parallels.
Memorabilia Cards and Manufactured Relics
2017 Topps Pro Debut Baseball relics don't take the same approach that most memorabilia cards do. The only game-used jersey cards in the product come with a theme — Promo Night Uniforms. MiLB teams are known for their creative theme nights and the wild gear that comes with them. These cards feature swatches from some of these games and should result in some wild pieces.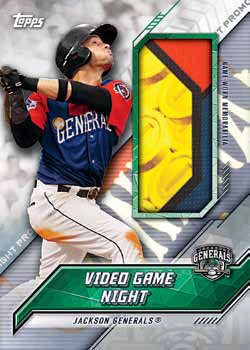 Fragments of the Farm aren't manufactured relics but they're not traditional game-used cards either. Rather, teams choose items to include to help illustrate the MiLB story. In the past this has meant things like stadium pieces, bobbleheads and even bits of team stock.
Pennant Patches return for another year. These have a manufactured patch in the shape of a pennant with the team's logo on it.
Parallels for all three relic sets include Gold and Black (1/1).
Inserts
Inserts blend top players and ballpark happenings. In the Wings highlights impact players and has Gold, Orange (/25) and Black (1/1) parallels. Select players have signed versions as well.
Ben's Biz gets a dedicated set of inserts that explore MiLB ballparks, their business and some of their traditions.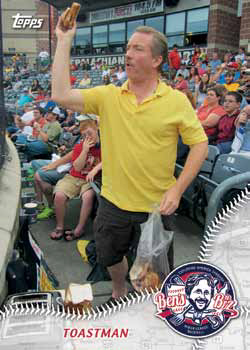 Promo Night Uniforms return for a regular insert set to go with the memorabilia version.
2017 Topps Pro Debut Baseball at a glance:
Packs per box: 24
Cards per pack: 8
Boxes per case: 12
Set size: 200 cards
Release date: May 24, 2017
What to expect in a hobby box:
• Autographs – 2
• Memorabilia Cards or Manufactured Relics – 2 Total
2017 Topps Pro Debut Baseball Checklist
Base
Autographs
Memorabilia Cards
Inserts
Comments? Questions? Contact Ryan Cracknell on Twitter @tradercracks.