2017 Topps Opening Day Stadium Signatures, National Anthem Among Surprisingly Tough Chases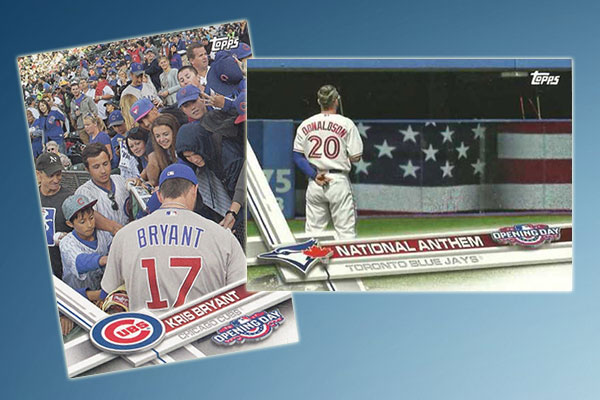 By Ryan Cracknell | Hobby Editor
2017 Topps Opening Day Baseball has no shortage of inserts. Collectors should expect to find at least one per pack. That said, some are more easy to find than others — much easier. As far as short prints go, we're not just talking autographs, memorabilia cards or variations, which have always been hard to pull in the $1-per-pack product. 2017 Topps Opening Day Stadium Signatures and National Anthem are a couple of inserts that push the limits of extreme rarity for the entry-level brand.
How rare? Enough that collectors should be watching closely for them as they bust packs. Also, if you're chasing them, expect to pay a lot more than you're used to for Opening Day inserts that don't have an autograph or swatch attached to them.
Going by visuals, 2017 Topps Opening Day National Anthem and Stadium Signatures might very well have been variation short prints in any other year. The photos match the sorts of ones that are often used for the short prints.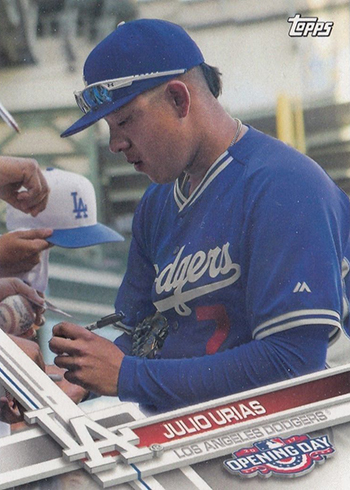 At first glance, National Anthem and Stadium Signatures even look like base cards, further lending to the variation theme. The Anthem cards at least have a mention on the front. It takes a look to the back to tell the Stadium Signatures apart from the base.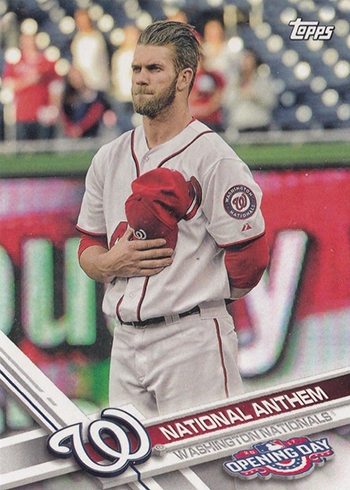 But then there's the rarity. Stadium Signatures are 1:420 packs. That's less than two per case. And with a checklist of 25 cards, that's a lot of packs to put the set together. National Anthem cards are 1:210 packs. The set also has 25 cards. They may be twice as plentiful but they're still tough.
Basically, both of these insert sets are like variations but with different numbers. It's a greying of the two areas that could very well be a test in a couple of regards. Can the variation concept work with a more traditional insert approach? Will short printing inserts cause a stir even if they don't have a lot of flash?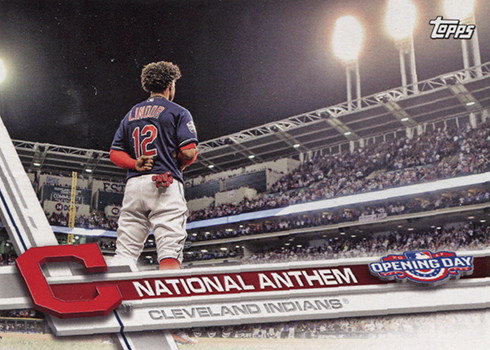 These cards may help answer whether variations are chased simply because they're variations or because they are hard to pull.
In many products, particularly baseball, variations become sought after. They may not be for everyone, but there are collectors out there paying good amounts for some of these year in, year out.
Regular inserts, on the other hand, are often overlooked as far as values go unless they have some sort of angle attached to them. That's because they're often plentiful, not always exciting and don't connect to the base set.
With 2017 Topps Opening Day, National Anthem and Stadium Signatures take themes that have been proven to be popular in the past, albeit as variations. And some of the most popular variations at that — ones with a tight focus that's more than a cool photo.
If that familiarity is the hook to get collectors interested, the short printed nature aims to make the chase. Could this be one recipe for making regular inserts more interesting again? Only time will tell. If these do catch on, it could lead to more tougher inserts that might be able to pull some of the pressure away from hits like autographs and memorabilia cards.
National Anthem and Stadium Signatures aren't the only tough inserts in 2017 Topps Opening Day, either. Nine new MLB Wacky Packages are 1:1,169 pack. MLB Sticker Collection cards are 1:288 packs, although the checklist for these has just four cards.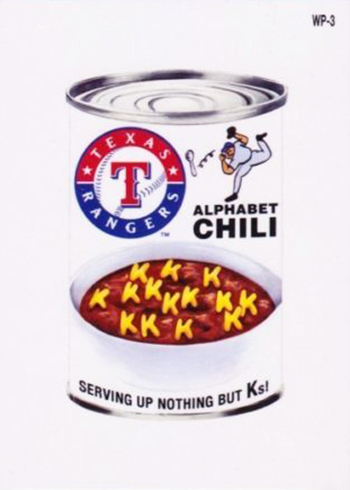 Even if you don't see any of these inserts selling for hundreds of dollar, let's not forget the product that they're coming from. Opening Day is a not a premium product. In the past, it has been aimed at casual collectors and kids drawn in while walking through Walmart and are happy to drop a dollar on a pack here and there.
The added extreme chase elements here don't change the overall makeup of the product except to those breaking in bulk. These cards also don't added significant costs. With something more to chase, it's a formula that could bring in more collectors who enjoy the hunt and, in turn, drum up wider interest in the Opening Day line.
This is far from the first set to include super short-printed inserts. Upper Deck Hockey's Day with the Cup and Panini's Kaoom! basketball inserts are a couple of recent ones that come to mind.
The mid to late 1990s saw several such inserts as well. But the hobby was in a different place then. Autographs and memorabilia were not yet the norm.
2017 Topps Opening Day Stadium Signatures Checklist
Looking for a specific card? Click on the links to see what's currently on eBay.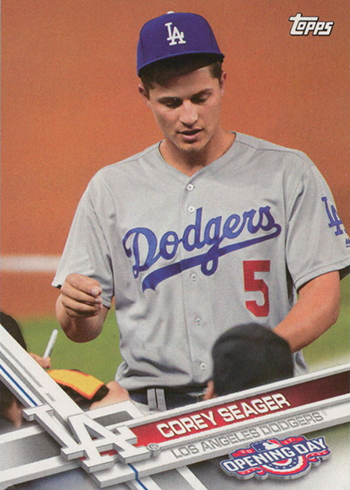 SS-1 Jose Altuve, Houston Astros
SS-2 Corey Seager, Los Angeles Dodgers
SS-3 Dee Gordon, Miami Marlins
SS-4 Jon Gray, Colorado Rockies
SS-5 Paul Goldschmidt, Arizona Diamondbacks
SS-6 Carlos Correa, Houston Astros
SS-7 Ichiro, Miami Marlins
SS-8 Ben Zobrist, Chicago Cubs
SS-9 David Price, Boston Red Sox
SS-10 Tyler Naquin, Cleveland Indians
SS-11 Trevor Story, Colorado Rockies
SS-12 Mike Trout, Los Angeles Angels
SS-13 Julio Urias, Los Angeles Dodgers
SS-14 Francisco Lindor, Cleveland Indians
SS-15 Addison Russell, Chicago Cubs
SS-16 Michael Conforto, New York Mets
SS-17 Maikel Franco, Philadelphia Phillies
SS-18 Jason Heyward, Chicago Cubs
SS-19 Bryce Harper, Washington Nationals
SS-20 Kyle Schwarber, Chicago Cubs
SS-21 Trea Turner, Washington Nationals
SS-22 Kris Bryant, Chicago Cubs
SS-23 Nolan Arenado, Colorado Rockies
SS-24 Charlie Blackmon, Colorado Rockies
SS-25 Miguel Sano, Minnesota Twins
2017 Topps Opening Day National Anthem Checklist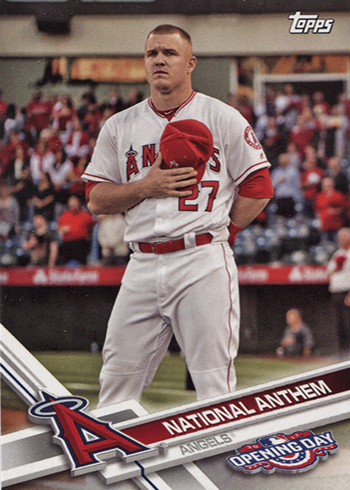 NA-1 Addison Russell, Chicago Cubs
NA-2 Andrew McCutchen, Pittsburgh Pirates
NA-3 Anthony Rizzo, Chicago Cubs
NA-4 Bryce Harper, Washington Nationals
NA-5 Josh Donaldson, Toronto Blue Jays
NA-6 Miguel Cabrera, Detroit Tigers
NA-7 Carlos Correa, Houston Astros
NA-8 Clayton Kershaw, Los Angeles Dodgers
NA-9 Felix Hernandez, Seattle Mariners
NA-10 Francisco Lindor, Cleveland Indians
NA-11 Jose Altuve, Houston Astros
NA-12 Manny Machado, Baltimore Orioles
NA-13 Mookie Betts, Boston Red Sox
NA-14 Noah Syndergaard, New York Mets
NA-15 Robinson Cano, Seattle Mariners
NA-16 David Ortiz, Boston Red Sox
NA-17 Khris Davis, Oakland Athletics
NA-18 Jayson Werth, Washington Nationals
NA-19 Jon Lester, Chicago Cubs
NA-20 Aaron Judge, New York Yankees
NA-21 Eric Hosmer, Kansas City Royals
NA-22 Mike Trout, Los Angeles Angels
NA-23 Kyle Schwarber, Chicago Cubs
NA-24 Madison Bumgarner, San Francisco Giants
NA-25 Adam Jones, Baltimore Orioles
Comments? Questions? Contact Ryan Cracknell on Twitter @tradercracks.