2017 Topps Now Preacher Season 2 Trading Cards Checklist, Print Runs and More
2016 Topps Now Preacher Season 2 trading cards are sticking with the same general concept as Season 1 — delivering small batches of new limited editioncards each week after every episode.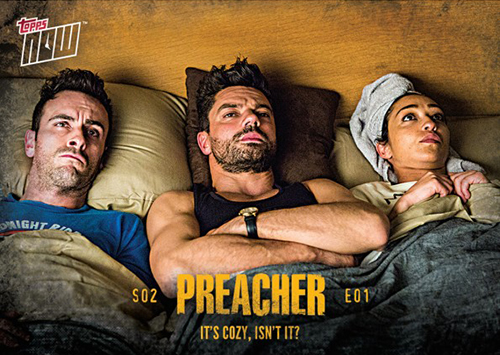 But there's a new wrinkle this time around — costume cards.
Like the first release, each episode has five cards summarizing big moments and key characters. Rather than selling them individually like many of the Topps Now sports releases, these are sold in episode-by-episode lots.
New cards will be released exclusively through the Topps website the day after each episode airs. These are available for a short period of time. Print runs are limited to the number of packs purchased during that initial sales run.
Season 1 print runs ranged between a high of 362 cards down to a low of 149. Season 2 cards appear to be much more limited.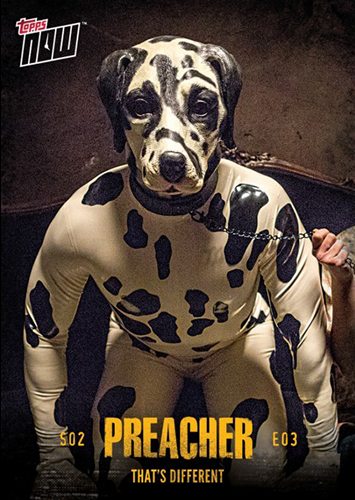 Costume cards will also be released over the course of the season. Similar game-used jersey cards, these have swatches of pieces worn on the show. Jesse, Tulip and Cassidy are among those with wardrobe cards. Topps has a gallery of some uncut costumes used for these cards posted on their website.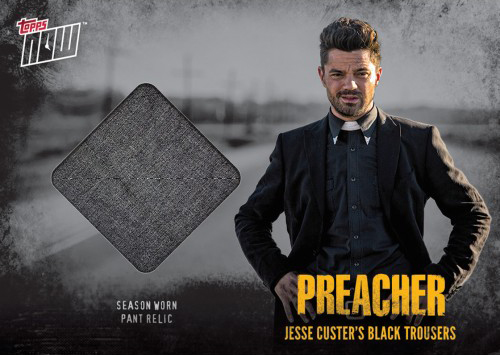 Costume cards will be available separately and not as part of the episode packs.
Like Season 1, weekly packs of five cards are $19.99. Three of the same pack are $49.99.
2017 Topps Now Preacher Season 2 trading cards at a glance:
Set size: TBA cards (5 per episode)
Release date: June 26, 2017
2017 Topps Now Preacher Season 2 Checklist
Episode 1
Sale Date: June 26-27
Packs Sold: 80
1 Open…Your Mouth
2 I Just Want to Grab My Sunscreen
3 I'm Not Leaving My Car
4 Pretend We're Not Here
5 It's Cozy, Isn't It?
Episode 2
Sale Date: June 27-28
Packs Sold: 71
6 Where Will You Go Next?
7 He Wore a Suit and Tie, For Me
8 He Came for the Jazz
9 Stop Him
10 Let's Talk
Episode 3
Sale Date: July 4-5
Packs Sold: 82
11 That's Different
12 These Folks Are Looking for God
13 I Believe Talahassee Is the Capital of Florida
14 Stop
15 I'm Not With Them
Episode 4
Sale Date: July 11-12
Packs Sold: 75
16 Hello?
17 That's What Helps Me Sleep At Night
18 Where Is She!?
19 Let Me Go
20 Open the Gate
Episode 5
Sale Date: July 18-19
Packs Sold: 72
21 You Can't Do This
22 You Were Hurt? What Are These Then?
23 Whatever You Decide, I'm with You Padre
24 You Found Him? You Found Carlos? Does Jesse Know
25 Preacher
Episode 6
Sale Date: July 25-26
Packs Sold: 79
26 Kill Me and the Deal's Off
27 You're Forgiven
28 Preacher's Not Here by 6, Medicine Won't Help
29 Time's Up
30 I Said Get on Your Knees
Episode 7
Sale Date: August 1-2
Packs Sold: 65
31 He's One of Mine
32 Alright Gentlemen
33 He's Gone, Right?
34 Again
35 Do You Validate Parking
Episode 8
Sale Date: August 8-9
Packs Sold: 70
36 Don't You Worry, A MHAC
37 Best Way to Know Your Target Is Through Concealed Intimacy
38 Extrapolator
39 I'd Like That
40 I Just…I Don't Think That's What It's For
Episode 9
Sale Date: August 15-16
Packs Sold: 72
41 Sleep
42 Who's First?
43 I Think It's Just the Right Amount of Kill
44 Cleaner's Here
45 The Missing Puzzle Piece
Episode 10
Sale Date: August 22-23
Packs Sold: 63
46 What's Up? You Alright?
47 Usually When Something Feels Wrong, It's Wrong
48 Who Is the Boy?
49 The Messiah Can Sometimes Be a Bit, Unforthcoming
50 So No One Knows Where God Is
Episode 11
Sale Date: August 29-30
Packs Sold: 54
51 What's Your Name?
52 Why Didn't You Send Him to Hell?
53 Maybe It Is About the Dog
54 Did You Really Start World War II Because They Were Out of Plum Cake?
55 They Are Your Prayers
Episode 12
Sale Date: September 5-6
Packs Sold: TBA
56 I Love You
57 The Soul's Where Your Goodness Lies
58 I'm Here to Kill a Man
59 So Shall I Ask You to Beg, Or Should I Make You?
60 What Do You Need Us For?
2017 Topps Now Preacher Season 2 Memorabilia Cards Checklist
4A Jesse Custer's Black Trousers /25
4B Jesse Custer's Black Trousers /10
4C Jesse Custer's Black Trousers 1/1
Comments? Questions? Contact Ryan Cracknell on Twitter @tradercracks.