2017 Topps Now Doctor Who Trading Cards Checklist, Print Runs and More
2017 Topps Now Doctor Who trading cards bring the international hit to the print-on-demand realm.
Available exclusively through the Topps website, the set didn't launch with an episode recap. Instead it was a special card commemorating the announcement of Jodie Whittaker as the 13th Doctor.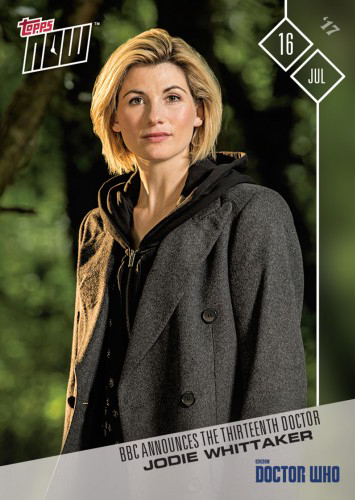 2017 Topps Now Doctor Who cards are available for just 24 hours each. The cost is $9.99 for a single card with discounts available for lots of five, ten and 20 cards. Twenty-card orders are $79.99, which works out to $4 per card.
It's not yet known how comprehensive the 2017 Topps Now Doctor Who set will become.
This is the second television show to get a Topps Now release following the Preacher Season 1 and Season 2 sets.
2017 Topps Now Doctor Who Checklist
This is an ongoing checklist that will be added to as new cards are announced and released. When available, print runs are also noted.
1 Jodie Whittaker – BBC Announces the Thirteenth Doctor (July 19) – 1,400
Comments? Questions? Contact Ryan Cracknell on Twitter @tradercracks.