2017 Topps Museum Collection Baseball Finds Comfort in the High-End of the Hobby — See the Checklist
2017 Topps Museum Collection Baseball isn't changing things up from recent years. The hits are largely the same mix, the configuration is the same. The design — well, those are similar too. So what should that mean? A lot of that won't be nailed down until there's a final checklist. But, likely, your feelings towards the brand aren't likely to change with this release.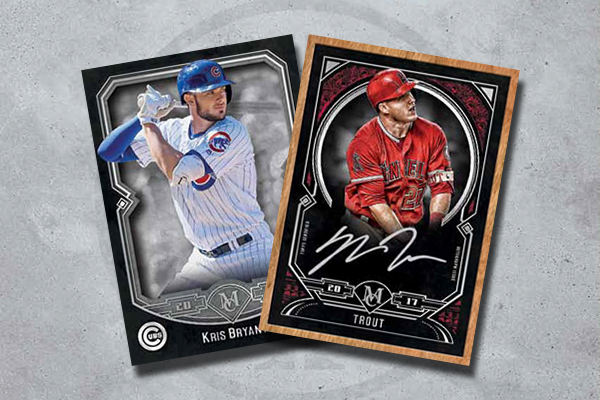 From a content perspective, 2017 Topps Museum Collection Baseball hobby boxes stick with four packs, each with a different kind of hit. Spread over a box, that means an autograph, an autographed memorabilia card, a premium-swatch relic and a quad memorabilia card.
Base Set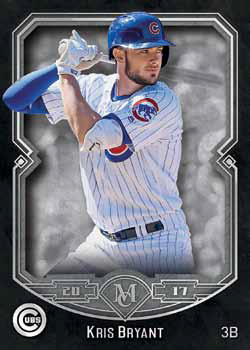 While most will likely be busting boxes for the high-end potential, Museum Collection does typically have one of the year's more elegant base sets. That doesn't look to be changing.
The checklist features 100 cards from current stars to Rookie Cards to retired greats.
Each pack includes one serial-numbered parallel from a list that includes Sapphire, Amethyst (/99), Ruby (/50) and Emerald (1/1).
Autographs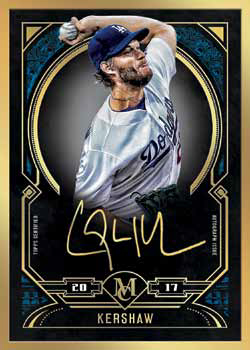 Not diverting from the Museum Collection's history, basic autographs remain hard signed. Stickers are reserved for autographed memorabilia cards.
Archival Autographs make up the bulk of the autograph checklist. With as many as 75 different signers, it's almost as big as the base set. However, that won't mean that both checklists line up. Going by past releases, there should be a fair bit of overlap but not entirely. Both base and parallel versions are serial numbered. Parallels include Copper, Gold and Emerald (1/1).
Dual (/25) and Triple Autographs (/15) both take a basic approach, albeit with multiple signatures. Like Archival Autographs, signatures are still on-card.
Premium Prints Autographs (/25) are back for another year. These use a different design highlighted by black and white photos and gold ink autographs.
Museum Framed Autographs also return, once again as a case hit. One of the brand's cornerstones since they were introduced, framed autographs have become more common including 2016 Topps Gold Label where they were one per box. Frames come in Silver (/15), Gold (/10), Black (/5) and Wood (1/1).
On the autographed memorabilia front, Signature Swatches has versions with both two and three pieces of memorabilia. Both use stickers. In addition to base versions, there are Copper, Gold and Emerald (1/1) parallels. All are serial numbered.
Momentous Material Jumbo Patch Autographs once again have massive pieces of material. Like Archival Autographs, the checklist is on the large side with more than 70 players. All are numbered including the Gold (/5) and Emerald (1/1) parallels.
Randomly inserted in select boxes are one-of-one Oversized Framed Autograph Patch cards. Signed in gold ink, they come with premium pieces of equipment like batting gloves, hat logos and team patches. They're also included in addition to the regular hits in a box.
Memorabilia Cards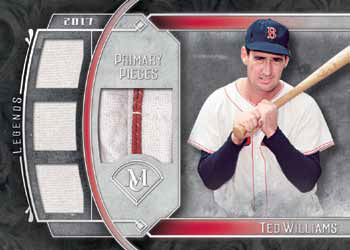 The one-per-box prime relics describe cards that have a premium swatch, usually a patch. Numbered Meaningful Material cards are the most plentiful. The checklist features up to 150 cards. If history repeats itself, some players could have multiple cards. Parallels come in Copper (/35), Gold (/10) and Emerald (1/1).
The rest of the prime relics are on the tougher side as far as numbering goes. However, large checklists should have them popping up with some frequency, even if they are still rare. These include Momentous Material Jumbo Patch (/5) and Momentous Material Laundry Tag (1/1) cards. One-of-one Museum Memorabilia cards have a MLB logo patch taken from a game-used jersey.
Jumbo Lumber Bat Nameplate Relics (1/1) round out this portion of the product.
Quad relics take a similar approach to previous years. Main combinations include versions with one current player or one retired player or four players. No matter the type, all are serial numbered and have Copper, Gold and Emerald (1/1) parallels.
Canvas Collection
Museum Collection isn't a product that has a lot of inserts outside of hits and parallels. Canvas Collection remains the lone exception.
Canvas Collection Reprints remain a box hit. These use artwork of top players from a variety of artists.
Canvas Collection Originals takes the same approach, although the artwork is done directly on the card. Think sketch cards but to a more high-end scale.
Adding another layer are Canvas Collection Autographs. These have the same take as the Originals but they're also signed by the featured player.
2017 Topps Museum Collection Baseball at a glance:
Packs per box: 4
Cards per pack: 5
Boxes per case: 12
Set size: 100 cards
Release date: June 21, 2017
What to expect in a hobby box:
• Autograph Relics – 1
• Autographs – 1
• Quad Relics – 1
• Prime Relics – 1
• Parallels – 4
2017 Topps Museum Collection Baseball Checklist
Base Set
Autographs
Memorabilia Cards
Inserts
Team Sets
Comments? Questions? Contact Ryan Cracknell on Twitter @tradercracks.