2017 Topps Holiday Baseball Brings Snowflakes, Exclusive Checklist to Walmart
2017 Topps Holiday Baseball features another spin on the flagship design. But instead of Chrome, Mini or something else, it's snowflakes that are on display.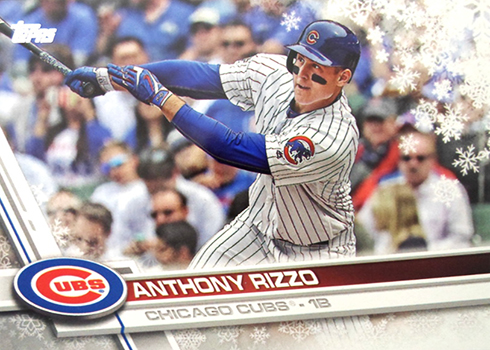 For the second year in a row, Topps Holiday Baseball is exclusive to Walmart in the form of special blasters.
2017 Topps Holiday Baseball, which shouldn't be confused with the company's Bowman-centric holiday hobby shop promotion, takes a fairly basic approach. Blasters come with ten packs, each with ten cards.
The main set has 200 cards that is nearly identical to the 2017 Topps Baseball as far as looks go. But there's a big giveaway on the front in the form of winter-themed snowflakes in the corners. Parallels come in the form of Metallic Snowflake, which land every other pack.
If you are working on the set and discover that Cole Hamels is tough to find, that's because it's a short print. Topps has confirmed that a production error led to it being available in smaller quantities.
2017 Topps Holiday Baseball has a second printing error that impacts three cards. Kyle Freeland (#HMW30), Jorge Bonifacio (#HMW49) and Jesse Winker (#HMW67) are all missing the snowflakes in the top part of the card. This appears to be the case for all of their base cards so they're not considered rare or short printed like the Hamels. They just look different to the rest of the set.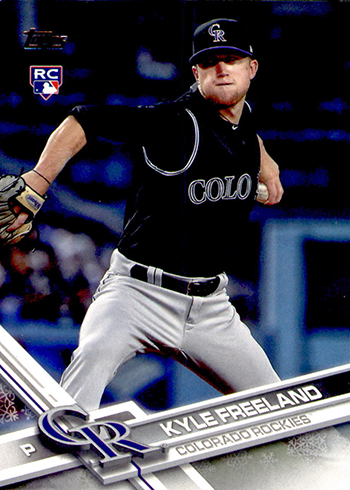 Autographs, Relics and Autographed Relics, are also randomly inserted. These have Metallic Snowflake parallels as well.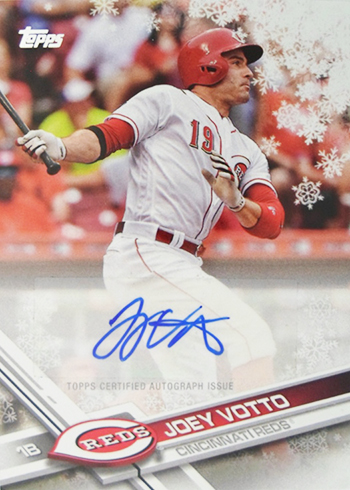 2017 Topps Holiday Baseball at a glance:
Packs per box: 10
Cards per pack: 10
Set size: 200 cards
Release date: November, 2017
What to expect in a blaster box:
• Metallic Snowflake Parallels – 5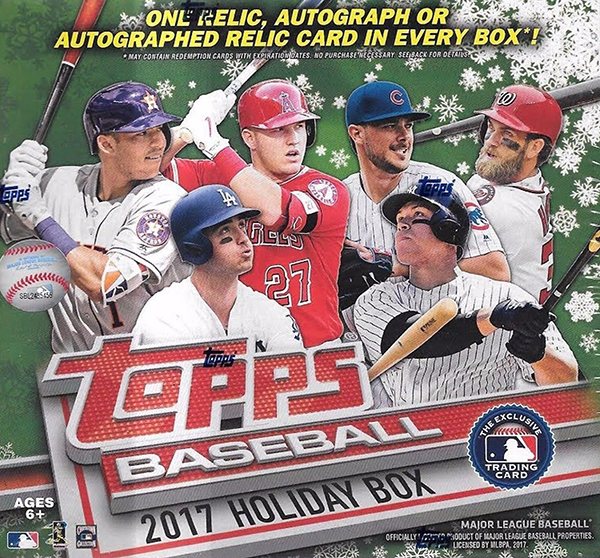 2017 Topps Holiday Baseball Checklist
Base
Autographs
Memorabilia
Team Sets
Comments? Questions? Contact Ryan Cracknell on Twitter @tradercracks or by email.