How to Tell the 2017 Topps Heritage Baseball Parallels Apart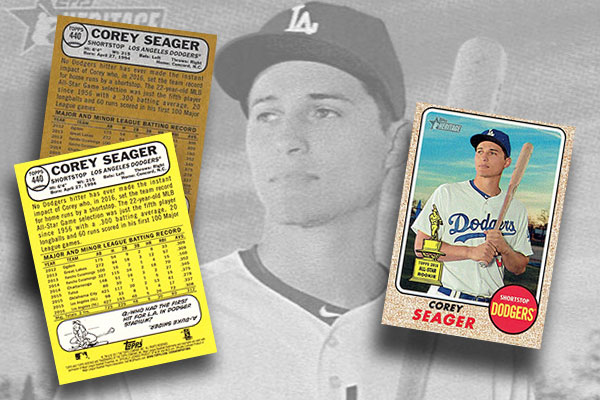 By Ryan Cracknell | Hobby Editor
Sometimes parallels can be a little tricky. Telltale signs like serial numbers and brightly colored borders can give way to more subtle differences. Such is the case with the 2017 Topps Heritage Baseball parallels where some of the rarest — and potentially most valuable — can require a close look on the back.
Let's break down the differences between them all and hopefully make things a little easier to tell apart.
Parallels in 2017 Topps Heritage Baseball come in three forms: regular, Chrome and Mini. Regular parallels cover the entire 500-card checklist. The Chrome and Mini cards have 100 and 130 cards respectively.
How to Spot 2017 Topps Heritage Baseball Parallels
Let's start with the regular parallels because these are the hardest ones to tell apart. These come with the following versions: Blue Border, Bright Yellow, Gray Back and Flip Stock. Because none of these are serial numbered, spotting them can be tough.
We've enlisted Corey Seager to illustrate the difference of each. Here's a look at the front and back of each along with notes on exactly what to look (and in the case of Flip Stock, feel for).
It's important to start with a base card as a benchmark.
Base Card
Blue Border
Print Run: 50 (only in hobby packs)
These are the only regular parallels where the front has the discerning characteristic. And with blue borders over the regular brown, they're also the easiest and most straightforward to spot.
Bright Yellow Back
Print Run: 25 copies
Fronts are irrelevant when you're looking for 2017 Topps Heritage Bright Yellow Backs. As the name suggests, look to the reverse. Regular base cards have a hint of orange to them. Bright Yellow Backs could almost be camouflage for Big Bird.
Gray Back
Print Run: 10 copies
Gray Backs might be the hardest ones to tell. The base cards are already a little on the dark side. And the Gray Backs aren't exactly gray. They are darker than base cards, but it's fairly subtle. To confirm things, look to the white spot at the top with the player's vitals and the comic on the bottom. These show the gray the most.
Flip Stock
Print Run: 5 copies
Flip Stock cards can be hard to see. Rather, it's in the feel where you're bound to notice them a little easier. These cards are printed like the sheet was upside down. So the fronts are a little rougher while the backs have more of a glossy feel than regular base cards.
2017 Topps Heritage Baseball Chrome Parallels
Nearly all of the 2017 Topps Heritage Chrome parallels come serial numbered (on the back) so they're fairly easy to tell apart. But they're still not as easy at a glance as most Refractors. That's because the borders aren't a solid color. The burlap spots are small and can be a little tricky to tell apart. And if you're looking online or have a hard time making out the serial number on the back, the fronts are important.
Chrome
Print Run: /999
Key Characteristics:
• no rainbow finish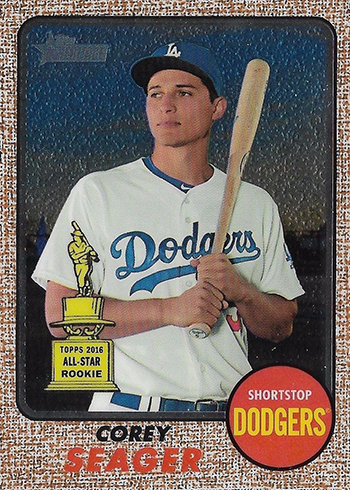 Refractor
Print Run: /568
Key Characteristics:
• rainbow background
• brown burlap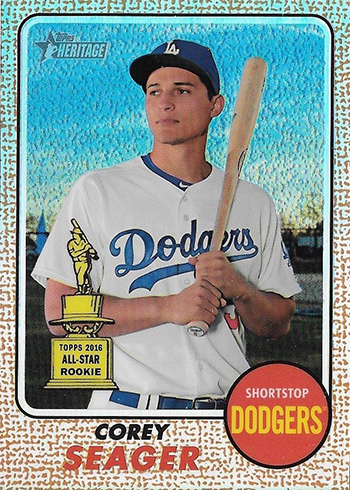 Purple Refractor
Print Run: unknown, only in randomly inserted Hot Box packs
Key Characteristics:
• purple burlap
• rainbow background
• only 2017 Topps Heritage Chrome cards that aren't serial numbered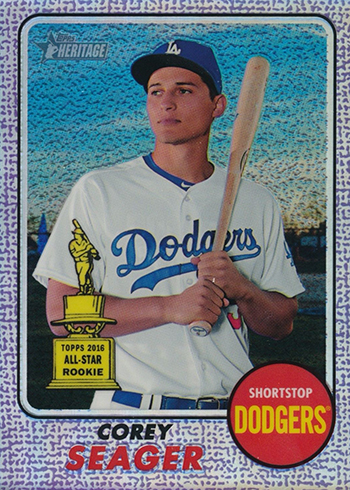 Blue Refractors
Print Run: /68
Key Characteristics:
• blue burlap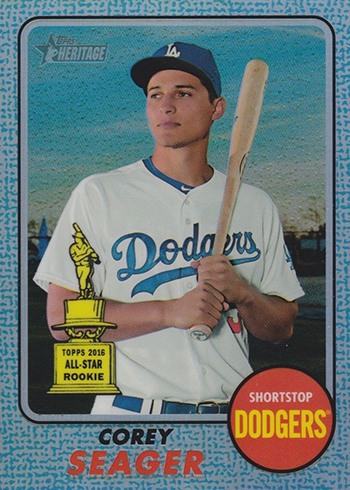 Gold Refractors
Print Run: /5, only in hobby packs
Key Characteristics:
• gold burlap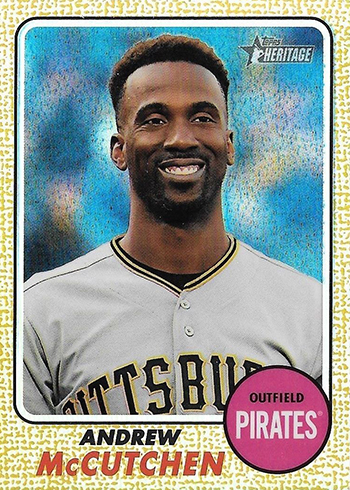 Superfractors
Print Run: 1/1
Key Characteristics:
• gold spirals tiled in background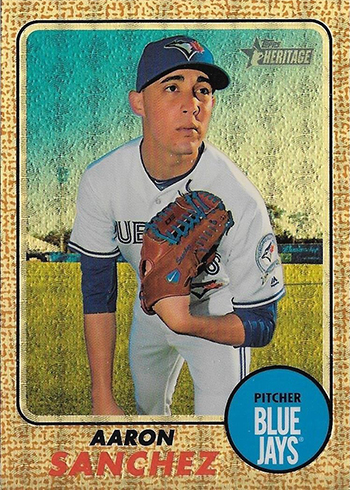 2017 Topps Heritage Mini Parallels
For the sake of completion, here's a Mini parallel. Besides being smaller than normal, they're also numbered to 100 copies. Like Chrome cards, the serial number is on the back. These have no further parallels.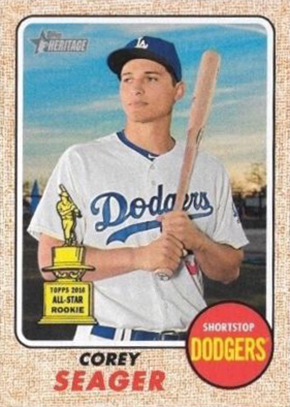 Comments? Questions? Contact Ryan Cracknell on Twitter @tradercracks.