2017 Topps Gold Label Baseball Heads to Class – Checklist and Team Sets Added
2017 Topps Gold Label Baseball is the brand's follow-up release since being brought back in 2016. Its relatively small checklist creates a somewhat simple approach. That said, with three tiers of base cards, it has some complexities to it.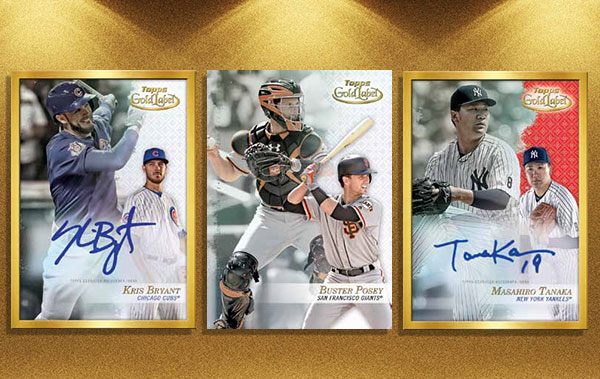 Similar to the previous year's release, each box has a Framed Autograph.
Base Set
The 2017 Topps Gold Label Baseball  base set has 100 players. That said, each has three different cards: Class 1, Class 2 and Class 3. This makes for 300 total cards. The checklist encompasses both current and retired players.
This set up gives collectors a few different options on how to approach it. The 100 Class 1 cards are the most common and considered the main portion of the release. But those looking for more of a challenge could tackle any of the tiers or all of them.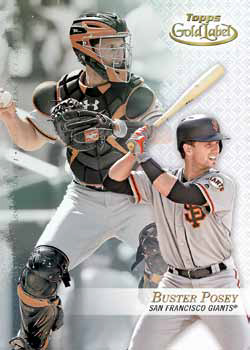 When the Gold Label brand debuted in the late 1990s, this was the same approach. Also consistent with the past is the fact that each base card has two different images. These background picture changes for each tier.
Like the early sets, the background photo themes also help tell which Class the card belongs in (along with the ribbon text along the side that states the Class).
Parallels come in four colors. Like the base cards, each tier is available in different quantities. Black are the most common with Class 1 cards falling every other pack. Class 2 Black are 1:6 packs while Class 3 Black are 1:20. All other parallels are numbered. These include Blue (Class 1 – /150, Class 2 – /99, Class 3 – /50), Red (Class 1 – /75, Class 2 – /50, Class 3 – /25), and Gold, which are all one-of-ones no matter the level.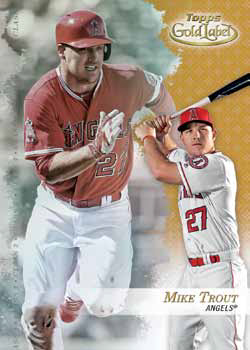 Autographs
2017 Topps Gold Label Framed Autographs come with a gold border. Until Gold Label returned, Topps usually reserved these sorts of cards for high-end products or as extremely tough inserts in more affordable products.
Other than the frame, the general look of the autographs is similar to the base set.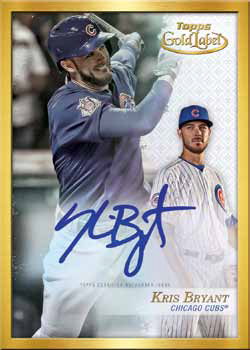 While some signatures will be on-card, sales material for the set suggest stickers will also be in play.
Parallels include Black (/99 or less), Blue (/50 or less), Red (/25 or less) and Gold (1/1).
Memorabilia Cards
Last year, Topps Gold Label didn't have any memorabilia cards. 2017 Topps Gold Label Baseball adds some in the form of MLB Legend Relic cards. That said, they're not exactly common. Legend Relics are a case hit, so 1:16 boxes.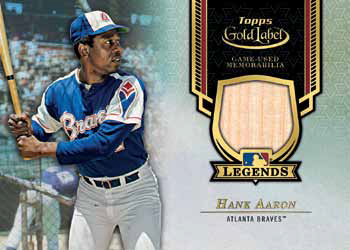 The only parallels are Black (/5) and Gold (1/1).
2017 Topps Gold Label Baseball is a hobby-only product. A retail version is not planned.
2017 Topps Gold Label Baseball at a glance:
Packs per box: 7
Cards per pack: 5
Boxes per case: 16
Set size: 100 cards
Release date: September 20, 2017
What to expect in a hobby box:
• Autographs – 1
• Class 1 Black Parallels – 3
• Class 2 Black Parallels – 1
2017 Topps Gold Label Baseball Checklist
Base
Autographs
Memorabilia
Team Sets
Comments? Questions? Contact Ryan Cracknell on Twitter @tradercracks.