2017 Topps Fire Baseball Gives Brand Standalone Release as Target-Exclusive — Checklist and Team Set Lists Posted
2017 Topps Fire Baseball brings with it the bold designs of Tyson Beck that have been the cornerstone since the brand debuted in football several years ago. While Topps Fire has been ported to baseball before, it has been in limited online offerings and inserts (like in 2016 Topps Update).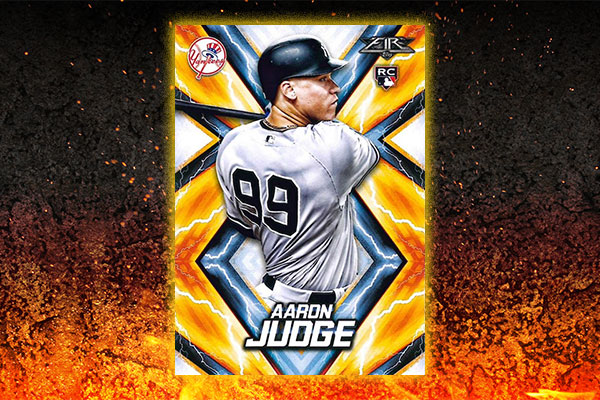 This marks the first time Fire has been used for a full baseball release. However, there is a bit of a twist — it's exclusive to Target.
2017 Topps Fire Baseball Base Set
The 2017 Topps Fire base set consists of 200 cards. The checklist features a broad mix of top veteran stars, rookies and retired greats.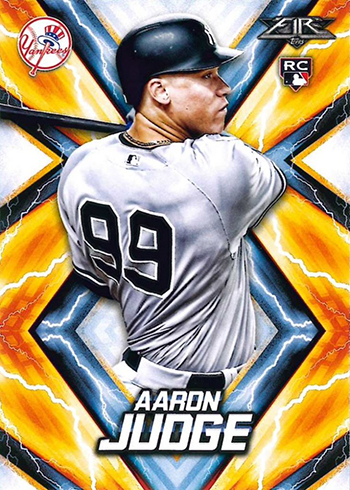 For those familiar with Fire, the design is the standout feature. While likely not for everyone, there really is nothing like it out now. If anything, it's a bit of a throwback to some of the big designs found in the late 1990s with things like Metal Universe.
Parallels come in nine levels. Three of these are exclusive to specific pack types. Collector's Boxes are the only place to find Onyx versions, which land one per case. Blue Chip are exclusive to fat packs, and Value Boxes are home to Gold Minted parallels.
Autographs and Memorabilia Cards
2017 Topps Fire Baseball autographs and memorabilia cards are most plentiful in 20-pack Collector's Boxes. These have a pair of hits. Value boxes and fat packs also have premium inserts.
Fire Autographs make up the majority of the signed content. Like the base set, the checklist is a mix of past, present and future. More than 50 players are included. In addition to regular versions, these cards have Green (/75), Purple (/50), Magenta (/25) and Collector's Box-exclusive Inferno (1/1) parallels.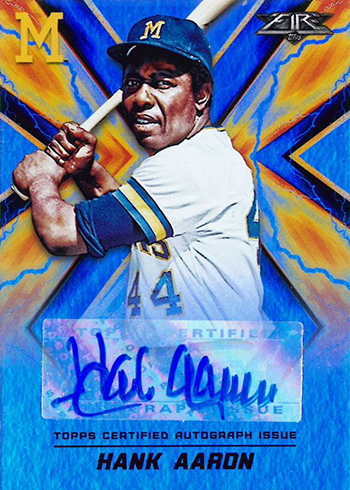 2017 Topps Fire Baseball also has eight Dual Autographs numbered to 20 and four Triple Autographs (/5).
Fire Relics have swatches of game-used gear. Parallels come in the same levels and quantities as the autographs: Green (/75), Purple (/50), Magenta (/25) and Inferno (1/1).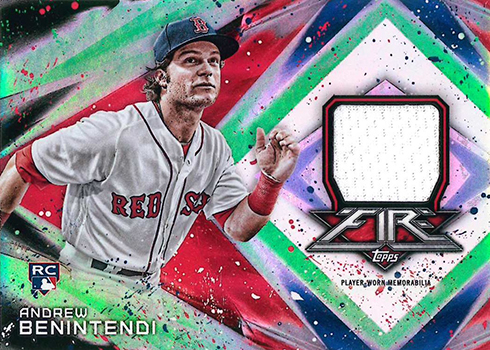 The hits are rounded out by 33 different Fire Autograph Patches, which combine both worlds. The only parallels here are Magenta (/10) and Inferno (1/1).
Autographs are done with stickers.
Inserts
The 2017 Topps Fire Baseball checklist wraps up with five additional insert sets. These stick to big designs, but take a thematic approach to content and players.
Monikers is the biggest of them at 40 cards. These take a graffiti approach to nicknames of top players from several generations.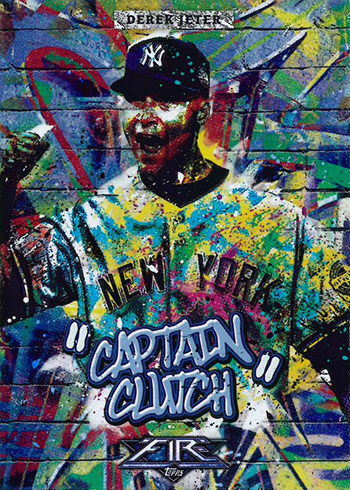 Golden Grabs (20 cards) spotlight memorable defensive plays while Fired Up (ten cards) gets behind the feels players bring to the field.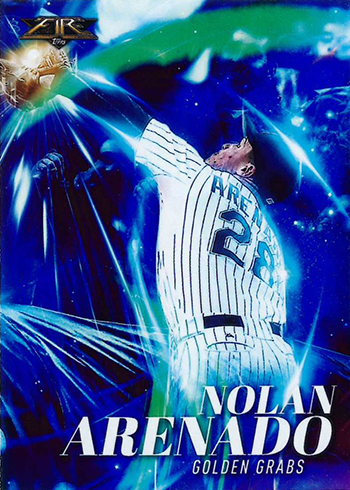 Topps Now isn't the only place to find cards centered on game-ending displays. Walk It Off highlights 15 such moments from recent time.
Finally, there's Flame Throwers (15 cards), which is all about pitchers with great fastballs.
2017 Topps Fire Baseball at a glance:
Packs per box:
Cards per pack:
Set size: 200 cards
Release date: September 27, 2017
2017 Topps Fire Baseball Checklist
Base
Autographs
Memorabilia
Inserts
Team Sets