2017 Topps Fear the Walking Dead Seasons 1 and 2 Widevision Checklist and Details
2017 Topps Fear the Walking Dead Seasons 1 and 2 Widevision are the first physical trading cards for the show. And it's kicking things off by opting for online-exclusive distribution and with a larger-than-normal format.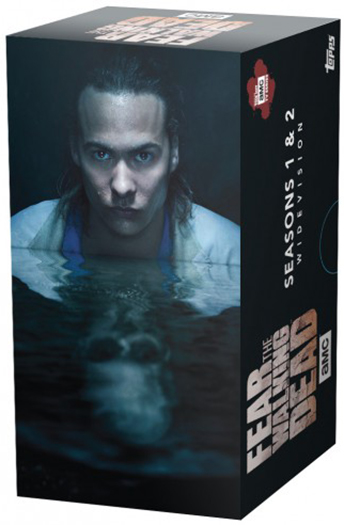 Each premium-style factory set has a full set of base cards plus a pair of autographs.
Base Set
An 80-card base set recaps the main stories and key events from Fear the Walking Dead's first two seasons on the air. Each box set has a full run and there are no parallels.
The set gets its Widevision name for its over-sized format. They're done in a tall boy format like a handful of sports sets like 1965 Topps Football — not to mention a long run with the Star Wars line and a few other entertainment properties. The idea behind the larger format is that you can get more of what's seen on the screen onto the card.
Autographs
A total of 16 different Autographs are available in the product. However, that translates into just eight signers as each in the product signed a pair of different cards. Among the show's key names on the checklist are Kim Dickens (Madison Clark) and Alycia Debnam-Carey (Alicia Clark).

In addition to the base Autographs, there are Mud (/25), Mold (/10), Sepia (/5) and Blood (1/1) parallels.
Five different Dual Autograph cards are also randomly inserted, although they're extremely tough pulls. Each is numbered to 3 copies.
2017 Topps Fear the Walking Dead Seasons 1 and 2 Widevision sets are only available on the Topps website. Each carries a cost of $99.99.
Although this may be the first physical Fear the Walking Dead trading cards, Topps' Walking Dead Card Trader app has had digital cards for a while now.
2017 Topps Fear the Walking Dead Seasons 1 and 2 Widevision trading cards at a glance:
Cards per set: 82
Set size: 80 cards
Release date: April 26, 2017
What to expect in a box set:
• Complete 80-Card Base Set
• Autographs – 2
2017 Topps Fear the Walking Dead Seasons 1 and 2 Widevision Checklist
Jump directly to:
• Base Set
• Autographs
Base Set Checklist
80 cards.
1 Gloria
2 Hospitalized
3 School's Out
4 Cal Came Back
5 Something Bad Happened Here
6 Caught on Camera
7 Detox
8 Riot
9 Safe Haven
10 Escape
11 Headshot
12 Susan
13 Cavalry Arrives
14 Rations
15 Only the Sick
16 Taken to Quarantine
17 Nursing the Sick
18 Holding It Together
19 Hostage
20 Kimberly
21 What is Cobalt?
22 Save Your Ammunition
23 Fight or Flight
24 A New Friend
25 In the Nick of Time
26 Bad News
27 Revenge
28 Breaking Point
29 A Home on the Water
30 We All Come Back
31 Nice View
32 Going For a Swim
33 Clearing The Fence
34 Mercy Kill
35 Crabby
36 They're Coming
37 Camouflage
38 I Had To
39 Exchange
40 I Don't Want to Hurt Anyone
41 Nothing to Be Sorry For
42 Shakespearean
43 The Secret in the Cellar
44 Nightmare
45 Searching
46 Begging For Help
47 A Gift
48 Not the Boy's Daddy
49 No Good
50 You Fear Your Own
51 I Found You
52 The Long Journey
53 Mad Dogs
54 A New Place to Call Home
55 Sacrifice
56 Checking In
57 El Pelicano
58 Water For Drugs
59 Last Call
60 Moving the Dead
61 Bad Trade Deal
62 Disappointment
63 Tall Tale
64 A Better Plan
65 The Pied Piper
66 Rescue Boat
67 Vengeance
68 Ice is Better
69 Lighthouse
70 Sorry Not Sorry
71 No Mercy
72 Final Goodbye
73 Doing Alright
74 Game Over
75 Welcome to America
76 Chris' Fate
77 Wrath
78 Relieving the Pressure
79 A New Hope
80 Final Heroic Act
Autographs
Autographs Checklist
16 cards.
Parallels:
• Mud – /25
• Mold – /10
• Sepia – /5
• Blood – 1/1
ADC-1 Alycia Debnam-Carey
ADC-2 Alycia Debnam-Carey
ADP-1 Arturo Del Puerto
ADP-2 Arturo Del Puerto
CD-1 Colman Domingo
CD-2 Colman Domingo
KD-1 Kim Dickens
KD-2 Kim Dickens
LJH-1 Lorenzo James Henrie
LJH-2 Lorenzo James Henrie
MA-1 Michelle Ang
MA-2 Michelle Ang
MM-1 Mercedes Mason
MM-2 Mercedes Mason
PRS-1 Patricia Reyes Spíndola
PRS-2 Patricia Reyes Spíndola
Dual Autographs
5 cards.
Kim Dickens as Madison Clark/Alycia Debnam-Carey as Alicia Clark /3
Mercedes Mason as Ofelia Salazar/Patricia Reyes Spíndola as Griselda Salazar /3
Colman Domingo as Victor Strand/Arturo Del Puerto as Luis Flores /3
Kim Dickens as Madison Clark/Lorenzo James Henrie as Chris Manawa /3
Alycia Debnam-Carey as Alicia Clark/Mercedes Mason as Ofelia Salazar /3
Comments? Questions? Contact Ryan Cracknell on Twitter @tradercracks.