2017 Topps Archives Baseball Variations Gallery and What to Look For
The 2017 Topps Archives variations are a bit of a change for the brand. While surprises are nothing new for the line, the variant spin hasn't been used much.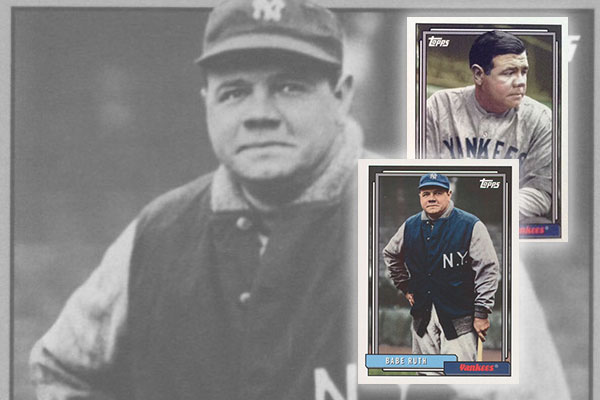 But Topps gave the heads up they'd be coming as soon as the set was announced with a mention on the marketing material.
For the most part, the 2017 Topps Archives Baseball variation short prints take a familiar path, which generally requires a closer look at the card fronts (and backs). That said, some are easier to find than others.
The 2017 Topps Archives Baseball base set comes with three separate designs. The first 100 cards use the 1960 look while ensuing 100-card blocks skip forward to 1982 and 1992.
With the 1960-inspired cards, there are two photos on the front. Both of these are changed up with the variations. That means you can look to the main color photo or the smaller black and white one.
One thing to watch out for is on the variations using the 1982 design. The short prints not only have a different photo but the facsimile signature is also missing. That should make them easier to spot, right? Not necessarily. The base versions also have a Blackless/No Signature parallel that are exclusive to the 1982 cards. So stick with the photo.
But there's also a way to confirm all 2017 Topps Archives variations with the card backs.
Confirming 2017 Topps Archives Variations Using Codes
Still not 100 percent certain you have a variation short print? You can check with the fine print on the back of the card. If you have a variation, the code ends in 799.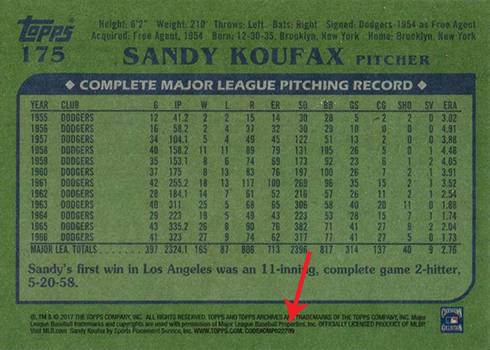 2017 Topps Archives Variations Checklist
Looking for a specific card? Click on the link to see what's currently available on eBay.
2017 Topps Archives Baseball Variations Gallery
We're working to fill in the gaps and will continue to add new cards as they're confirmed.
1 Mike Trout, Los Angeles Angels
2 Buster Posey, San Francisco Giants
25 David Dahl, Colorado Rockies
50 Hank Aaron, Atlanta Braves
75 Ty Cobb, Detroit Tigers
82 Mike Piazza, Los Angeles Dodgers
100 Corey Seager, Los Angeles Dodgers
101 Dansby Swanson, Atlanta Braves
102 Carlos Correa, Houston Astros
125 Jackie Robinson, Brooklyn Dodgers
134 Whitey Ford, New York Yankees
138 Clayton Kershaw, Los Angeles Dodgers
175 Sandy Koufax, Los Angeles Dodgers
200 Kris Bryant, Chicago Cubs
201 Roberto Clemente, Pittsburgh Pirates
225 Babe Ruth, New York Yankees
227 Manny Machado, Baltimore Orioles
250 Bryce Harper, Washington Nationals
275 Alex Bregman, Houston Astros
300 Derek Jeter, New York Yankees
Comments? Questions? Contact Ryan Cracknell on Twitter @tradercracks.