2017 Topps Archives Baseball Parties Like It's 1959 (And 1960, 1982 and 1992)
When you click on links to various merchants on this site, like eBay, and make a purchase, this can result in this site earning a commission.
2017 Topps Archives Baseball embraces the past. It brings a sense of familiarity while offering new cards. Just like other recent editions of the brand, the goal is to trigger memories of old-time baseball, wads of pink gum and bike rides to the corner store — no matter what generation you're from.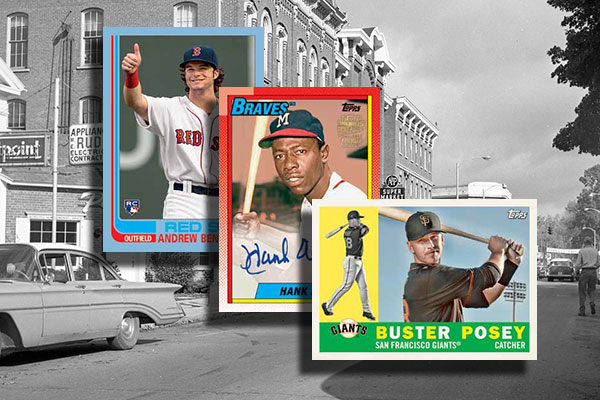 But no matter how rooted in the "good old days" the product is, it's still a modern release. That means autographs and several chase elements to go along with the main set.
Base Set
A big part of the product's nostalgia comes from the base set. Coming in at 300 cards, the checklist is a mix of current players, rookies and retired stars. The 2017 Topps Archives Baseball base set relies on three different designs: 1960 Topps, 1982 Topps and 1992 Topps. Each design has 100 cards.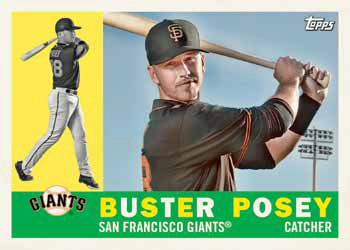 2017 Topps Archives Baseball doesn't have short prints in the base set like it normally does. However, some cards have variation versions that are tough to come by.
Hobby packs have four basic levels of parallels, all of which are serial numbered: Peach, Blue, Red (/25) and Black (1/1). Each section of the base set also has its own partial parallel set. 1960-style cards (#1-100) have Grey Backs. The next group of 100, which are based on 1982 Topps, have No Signature versions. Finally, there are Gold Winner parallels for the final 100 cards.
Autographs
2017 Topps Archives Baseball sticks with the pattern of two autographs per box, all of which come with on-card signatures.
Fan Favorites Autographs are, once again, the cornerstone of the signed content. Retired players, not necessarily superstars, make up a significant amount of the checklist. Hall of Famers and current players are also included.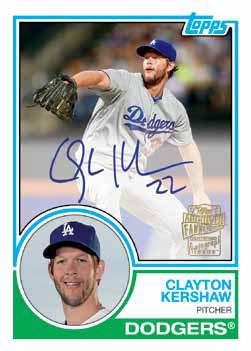 Fan Favorites Autographs come on a variety of retro designs.
Parallels come in Peach, Blue, Red (/25) and Gold (1/1).
1960 Rookie Star Autographs is a new insert for 2017. Signed on-card, these uses the 57-year-old subset design to showcase current rookies. All are numbered.
1959 Bazooka Baseball Autographs are also new. Included as a case hit, they're based on the 1959 Bazooka design and feature veterans and retired players.
Topps Originals Autographs round out the signed portion of 2017 Topps Archives Baseball. These are buyback cards that have been signed, stamped and numbered.
Inserts
Outside of parallels and autographs, 2017 Topps Archives doesn't have many additional inserts.
1959 Bazooka Baseball has an unsigned version. There's also Retro Original cards that, according to Topps, use a vintage design with a checklist that's only today's top stars.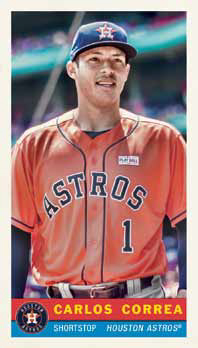 2017 Topps Archives Baseball is far from the only set to rely on nostalgia. 2017 Topps Heritage is another major example. But what makes Archives more distinct is that it pulls in lots of elements from several years. Heritage is more focused on taking a deep dive into one product. In the instance of 2017 Heritage, it's 1968.
Derek Jeter Retrospective
With Derek Jeter back in the Topps fold, the card maker is revisiting the Yankees legend's cardboard career. 2017 Topps Archives Derek Jeter Retrospective inserts reprint more than 20 of his original cards released by the company during his playing career. They date back to his original 1993 Topps Rookie Card and go through to his retirement in 2015.
Inserted 1:12 hobby packs, base versions have a commemorative stamp done in silver. Parallels include Blue Foil (/150), Green Foil (/99), Gold Foil (/50), Red Foil (/10) and one-of-one Black Foil. Reprints are also inserted one per retail blaster.
Three of the cards are short prints, landing one per case. These include the 1993 Rookie Card, his final card from 2015 and the memorable 2007 Topps Derek Jeter that includes crudely Photoshopped images of Mickey Mantle and President George W. Bush in the background. These have the same parallels as the other cards minus the Blue Foil.
Autographs are also randomly inserted. These are numbered to 5 and have one-of-one Black Foil parallels.
Retail Exclusives
Eight-pack retail blasters have an exclusive of their own — Topps Coins. These are another throwback-style insert, although they're not exactly cards. Blasters each have a pack of two coins.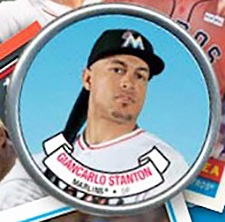 2017 Topps Archives Baseball at a glance:
Packs per box: 24
Cards per pack: 8
Boxes per case: 10
Set size: 300 cards
Release date: May 31, 2017
What to expect in a hobby box:
• Autographs – 2
2017 Topps Archives Baseball Checklist
Base Set
Autographs
Inserts
Team Sets
Comments? Questions? Contact Ryan Cracknell on Twitter @tradercracks.