2017 Topps Allen & Ginter Baseball Checklist Abides
When you click on links to various merchants on this site, like eBay, and make a purchase, this can result in this site earning a commission.
2017 Topps Allen & Ginter Baseball isn't going to be confused with something from another brand. Keeping what makes it one of the biggest releases each year, it's all about old-fashioned designs, quirky inserts and the other predictable surprises.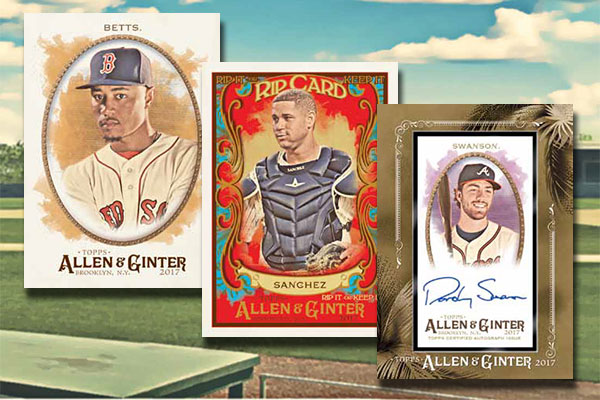 Autographs, memorabilia cards and rip cards continue to fall three per hobby box. Each pack also promises one mini card.
Base Set
The main 2017 Topps Allen & Ginter Baseball set has 350 cards. Joining the veterans, rookies and retired players are champions and other notable figures from outside the sport. That means everything from actors and singers to a disc golfer to a beer mile runner.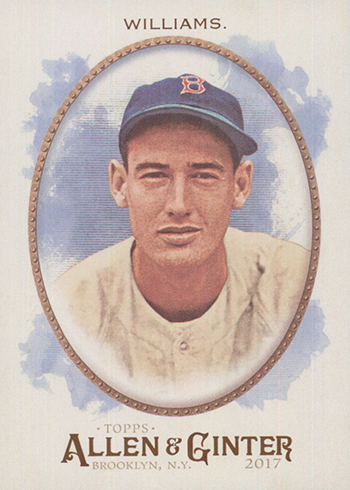 The final 50 cards on the checklist are short prints, although not tough ones. Every other pack has one of the slightly less available cards.
The base set has almost 50 Rookie Cards, including Aaron Judge. Others include Dansby Swanson, Andrew Benintendi, Trey Mancini and Yoan Moncada. Cody Bellinger does not have a base Rookie Card in 2017 Topps Allen and Ginter Baseball.
Most of the parallels come in a mini format. In addition to the basic versions, there are Allen & Ginter Back (1:5 packs), Black Bordered (1:10), No Number, Brooklyn Back (/25), hobby-only Framed Cloth (/10), Glossy (1/1), Framed Printing Plates (1/1), and Wood (1/1). Exclusive to retail are Gold-Bordered Minis.
Metal Minis (/3) are hobby exclusives. This is a partial parallel set of 150 cards.
Wood and Framed Cloth cards are also only in hobby packs.
Full-sized parallels come in two forms. Hot Box Foil parallels are only in randomly inserted hot boxes. Glossy cards are all one-of-ones.
2017 Topps Allen & Ginter Baseball Hot Boxes
Randomly inserted in 2017 Topps Allen & Ginter Baseball hobby cases are boxes where all base cards are replaced with exclusive parallels. These have a holofoil background where the player image is. This makes them easy to spot.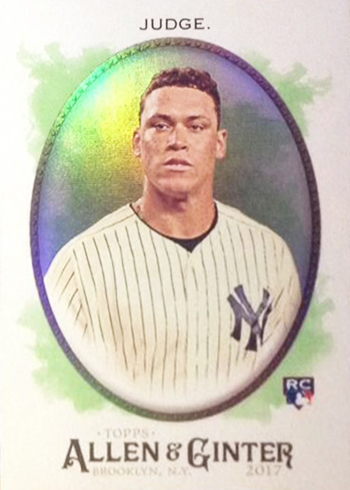 It's believed that hot boxes are inserted at a rate of one per case. So Hot Box Foil parallels are in significantly smaller supply. Short prints are like the main set, landing 1:2 hot box packs. That shrinks their supply further. That said, these aren't the rarest parallels in 2017 Topps Allen & Ginter Baseball.
2017 Topps Allen & Ginter Autographs
The bulk of the signatures in 2017 Topps Allen & Ginter Baseball stick with the Frame Mini Autographs format that has been used since the brand returned in 2006. Parallels include hobby-only Red Ink and Black Frame (/25).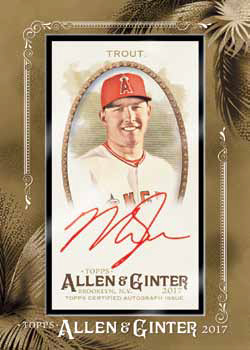 On the rare side are Autographed Relic Book cards and Dual Autographed Relic Book cards, which have two players. Both are numbered to 10 or less.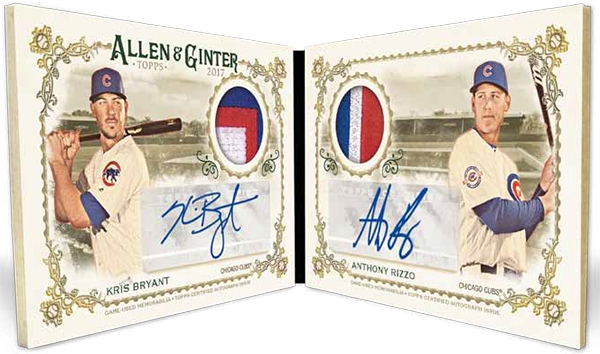 Cut Signatures come from personalities with ties to history and politics. These are all one-of-ones.
Traditionally, Allen & Ginter autographs are some of the most popular each year. While most sets' signed cards are geared primarily at single card buyers, the main Ginter autographs pull in dedicated set collectors as well.
As far as signers go, it expands beyond Major League Baseball. Several people from outside the game get cards as well. This is normal for the brand and its eclectic focus. Yes, there's an Aaron Judge autograph. Other stars include the usual superstar suspects like Mike Trout, Bryce Harper, Kris Bryant and Carlos Correa. Just don't expect these to be the most common pulls.
Not a lot of retired players have 2017 Topps Allen & Ginter autographs. However, Hank Aaron, Ken Griffey Jr. and Sandy Koufax are among those that do. All three have signed before for the brand, but it shouldn't matter much. One retired star making his Allen and Ginter autograph debut is Derek Jeter.
Cody Bellinger, the season's other super rookie, doesn't have a Framed Mini Autograph like most of the others. However, he is one of three first-year players on the Full-Sized Autographs checklist. Ian Happ and Christian Arroyo are the others.
The 2017 Topps Allen & Ginter non-baseball autographs are the familiar mix that ranges from major superstars to the strange. The biggest name among these is boxing star Floyd Mayweather. His autograph card arrives just a few weeks before his blockbuster bout against Connor McGregor.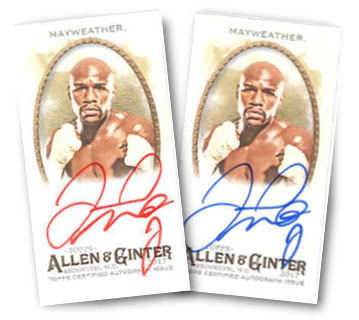 Other notable 2017 Topps Allen & Ginter non-baseball autographs include Slipknot's Chris Fehn, Buffy the Vampire Slayer star Sarah Michelle Gellar, her husband and fellow actor Freddie Prinze Jr., Star Trek legend William Shatner, and singer/actor Nick Jonas. For those looking for a little tech nostalgia, there's Myspace founder Tom Anderson. If you're looking for an autograph with a hobby connection, Mike Jasperson is on the checklist. He has worked in the industry for decades, including a tenure with Topps. Jasperson currently runs Jaspy's HobbyLand, a card shop and online breaking company.
Memorabilia Cards
As with other recent Allen and Ginter sets, basic memorabilia cards come with a few different designs. This is, in part, to help break up the potential of getting all the same types of hits in a box. For starters, there are full-sized Allen & Ginter Relics. These come with a pair of designs. Besides baseball players, this is where collectors will find memorabilia from the non-baseball subjects as well.
Framed Mini Relics feature only major leaguers.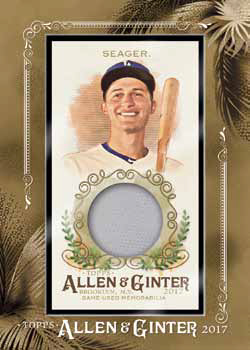 Topps also added two separate sets of World Baseball Classic mini relics with gear used in the pre-season tournament. They have both full-sized and Framed Mini versions. Although most of the featured players are Major Leaguers, there are a few non-MLB players from Japan who have memorabilia cards.
Getting in on the oddities are hobby-exclusive Framed Gems and Ancient Fossils.
Hearkening back to Ginter sets from a few years ago are Framed Fictional Figures Relics. Past Allen and Ginter releases have included things like "magic beans" from Jack and the Beanstalk and autographs from the Invisible Man.
2017 Topps Allen and Ginter Baseball Rip Cards
Rips Cards return in both single- and dual-formats. These offer the temptation of whether the collector should keep the rare card in tact or wreck it to reveal a potentially better card inside.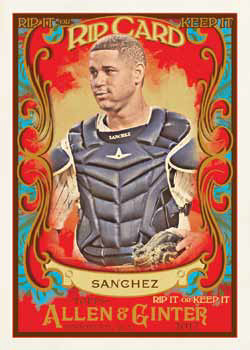 Inner Rip Card exclusives include 50 additional Mini Exclusives that expand the main set to 400 cards. These have Metal (/3) and Wood (1/1) parallels are well. Artist Original cards have mini paintings done directly on them.
Inserts
Basic inserts combine to land 1:2 2017 Topps Allen & Ginter Baseball packs. At 100 cards, What a Day! is the easily biggest of these insert sets. Cards highlight career days for veterans, rookies and retired players.
Other inserts explore historical quirky subjects from outside the world of baseball. World's Fair explores 20 inventions and buildings put on display over the years. Sport Fish & Fishing Lures (20 cards) look at what fishermen seek and the tools they use to catch them. Revolutionary Battles (ten cards) spotlight turning-points from the American Revolution.
In addition to the full-sided inserts are five mini card insert sets that fall at a combined 1:5 packs. World's Dudes (40 cards) highlight "dudes" in their natural habitat. There's no word on whether this includes anything from The Big Lebowski.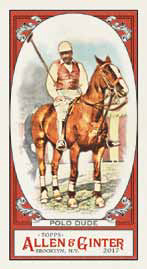 Magicians & Illusionists go back to ten vintage showmen. Required Reading reminds us of ten novels that are often on high school reading lists. Bust a Move (25 cards) offer dancing lessons with subjects covering popular dance moves. Finally, there are ten Constellations mini cards that look at celestial subjects.
A limited number of original Allen and Ginter cards from the tobacco era are included as Framed Originals. Each is considered a one-of-one and only found in hobby packs.
Box Loaders
Box Loaders are randomly inserted in hobby boxes. The main Box Loader set featured ten cards done to look like vintage pieces.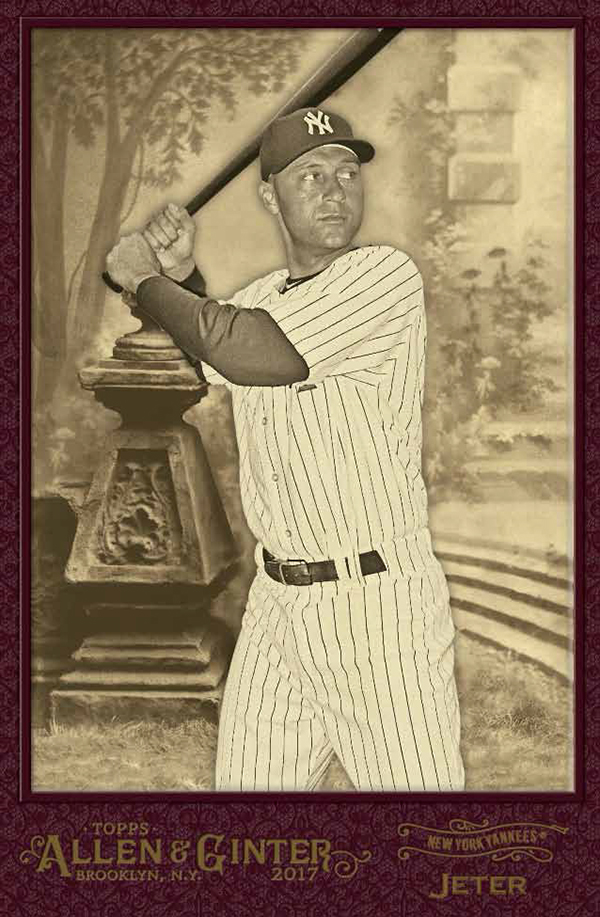 Autographed (/15), Autographed Relics (/5) and Cut Signatures are also available, albeit in small numbers.
In addition to the main release, Topps put out 2017 Topps Allen & Ginter X as a limited edition online-exclusive.
2017 Topps Allen and Ginter Baseball Rookie Cards
The following players have Rookie Cards in the 2017 Topps Allen and Ginter base set:
14 Robert Gsellman, New York Mets
17 Jose De Leon, Tampa Bay Rays
27 Yulieski Gurriel, Houston Astros
40 Dansby Swanson, Atlanta Braves
57 Jharel Cotton, Oakland Athletics
65 Kyle Freeland, Colorado Rockies
76 David Dahl, Colorado Rockies
88 Tyler Austin, New York Yankees
90 Gavin Cecchini, New York Mets
92 Hunter Dozier, Kansas City Royals
93 Chad Pinder, Oakland Athletics
99 Teoscar Hernandez, Houston Astros
108 Ryon Healy, Oakland Athletics
117 Joe Musgrove, Houston Astros
128 Tyler Glasnow, Pittsburgh Pirates
130 Renato Nunez, Oakland Athletics
148 Jesse Winker, Cincinnati Reds
157 Carson Fulmer, Chicago White Sox
166 Manny Margot, San Diego Padres
169 Antonio Senzatela, Colorado Rockies
172 Aaron Judge, New York Yankees
183 Amir Garrett, Cincinnati Reds
186 Josh Bell, Pittsburgh Pirates
201 Orlando Arcia, Milwaukee Brewers
205 Alex Bregman, Houston Astros
209 Mitch Haniger, Seattle Mariners
222 Jake Thompson, Philadelphia Phillies
237 Andrew Benintendi, Boston Red Sox
242 Luke Weaver, St. Louis Cardinals
243 Alex Reyes, St. Louis Cardinals
245 Roman Quinn, Philadelphia Phillies
262 JaCoby Jones, Detroit Tigers
268 Matt Olson, Oakland Athletics
281 Yoan Moncada, Chicago White Sox
285 Hunter Renfroe, San Diego Padres
288 Jorge Alfaro, Philadelphia Phillies
301 Trey Mancini, Baltimore Orioles SP
305 Ty Blach, San Francisco Giants SP
312 Raimel Tapia, Colorado Rockies SP
313 Matt Strahm, Kansas City Royals SP
314 Dan Vogelbach, Seattle Mariners SP
319 Seth Lugo, New York Mets SP
320 Jeff Hoffman, Colorado Rockies SP
326 German Marquez, Colorado Rockies SP
339 Reynaldo Lopez, Chicago White Sox SP
342 Braden Shipley, Arizona Diamondbacks SP
2017 Topps Allen & Ginter Baseball at a glance:
Packs per box: 24
Cards per pack: 8
Boxes per case: 12
Set size: 350 cards
Release date: July 19, 2017
What to expect in a hobby box:
• Autographs, Relics, Original Allen and Ginter Cards, Rip Cards – 3 total
• Mini Parallels – 24
• Mini Inserts – 4-5
• Inserts – 12
• Base Short Prints – 12
2017 Topps Allen & Ginter Baseball Checklist
Base
Autographs
Memorabilia
Inserts
Box Loaders
Team Sets
Comments? Questions? Contact Ryan Cracknell on Twitter @tradercracks.