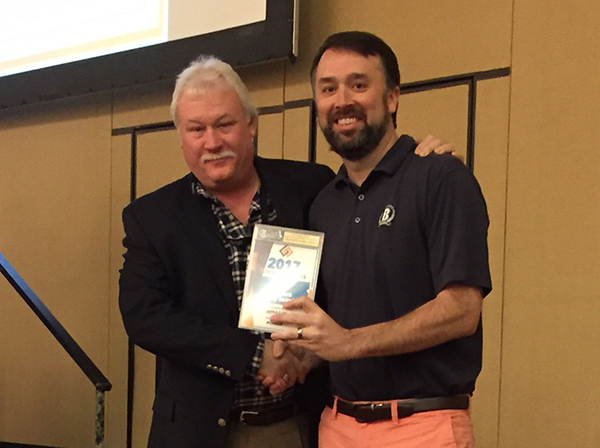 The 2017 Summit Awards sponsored by Amazon recognized standouts in the hobby. Selected by attendees, it wasn't just about achievements in trading cards but the industry as a whole.
Distributor Southern Hobby Supply was honored for Excellence in Logistics. There's a lot that goes into card shops and dealers getting the stock they need for their stores. Whether it's cards, supplies or other items, there are a lot of moving parts. On the surface, it might seem easy, but it can actually get complex.
Beckett Media spoke with Brad Wagoner, Southern Hobby's Chief Operating Officer and Executive Vice President about how they deal and excel in logistics.
Beckett Media: What makes Southern Hobby a leader as far as distribution logistics? What are the strengths of your company in this regard?
Brad Wagoner: We have 35 different truck delivery routes that service 80 to 90 major cities. They're out of the five locations that we have. The delivery drivers that deliver to cities that have 51 pro sports teams counting hockey, football, basketball and baseball.
That's a major deal. When you look at when we go to Green Bay, we go to Chicago, we go to Indianapolis. There are 51 sports teams in the areas that we deliver.
We have an ability for a really quick turnaround.
What's important to our customers is that they get increased margins on bulky items that offer consistent margins like supply products, boxes, boards, bags and that sort of stuff. They just pay a small flat delivery fee to our company. Typically, they have to absorb expensive freight costs in receiving that product. This helps keep them a little more healthy.
BM: Can you recall any particular time your team went above and beyond in this regard to help your customers?
BW: We actually had a major snowstorm — a massive snowstorm. We had Immaculate Football that was releasing. FedEx had it at the hub but they couldn't get to our warehouse so we weren't going to be able to get it to our customers by street release date. We were actually able to send our trucks to the FedEx hub, pick up the product. The next morning, early when the highways were cleared off enough to get our trucks on the road, we were able to deliver the product and our customers were able to receive it. In some cases, our competitors did not get it.
BM: What sort of role does technology play in distribution logistics?
BW: Our distribution and our truck delivery has changed a lot over the years. Just a simply thing in being in compliance with labor policy. Sales people need to be paid hourly. Just a simple thing like our sales people having the ability to clock in and out from their smart phones.
We do have a really unique website that enables our customers to book product and then finalize their order with their Southern Hobby rep before the invoice is generated. This allows us to pick and stage product scheduled for truck delivery and meet the street release dates when we do that. In other words, they may have five pages of supply products and various cards. They'll go ahead and log them into the website but they don't cash out with a shopping basket on our website. They have to talk with our sales rep. Then we go ahead and finalize their order. That gives us a chance to get our logistics folks on picking and pulling the orders to stage for delivery.
BM: Are there any trends or developments you're anticipating in the year ahead?
BW: We will be moving to a technology that will allow our drivers to actually not just deliver the orders they have ordered by the customer but process orders while they're in the store using a tablet. That'll be interfaced with our new ERP in a couple of months.
BM: How does it feel to be recognized by your customers and others in the industry with this award?
BW: All awards are special but those that come from our customers and business partners are the most special to us.