2017 Summit Awards Spotlight: GTS Distribution, Excellence In Communication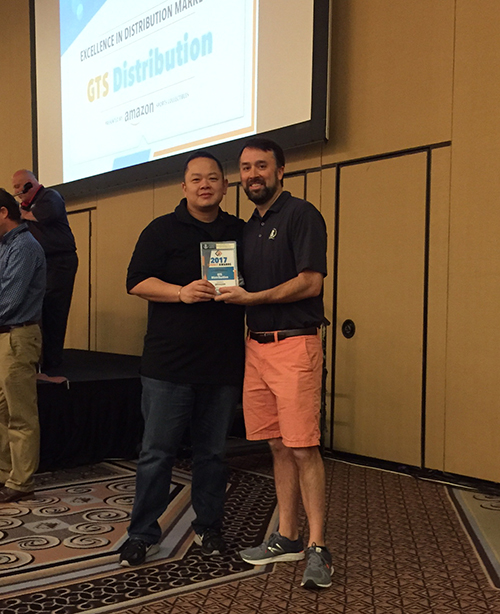 The 2017 Industry Summit came to a close with the Summit Awards sponsored by Amazon to recognize leaders in several categories and voted on by attendees earlier in the conference. GTS Distribution received an award for Excellence in Communication.
Joe Fallon, GTS Director of Business Management, discussed some of their marketing and communication initiatives.
Beckett Media: Communication is important in any industry. How does GTS navigate and excel at it when it comes to distribution?
Joe Fallon: When it comes to marketing, we don't focus on the fact that we're a distributor. We think about who our audience is and what the goal of each message is. With that, there are a several approaches that we focus on.
First and foremost, is communication with our customers. We work to deliver what they need, when they need it.
The second key approach is extending our partners' messaging and marketing. The manufacturers spend a lot of time and money to build brands, and we want to extend that message, and accentuate it if we can.
Lastly, we're not simply focused on reaching our customers, we target that message to the end consumers as well. Not all shops have the ability to reach a larger audience, so the more we can do to build up products and the hobby as a whole, and then drive that interest to purchases in shops, then we all win.
BM: What are some of the things that GTS does that's different and makes it a leader in communication?
JF: Well, where to start? Our Go GTS Live web show on Thursday nights is probably a good place. It's a fairly complex logistical endeavor, but it delivers tremendous content for shops and consumers. Live product breaks, giveaways, guest interviews, etc.
Trading cards are visual, so it was a must to do a video show. I think the best part of our show is the engagement we have with the audience during the show – it really is a lot of fun.
Our blog, gogts.net, is also unprecedented as a distributor. We not only provide checklists and latest product information, but we also employ industry writers to give insights behind players and important happenings in the hobby. And not to get too granular, but if you look at our base communication point, the product solicitations, we don't simply regurgitate what the manufacturer offers, we break it apart and present it how shops look at products, and try and aid in the buying-decision process.
We also produce video solicitations for most product offerings, something shops can use in their stores to help sell product. It's a bit of work, but it's an example of our commitment to try and help our shops be as successful in their businesses as they can.
BM: What are some of the challenges distributors face when it comes to communication and how do you overcome it?
JF: There's not enough hours in a day. We overcome it by making our team work harder – just kidding. I am not one for getting stuck on challenges. For every problem, there's a solution. We just try and be as efficient and consistent as we can in what we do, and recognize that most shops are small operations. The effort we put in can help them exponentially.
BM: GTS has used the slogan, "Great teams succeed." How do you bring a team approach reaching out to your customers?
JF: We really view all our relationships as partnerships. We are all on the same team. Whether it's a manufacturer, a storefront or a breaking operation, our approach is what can we do together to be successful? If you're successful, then we're successful. This idea really started with ownership, Lloyd and Steve. It helps keep things in perspective and guides not only our overall approach, but also our daily dealings.
It's a great hobby. It should be fun. But it's obviously also a business that puts food on our tables. The health of the hobby should be everyone's concern.
BM: How does it feel to be recognized by others in the hobby with this Summit Award?
JF: We are certainly very appreciative of any recognition, but to be really honest, a handshake and a smile from a partner is even more important. It's a little corny, I know, but that level of interaction and appreciation is what we aim for. And when we can have that kind of positive one-on-one, that's what it's all about.
Note: The photo above shown GTS' Karvin Cheung accepting the award from Beckett Media's Jeromy Murray.