2017 Summit Award Spotlight: Ultimate Box Breaks' Bryan Gavin – Best Customer Communication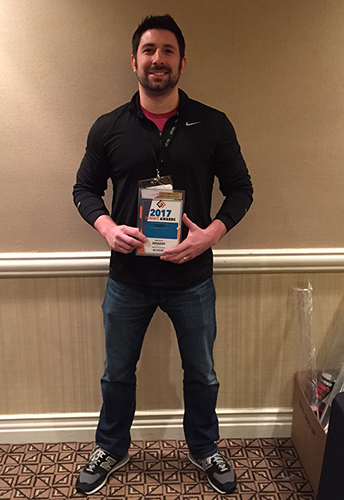 The 2017 Summit Awards sponsored by Amazon helped close out the 2017 Industry Summit in Las Vegas, recognizing several industry leaders for their contributions over the last year. Bryan Gavin of Ultimate Box Breaks won for Best Customer Communication.
Beckett Media caught up with him to discuss the importance of communication and his approach to things.
Beckett Media: What sorts of things do you do differently that makes your communication excel?
Bryan Gavin: Quick replies are essential. I pride myself on the availability and transparency that I have with my patrons on the site.
Knowledge about "how stuff works" in the industry is another key component of UBB. I've been lucky enough to see the operations of Panini's service department, autograph acquisitions, assembly lines, how cards are made, who's putting them together, packing, shipping, everything, from start to finish. Being able to answer these questions and relay information to the UBB community is absolutely essential.
BM: How important is communication among the breaker community?
BG: Very important! The breaking community has grown exponentially over the past five years and consumers have plenty of sites to fulfill their cardboard needs. I understand that each person is spending their hard-earned money on UBB, I want to give them the peace of mind that I'm here to answer any questions they may have.
BM: What are some of the biggest challenges?
BG: Being an online business, the most challenging part is being open 24 hours a day. Finding a balance with family and work can be challenging at times. To the naked eye we're just opening up boxes online–the fun stuff–but behind the scenes it takes a ton of work and logistics to keep the site running smoothly. Anticipating questions and building the answers into the site have helped UBB become a well-oiled machine.
BM: What sorts of things can customers and viewers expect from Ultimate Box Breaks in the future?
BG: I'm excited to build out the Ultimate Box Breaks iPhone/Android app. Since launching the app almost two years ago, I've learned that mobile purchasing, information, buying/selling, everything about this industry is run in the palm of your hand. I'm looking forward to the next steps and setting the bar high!
BM: How does it feel to be recognized by others in the industry with your award?
BG: It feels great to know that my hard work and dedication to Ultimate Box Breaks and the community we've built over the past six years has been recognized by the industry leaders, thank you!