Bellinger, Happ Named 2017 Topps Stadium Club Mystery Redemption Autographs
If you've got a 2017 Topps Stadium Club Mystery Redemption, you don't have to wonder what you're waiting on. Topps has announced both players on the checklist:
Mystery Redemption #1 – Cody Bellinger, Los Angeles Dodgers
Mystery Redemption #2 – Ian Happ, Chicago Cubs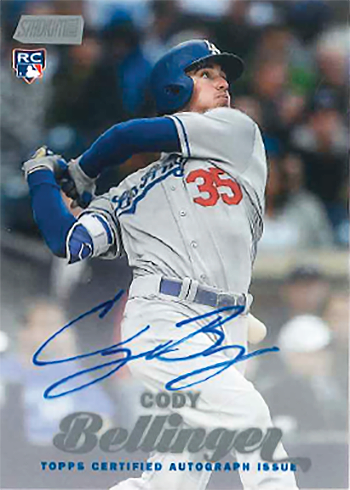 Both cards come with on-card signatures and use the same design as the set's other Base Autographs.
This wraps up a flurry of 2017 Mystery Redemption announcements. On Friday, Topps announced Royce Lewis and Brendan McKay for 2017 Heritage Minors. Yesterday, Happ and Bellinger were joined by Bradley Zimmer as the three Mystery Redemption Autographs in 2017 Topps Finest.