2017 Rittenhouse Game of Thrones Valyrian Steel Trading Cards Take a Heavy Metal Approach
In Westeros and the world of Game of Thrones, Valyrian Steel is the ultimate weapon. It's the diamond of metals, always sharp and filled with enough power to strike down just about anyone or anything — including White Walkers. When it comes to trading cards, 2017 Rittenhouse Game of Thrones Valyrian Steel represents a premium offshoot of sorts for the main seasonal card line.
And it's not just the cards that are upscale. The configuration is as well. Each box has just three packs, each containing only four cards. Two are base while the other two are inserts — one "tech" insert and one premium card that would traditionally be classified as a box hit.
Base Set
The 100-card base set bypasses classic cardboard completely. Instead, it goes for an all-metal approach appropriate for the set's name. The 2017 Rittenhouse Game of Thrones Valyrian Steel checklist focuses on the show's first seven seasons.
Much like the season-based sets, characters are the focus of the base set. In fact, that's the entire main set. It has no storylines or episode recaps.
Base cards come with two parallels. Gold cards are available in packs. Platinum parallels are reserved as an incentive. Those ordering ten cases of product from Rittenhouse received a limited edition Platinum set of all 100 base cards.
Autographs
2017 Rittenhouse Game of Thrones Valyrian Steel autographs come in a few different forms. Single-signed cards come with both Valyrian metal and Gold formats. Signers are focused more on primary and key recurring roles compared to the seasonal sets. According to Rittenhouse none of the autographs come from actors who appeared in just one episode.
Peter Dinklage (Tyrion Lannister), Sophie Turner (Sansa Stark), Maisie Williams (Arya Stark), Nikolaj Coster-Waldau (Jaime Lannister) and Lean Heady (Cersei Lannister) are among the leads signing for the set. There's also Finn Jones who plays the titular role on Iron Fist.

Dual Autographs can also be found. Among the pairings are Kit Harington (Jon Snow) and Rose Leslie (Ygritte), Dinklage with Coster-Waldau, and Isaac Hempstead Wright (Bran Stark) and Kristian Nairn (Hodor).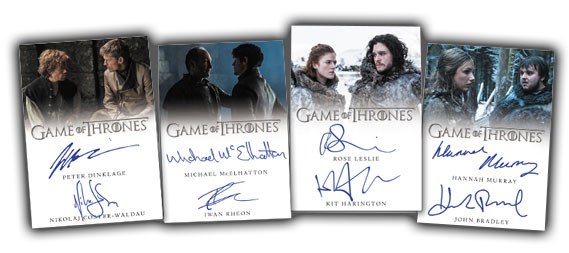 Autographs are not found in every pack, although most do have one. Signed cards fall at least two per box.
Sketch Cards
While Game of Thrones sketch cards are out there (and extremely coveted), thus far they've been limited to locations, creatures and other non-human characters from the show. That changes with 2017 Rittenhouse Game of Throne Valyrian Steel. The product has the franchise's first character sketch cards, which are done by David Desbois. The artist is a hobby veteran and is known for his photorealistic style.
Scenic sketch cards are also available.
Relic Cards
Valyrian Steel has a couple of kinds of relic cards, both from the show and manufactured. Costume cards feature pieces from the show including key characters Daenerys Targaryen and Tyrion Lannister.
Jason Momoa (Khal Drogo) has an autographed relic card as well.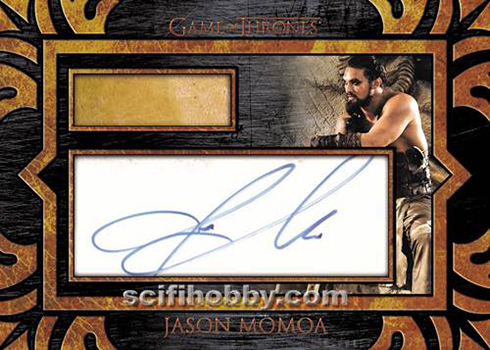 On the manufactured side are Pin Relics. These showcase the different symbols from the show including the Hand of the Queen pin Tyrion has to show his allegiance to Daenerys. There's also the Night King's Pin and the Faceless Man Coin.
Both relic and sketch cards are considered to be a pack-hit. They combine with autographs and limited edition Artifex cards that are numbered to 25 to fall one per pack.
Inserts
The one-per-pack "tech" cards in 2017 Rittenhouse Game of Thrones Valyrian Steel aren't quite on the same level as the hit autographs, relics and sketches, but they still represent premium inserts.
The come in three different formats. First are the base set's Gold parallels.
Other inserts falling under this umbrella are 3-D lenticular and laser cut cards.
2017 Rittenhouse Game of Thrones Valyrian Steel trading cards at a glance:
Packs per box: 3
Cards per pack: 4
Boxes per case: 20
Set size: 100 cards
Release date: October 18, 2017
What to expect in a hobby box:
• Autographs – 2
• Additional Autographs, Relics, Artifex and Sketch Cards – 1
• Other "Tech" Inserts – 3
• Base Cards – 6
2017 Rittenhouse Game of Thrones Valyrian Steel Checklist
Base
Autographs
Memorabilia
Inserts
Sketch Cards
Comments? Questions? Contact Ryan Cracknell on Twitter @tradercracks.