2017 Rittenhouse Game of Thrones Season 6 Trading Cards Checklist and Details
When it comes to Game of Thrones trading cards, there are two certainties, death and autographs. Both are at the forefront with 2017 Rittenhouse Games of Thrones Season 6.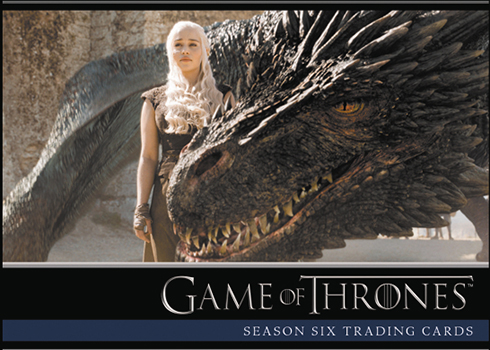 Base Set
Like the sets that came before it, the base set focuses heavily on the show's faces. And with a cast that's constantly in flux as characters travel to new corners and others meet their demise, there's plenty of ground to cover. Of the 100 cards in the 2017 Rittenhouse Game of Thrones Season 6 base set, more than half are character profiles. The remainder of the checklist highlights the season's happenings.
All 100 base cards have three different parallels. Basic ones are inserted every third pack. Gold parallels are one per box, which should make building the full set something of a challenge.
Printing plates are also available. However, they're not available in regular packs. Rather, they're exclusive to special Archive Boxes given to those pre-ordering 18 cases. Among the contents of these boxes are four matching black, cyan, magenta and yellow plates used in the printing process.
Autographs and Memorabilia and Sketch Cards
Autographs are inserted two per box. This puts it in line with the five earlier releases. They come in three different styles: Blue, Bordered and Full Bleed.
All told, more than 60 different signed cards are available in packs. Highlights include Lean Headey, Sophie Turner and several other key stars. That said, some that have signed in the past are missing.
In addition to the pack-inserted autographs, there are a couple of incentive exclusives. A Michiel Huisman Gold Signature cards is available to dealers ordering six cases. Huisman plays Daario Naharis. Huisman didn't sign in any of the first five Game of Thrones sets.
The nine-case incentive is a Dual Autograph with signatures from Maisie Williams (Arya Stark) and Tom Wlaschiha (Jaqen H'ghar).
Sketch cards and Relics combine to land one per case. Sketch cards feature the same high-end original art while Relics include memorabilia direct from the show. Among the pieces are the first costume cards from the Mother of Dragons, Daenerys Targaryen.
Inserts
Other inserts in 2017 Rittenhouse Game of Thrones Season 6 are a mix of new and returning sets.
Hall of Faces are on the new side. With 18 cards in the set, each landing about 1:6 boxes, individual cards are going to be tough. Without doubles, it takes nine cases to complete.
Returning insert themes include Beautiful Death (20 cards, 1:24 packs), Relationships (ten cards, 1:24) and Quotable Game of Thrones (nine cards, 1:12). Beautiful Death and Relationships both have Gold parallels that fall 1:144 packs.
Available separately, a binder comes with an exclusive promo card.
2017 Rittenhouse Game of Thrones trading cards at a glance:
Packs per box: 24
Cards per pack: 5
Boxes per case: 12
Set size: 100 cards
Release date: April 19, 2017
What to expect in a hobby box:
• Autographs – 2
• Beautiful Death Inserts – 1
• Quotable Inserts – 2
• Relationships Inserts – 1
• Gold Parallels – 1
• Parallels – 8
2017 Rittenhouse Game of Thrones Season 6 Checklist
Jump directly to:
• Base Set
• Autographs
• Memorabilia Cards
• Inserts
• Sketch Cards
• Promo Cards
Base Set
100 cards.
Parallels:
• Parallel – 1:3 packs
• Gold – /150, 1:24 packs
• Printing Plates Black – 1/1 (one matching set of four Plates in each Archive Box)
• Printing Plates Cyan – 1/1
• Printing Plates Magenta – 1/1
• Printing Plates Yellow – 1/1
1 The Red Woman
2 The Red Woman
3 The Red Woman
4 Home
5 Home
6 Home
7 Oathbreaker
8 Oathbreaker
9 Oathbreaker
10 Book of the Stranger
11 Book of the Stranger
12 Book of the Stranger
13 The Door
14 The Door
15 The Door
16 Blood of My Blood
17 Blood of My Blood
18 Blood of My Blood
19 The Broken Man
20 The Broken Man
21 The Broken Man
22 No One
23 No One
24 No One
25 Battle of the Bastards
26 Battle of the Bastards
27 Battle of the Bastards
28 The Winds of Winter
29 The Winds of Winter
30 The Winds of Winter
31 Tyrion Lannister
32 Ser Jaime Lannister
33 Cersei Lannister
34 Daenerys Targaryen
35 Jon Snow
36 Petyr "Littlefinger" Baelish
37 Queen Margaery
38 Ser Davos Seaworth
39 Melisandre
40 Ellaria Sand
41 Sansa Stark
42 Sandor Clegane "The Hound"
43 Missandei
44 Arya Stark
45 Lord Varys
46 Theon Greyjoy
47 Samwell Tarly
48 King Tommen Baratheon
49 Brienne of Tarth
50 Bronn
51 Bran Stark
52 Tormund Giantsbane
53 Daario Naharis
54 Roose Bolton
55 Gilly
56 High Sparrow
57 Ramsay Bolton
58 Jaqen H'ghar
59 Ser Jorah Mormont
60 Grey Worm
61 Waif
62 Ser Gregor Clegane
63 Yara Greyjoy
64 Lady Olenna Tyrell
65 Eddison Tollett
66 Podrick Payne
67 Lord Mace Tyrell
68 Grand Maester Pycelle
69 Meera Reed
70 Rickon Stark
71 Qyburn
72 Lord Edmure Tully
73 Olly
74 Brother Lancel
75 Alliser Thorne
76 Walder Frey
77 Ser Kevan Lanniser
78 Obara Sand
79 Tyene Sand
80 Nymeria Sand
81 Ser Loras Tyrell
82 Hodor
83 Yohn Royce
84 Doran Martell
85 Trystane Martell
86 Walder Rivers
87 Balon Greyjoy
88 Night King
89 Osha
90 Dragons
91 Randyll Tarly
92 Wun Wun
93 Ser Brynden Tully
94 Benjen Stark
95 Lady Crane
96 Leaf
97 Young Eddard Stark
98 Izembaro
99 Brother Ray
100 Checklist
Autographs
Autographs
61 cards.
1:12 packs.
Rarity: Extremely Limited – 100-200 copies, Very Limited – 200-300 copies, Limited 300-500 copies
Blue Autographs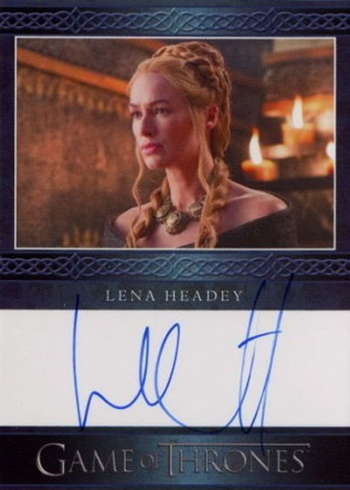 John Bradley as Samwell Tarly – Very Limited
Lena Headey as Cersei Lannister – Very Limited
Ian McElhinney as Ser Barristan Selmy – Very Limited
Jonathan Pryce as High Sparrow – Very Limited
Maisie Williams as Arya Stark – Very Limited
Tom Wlaschiha as Jaqen H'ghar – Very Limited
Bordered Autographs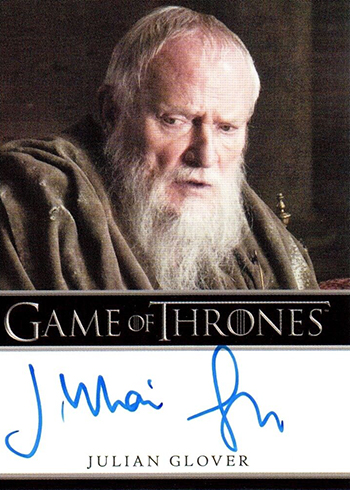 Jacob Anderson as Grey Worm – Limited
Robert Aramayo as Young Eddard Stark – Limited
Hafpor Julius Bjornsson as Gregor Clegane – Limited
Elizabeth Cadwallader as Lollys Stokeworth – Limited
Natalie Dormer as Margaery Tyrell – Very Limited
Julian Glover as Grand Maester Pycelle
Richard E. Grant as Izembaro – Very Limited
Johannes Haukur Johannesson as Lem Lemoncloak – Limited
Faye Marsay as Waif – Very Limited
DeObia Oparei as Areo Hotah – Limited
Eline Powell as Bianca – Limited
Clive Russell as Ser Brynden Tully – Very Limited
Eugene Simon as Lancel Lannister – Limited
Eros Vlahos as Lommy Greenhands – Very Limited
Elizabeth Webster as Walda Bolton – Limited
Full Bleed Autographs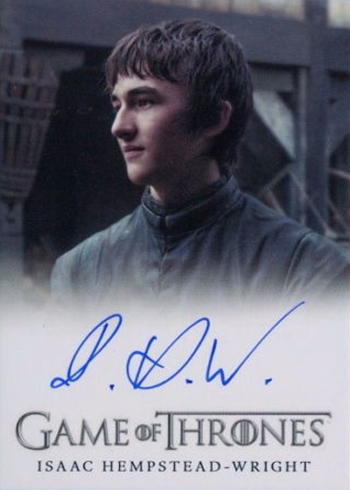 Kae Alexander as Leaf – Limited
Simon Armstrong as Qhorin Halfhand
Luke Barnes as Rast – Limitedd
Rebecca Benson as Talla Tarly
Paul Bentley as High Septon – Limited
Richard Brake as Night King (Seasons 4, 5) – Limited
Keisha Castle-Hughes as Obara Sand – Limited
Dean-Charles Chapman as Tommen Baratheon – Limited
Enzo Cilenti as Yezzan zo Qaggaz – Limited
Sam Coleman as Young Hodor
Ben Crompton as Eddison Tollett – Limited
Essie Davis as Lady Crane – Limited
Paola Dionisotti as Anya Waynwood – Very Limited
Nathalie Emmanuel as Missandei – Limited
Lino Facioli as Robin Arryn – Limited
James Faulkner as Randyll Tarly – Limited
Joel Fry as Hizdahr zo Loraq
Vladimir Furdik as Night King (Season 6) – Limited
Ben Hawkey as Hot Pie – Limited
Isaac Hempstead-Wright as Bran Stark – Very Limited
Jessica Henwick as Nymeria Sand – Limited
Conleth Hill as Lord Varys – Extremely Limited
Charlotte Hope as Miranda – Limited
Hannah John-Kamen as Ornela – Limited
Gwyneth Keyworth as Clea – Limited
Fergus Leathem as Young Rodrik Cassel
Anton Lesser as Qyburn – Limited
Hannah Murray as Gilly – Very Limited
Reece Noi as Mossador – Limited
Brenock O'Connor as Olly – Limited
Tim Plester as Walder Rivers – Very Limited
Struan Rodger as Three-Eyed Raven
Toby Sebastian as Trystane Martell – Limited
Rosabell Laurenti Sellers as Tyene Sand – Limited
Alexander Siddig as Doran Martell – Extremely Limited
Birgitte Hjort Sorensen as Karsi – Limited
Sophie Turner as Sansa Stark – Extremely Limited
Rupert Vansittart as Yohn Royce – Limited
Ian Whyte as Wun Wun – Limited
Leo Woodruff as Howland Reed
Dual Autographs
1 card.
9-case incentive.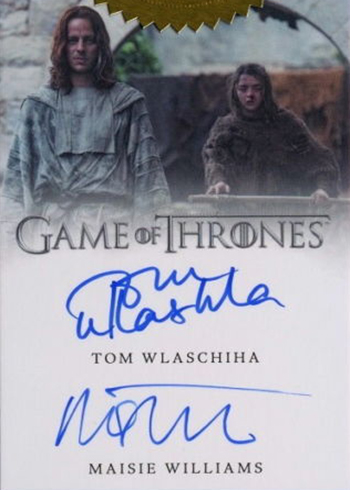 Maisie Williams as Arya Stark/Tom Wlaschiha as Jaqen H'ghar
Gold Signature Autographs
1 card.
6-case incentive.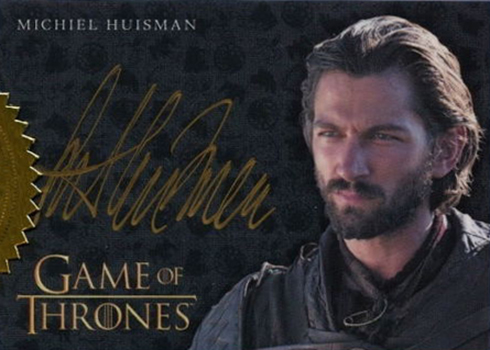 Michiel Huisman as Daario
Memorabilia Cards
Relic Cards
Full list TBA.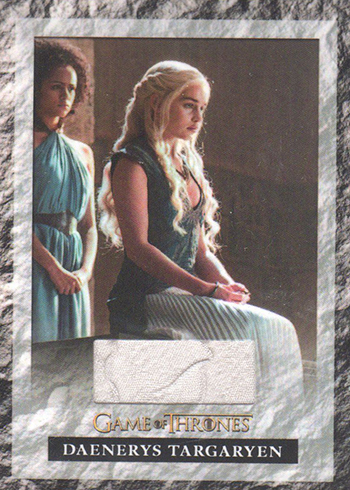 S6R1 Daenerys Targaryen
S6R2 Hodor
Inserts
Beautiful Death Poster Art
20 cards.
1:24 packs.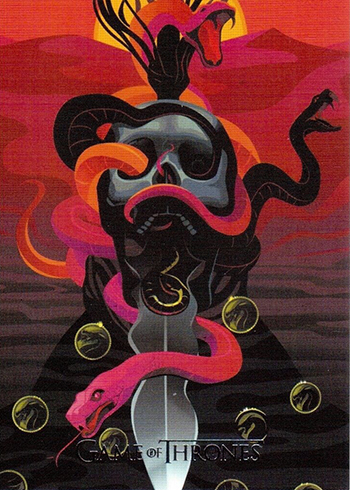 Parallels:
• Gold – /150, 1:144 packs.
BD41 The Wars to Come
BD42 The House of Black and White
BD43 High Sparrow
BD44 Sons of the Harpy
BD45 Kill The Boy
BD46 Unbowed, Unbent, Unbroken
BD47 The Gift
BD48 Hardhome
BD49 The Dance of Dragons
BD50 Mother's Mercy
BD51 The Red Woman
BD52 Home
BD53 Oathbreaker
BD54 Book of the Stranger
BD55 The Door
BD56 Blood of My Blood
BD57 The Broken Man
BD58 No One
BD59 Battle of the Bastards
BD60 The Winds of Winter
Hall of Faces
16 cards.
1:96 packs.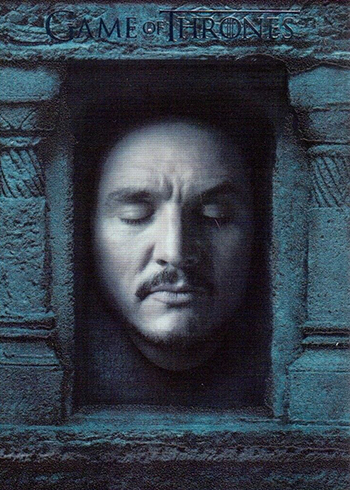 HF01 Arya Stark
HF02 Catelyn Stark
HF03 Cersei Lannister
HF04 Daario Naharis
HF05 Daenerys Targaryen
HF06 Eddard Stark
HF07 Jaime Lannister
HF08 Joffrey Baratheon
HF09 Jon Snow
HF10 Melisandre
HF11 Oberyn Martell
HF12 Robb Stark
HF13 Robert Baratheon
HF14 Sansa Stark
HF15 Tormund Giantsbane
HF16 Tyrion Lannister
Quotable Game of Thrones
10 cards.
1:12 packs.
Q60 exclusive to Rittenhouse Rewards program and not in packs.
Q51
Q52
Q53
Q54
Q55
Q56
Q57
Q58
Q59
Q60
Relationships
10 cards.
1:24 packs.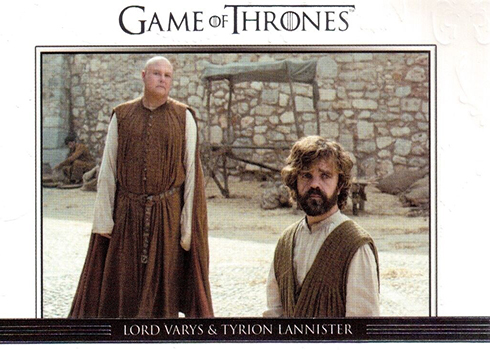 Parallels:
• Gold – 1:144 packs
DL31 Lord Varys/Tyrion Lannister
DL33 Theon Greyjoy/Sansa Stark
DL33 Doran Martell/Ellaria Sand
DL34 Obara Sand/Nymeria Sand
DL35 Jaqen H'ghar/Arya Stark
DL36 Roose Bolton/Ramsay Bolton
DL37 Cersei Lannister/King Tommen
DL38 Jon Snow/Ser Davos Seaworth
DL39 Daario Naharis/Ser Jorah Mormont
DL40 Cersei Lannister/Ser Gregor Clegane
Case Topper Metal Card
1 card.
1 per sealed case.
CT1 Valyrian Steel Metal Card
Sketch Cards
Artists TBA.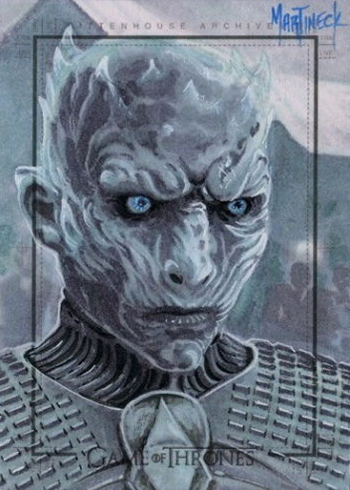 Promo Cards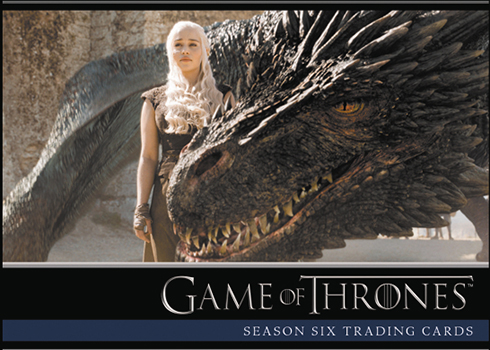 P1 Daenerys Targaryen – General Distribution
P2 Jon Snow – Non-Sport Update Magazine
P3 Daenerys Targaryen with dragon – Binder
Comments? Questions? Contact Ryan Cracknell on Twitter @tradercracks.