2017 Playoff Football Box Busters
Join Paul Wirth and Eric Norton as they open some 2017 Playoff Football.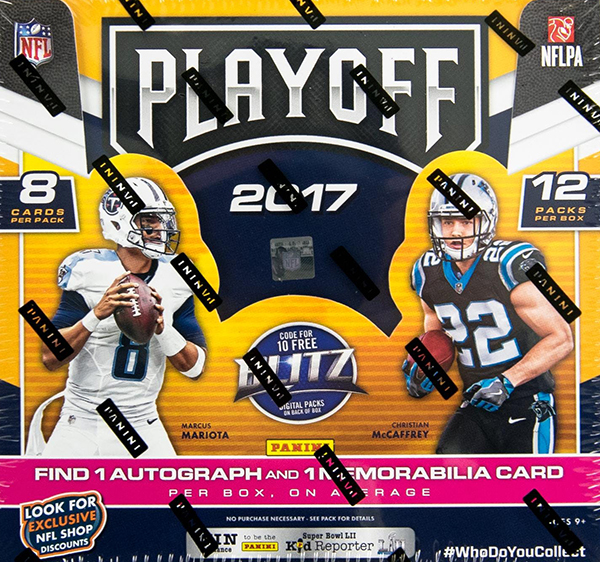 What will they find? Watch and find out.
2017 Playoff Football Box Breakdown
Here's a look at the box and what we pulled.
Packs per box: 12
Cards per pack: 8
Cards per box: 96
Base Set Completion (72/300): 24%
Duplicates: 0
Parallels: 1
Kickoff: 1
Delaine Walker/299
Autographs: 1
Rookie Autographs 1st Down: 1
Zach Cunningham/10
Memorabilia Cards: 1
Playoff Pedigree Jersey: 1
James White/99
Inserts: 21
Boss Hoggs: 3
Mark Ingram
Adrian Peterson
Jay Ajayi
Flea Flicker: 4
Green/Dalton/Hill
Peterson/Brees/Thomas
Rodgers/Nelson/Montgomery
Newton/Olsen/Stewart
Gridiron Force: 4
Harrison Smith
Brian Urlacher
Derrick Brooks
Justin Houston
Playoff Momentum: 3
Hines Ward
Michael Irvin
Jordy Nelson
Playoff Momentum 1st Down: 1
Michael Irvin/99
Star Gazing: 4
Tom Brady
Drew Brees
Odell Beckham, Jr.
David Johnson
Thunder & Lightning: 2
Dalton/Green
Manning/Beckham, Jr.
See Also: 2017 Playoff Football Checklist and Price Guide Access