2017 Panini Spectra Football Checklist and Team Set Lists
If you were to compare 2017 Panini Spectra Football to a city, it might very well be Las Vegas. For starters, its configuration lends itself to the high-end glitz of autographs and memorabilia cards. And like Vegas, Spectra uses neon to make its already colorful elements stand out even further.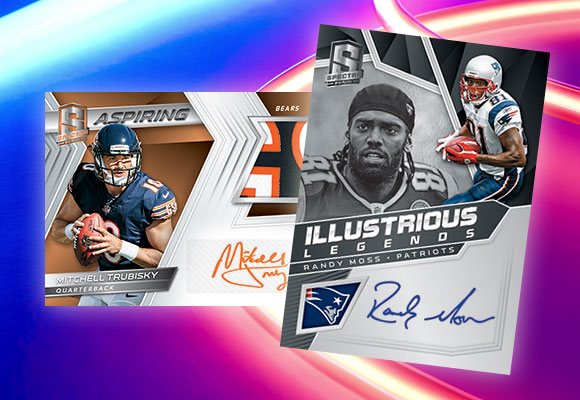 Each four-pack hobby box comes with a total of four signed cards and another seven with memorabilia.
Base Set
The 2017 Panini Spectra Football base set has 170 total cards. This breaks down into 120 veterans and 50 rookies. All are limited to 99 copies each.
Like past years for the brand in football and elsewhere, Prizms parallels bring several additional tiers and bright colors. Rather than basic shades, the Prizms come with a neon theme that emphasizes their brightness. These include Neon Blue (/50), Neon Blue Die Cut (/35), Neon Green (/25), Neon Green Die Cut (/20), Neon Pink (/15), Neon Pink Die Cut (/10), Neon Orange (/5), Neon Orange Die Cut (/3), new Nebula (/2), and Gold (1/1).
Autographs
Rookie Patch Autographs return, highlighting the signatures and pieces of player-worn gear from the 2017 draft class. Featuring 40 players, base versions are numbered to 99. Like the shell set, they have many Neon parallels as well. Among them are Neon Black Light (/10) cards that are signed with a acrylic pen. Three different versions of one-of-one Gold cards each come with a distinct laundry tag piece with either the NFL Player's Logo, NFL Shield or Nike Swoosh.
Other Rookie Patch Autographs parallels come in Neon Blue (/75), Neon Green (/50), Neon Pink (/15), Neon Orange (/5) and basic Gold (1/1).
These aren't the only autographed patch cards in 2017 Panini Spectra Football centered on the rookie class. Radiant Rookie Patch Signatures and Aspiring Patch Autographs both have smaller checklists with just 20 players each. Print runs for the base versions of both max out at 199 copies. The parallel structures are similar to that of the regular Rookie Patch Autographs.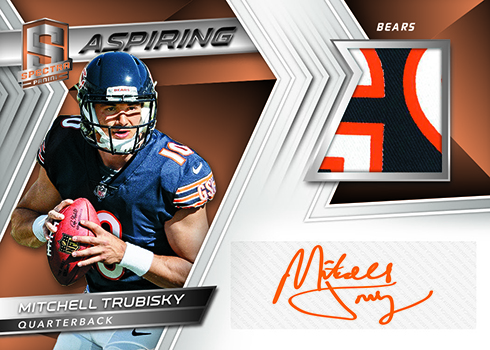 Rookie Dual Patch Autographs combine swatches and signatures from a pair of players. Base versions are numbered to 25 and parallels go down from there.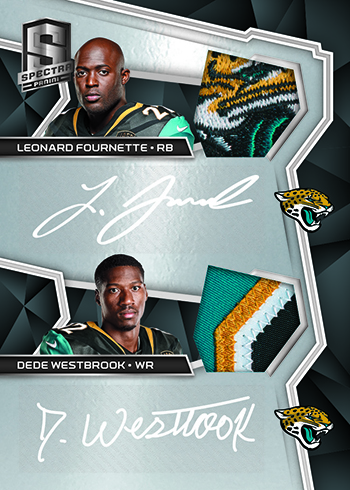 Not all of the signed inserts in 2017 Panini Spectra Football have memorabilia attached to them. Signatures and Rookie Autographs both take the more streamlined approach. The same is true for Illustrious Legends, which includes on-card autographs from all-time standouts.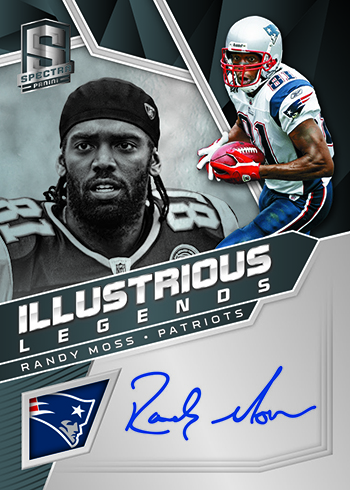 Hall of Fame Signatures, which began back in 2014 Panini Spectra Football, continues to grow. More than 20 new players have been added to the evolving checklist.
Memorabilia Cards
Memorabilia cards in 2017 Panini Spectra Football come with a variety of themes. One constant, which carries over from the rest of the product, is the colorful parallels. When it comes to swatches, not only do these colored tiers mean smaller print runs, but the rarest versions often come with premium swatches as well.
Epic Legends Materials (20 cards, /99 or less), Catalysts (20 cards, /199 or less), Attired Athletes (25 cards, /99 or less), dual-swatch Rising Rookie Materials (30 cards, /199) and three-piece Triple Threats (25 cards, /199 or less) are some of the places to find jersey swatches and other memorabilia.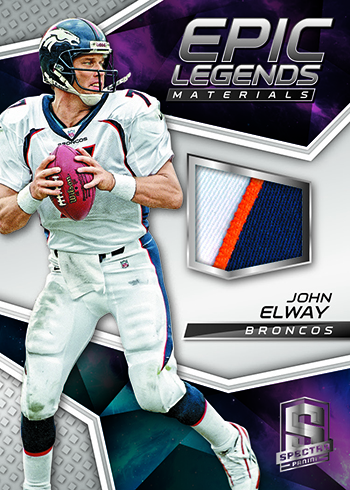 2017 Panini Spectra Football at a glance:
Packs per box: 4
Cards per pack: 4
Boxes per case: 8
Set size: 120 cards
Release date: September, 2017
What to expect in a hobby box:
• Autographs – 4
• Memorabilia Cards – 7
• Prizms Parallels – 3
2017 Panini Spectra Football Checklist
Base
Autographs
Memorabilia
Team Sets
Comments? Questions? Contact Ryan Cracknell on Twitter @tradercracks.