2017 Panini Plates & Patches Football Checklist and Team Set Lists
Despite having just five cards per box, 2017 Panini Plates & Patches Football squeezes in a lot of variety when it comes to card types. That includes an autograph, a memorabilia card and a printing plate every time out.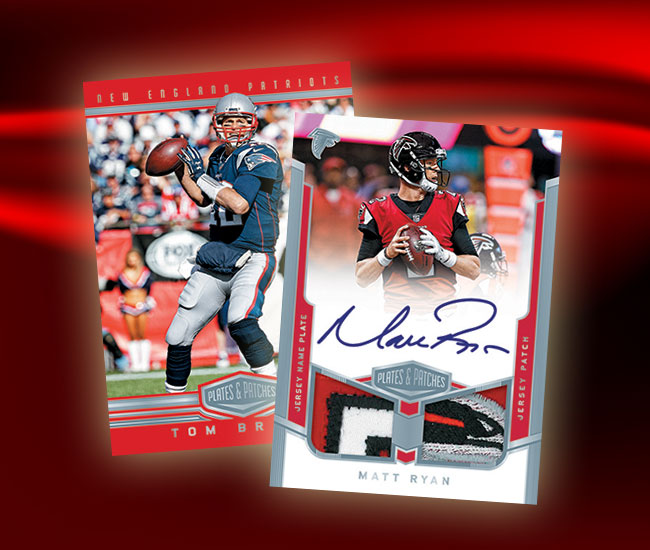 Base Set
Boxes have a base card as well. But just one, so building a set is going to take some work. The checklist is a mix of veteran stars, key rookies and some retired legends. Action photography and minimal design elements are a cornerstone to the base set's look.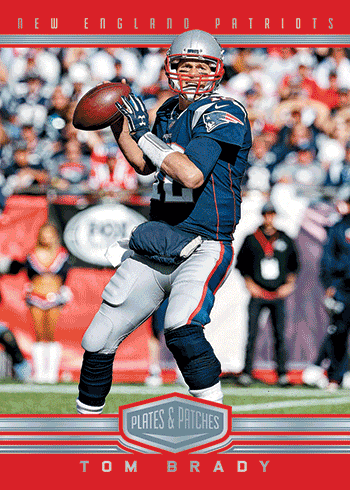 One parallel is also guaranteed in each 2017 Panini Plates & Patches Football box. These all come numbered to 50 or less.
Autographs and Memorabilia Cards
Similar to the base set, autographs in 2017 Panini Plates & Patches Football are a mix of past, present and future. The promised signed card in each box is either a Rookie Patch Autograph or a signature from a veteran or retired player. All signed cards are numbered to no more than 99 copies.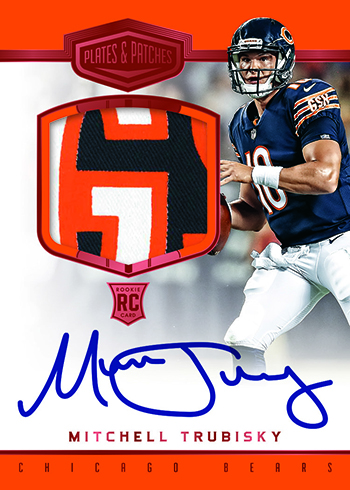 For the Rookie Patch Autographs, the swatch windows are larger than past years. They're also hard-signed.
Veteran and retired signatures also include on-card autographs. Among them is the Hall of Fame-only Canton Calligraphy.
Marquee Marks are a mix of veterans and retired players.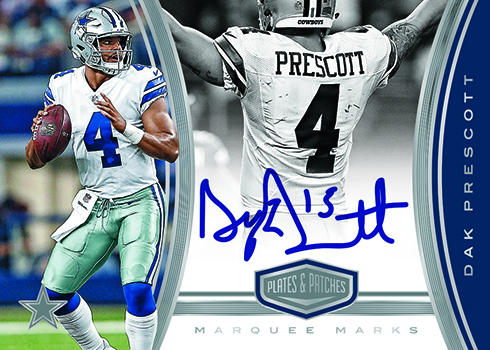 Bringing in swatches, Plates & Patches Autographs (/25 or less) have a prime swatch along with the hard signature.
Each 12-box 2017 Panini Plates & Patches Football case includes one autographed printing plate.
When it comes to strictly memorabilia inserts, rookies take much of the focus. Among them is Full Coverage, which have a jumbo swatch. Red parallels (/5 or less) have a laundry tag or brand logo. Gold versions are one-of-ones.
Double Coverage takes on a similar name but patches from a pair of players.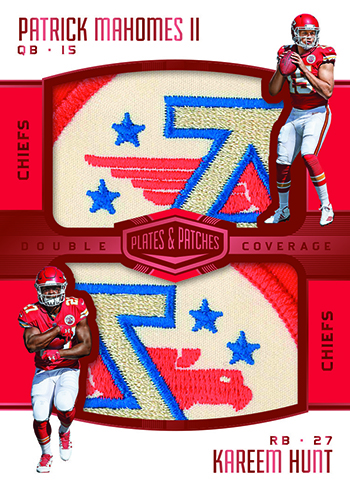 2017 Panini Plates & Patches Football at a glance:
Cards per pack: 5
Packs per box: 1
Boxes per case: 12
Set size: 240 cards.
Release date: February 7, 2018
What to expect in a hobby box:
• Veteran/Retired Player Autographs or Rookie Patch Autographs – 1 Total
• Memorabilia Cards – 1
• Printing Plates – 1
• Parallels (/50 or less) – 1
• Base Cards – 1
2017 Panini Plates and Patches Football Checklist
Base
Autographs
Auto Plates
Memorabilia
Team Sets
Comments? Questions? Contact Ryan Cracknell on Twitter @tradercracks or by email.