2017 Panini Origins Football Checklist and Team Set Lists
Last year, Origins was one of the most notable new additions to Panini's football portfolio. Taking some design and configuration cues from Topps Inception, it featured not only some of the earliest on-card autographs from the rookie class, but some of the more popular outside of company's the super-premium offerings. 2017 Panini Origins Football is largely staying the course with bold designs and lots of autographs and memorabilia cards centered on key players from the draft.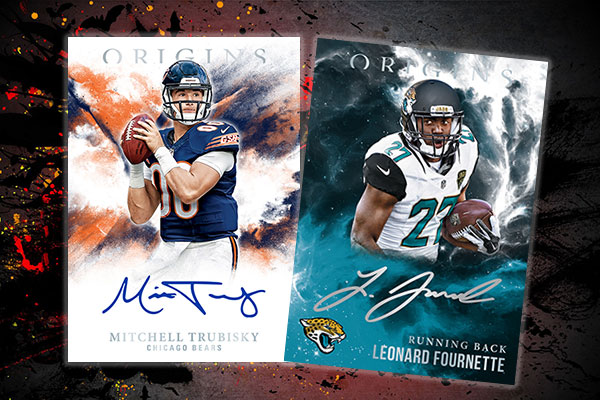 Each box of 2017 Panini Origins Football has two autograph cards. One is signed on-card and the other is an autographed jumbo patch card.
The hard-signed ink starts with traditional Rookie Autographs. These feature players in NFL gear and another colorful, modern design. Other on-card offerings include Origins Autographs, which are signed in either silver or gold ink and are numbered to 99 or less, and Passing Stars Autographs.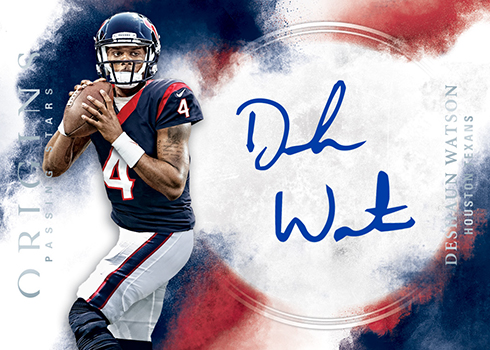 2017 Panini Origins Football also has hard-signed multi-signed cards that have two, four and six signatures. They're not easily found, though, limited to ten copies or less.
As far as the Rookie Jumbo Patch Autographs go, they have a similar flair as far as the look goes, although flipped horizontally to make room for the swatch. Among the toughest parallels are cards that have things like swooshes, tags, gloves and NFL Shields.
There are also Rookie Booklet Patch Autographs that offer even larger pieces of memorabilia. These are numbered to 25 or less.
Seven-card 2017 Panini Origins Football boxes come with a third hit, either a jumbo memorabilia card or a patch card.
2017 Panini Origins Football at a glance:
Packs per box: 1
Cards per pack: 7
Boxes per case: 16
Set size: 140 cards.
Release date: August 23, 2017
What to expect in a hobby box:
• Jumbo Rookie Patch Autographs – 1
• Rookie Autographs – 1
• Jumbo Memorabilia or Patch Cards – 1 Total
2017 Panini Origins Football Checklist
Base
Autographs
Memorabilia
Team Sets
Comments? Questions? Contact Ryan Cracknell on Twitter @tradercracks.