2017 Panini National Treasures Collegiate Football Checklist and Details
As a brand, National Treasures covers several sports. No matter which one, it's always on the upper side of the high end. In recent years, since Panini landed the NCAA exclusive, the brand has expanded into college sports as well. 2017 Panini National Treasures Collegiate Football heads to class with another hits-focused configuration.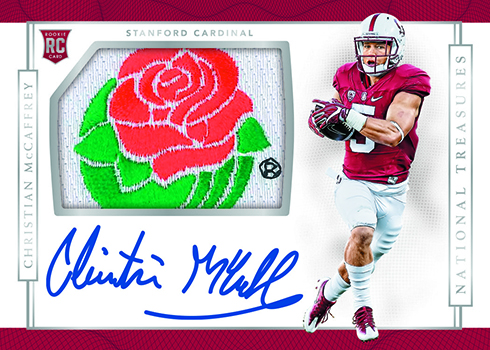 Both recent alumni and players from the past are included with each seven-card box boasting six total autographs and memorabilia cards.
Autographs and Memorabilia Cards
Those familiar with National Treasures know that the brand, no matter the year or sport, has a broad mix of autograph cards and themes. 2017 Panini National Treasures Collegiate Football is no different.
It starts with College Material Signatures. The checklist features 2017 NFL rookies with on-card autographs and larger-than-average patch swatches.
College Silhouette Signatures and Rookie Silhouette Signatures keep the same general elements of autographs and jumbo patch pieces. However these use a different design of Silhouette cards that adopt die-cut images of players to help showcase the swatch in a slightly different but distinct way.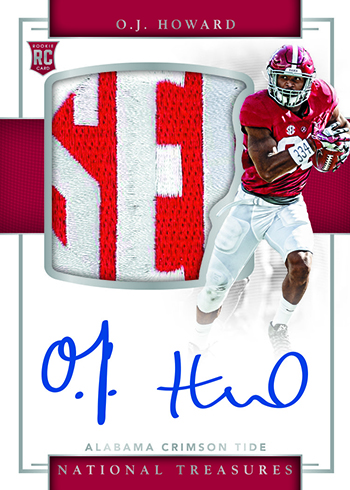 Rookie-focused Combo Player Signature Booklets open up to include an autograph that's hard-signed and a pair of swatches.
Both these book cards and the Silhouettes have parallels that come with special Conference, Bowl and Championship patches.
Team Logo Shields Signatures is another insert that has both an autograph and a distinct patch.
Although much of the memorabilia in 2017 Panini National Treasures Collegiate Football comes in the form of player-worn gear, some components do use swatches from gamers. Specifically, game-used pieces can be found in Materials Signatures.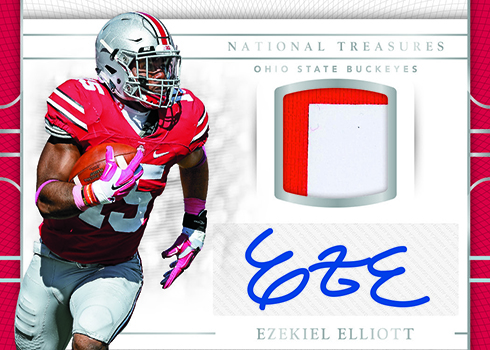 Not all of the signed cards in the product have swatches. Some stand on their own with the ink. Notable Nicknames returns with both an on-card autograph and inscriptions with the player's nickname. Dual Signatures pair up players (and maybe even some coaches) from the same school. National Treasured Cuts has cut signatures from players in either the College or Pro Football Hall of Fame.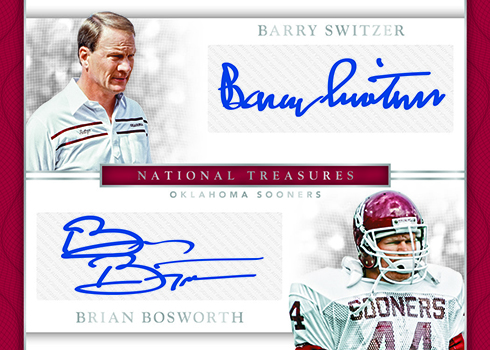 Base Set
Although much of the attention is, rightfully, going to be on the autograph and memorabilia cards, 2017 Panini National Treasures Collegiate Football does have a shell base set. With just 25 cards, it's not big. But with a maximum of one per box (some have a base parallel instead), putting it together is still a challenge.
Those parallels? They're not easy, either. The most common are Black, which have five numbered copies each. They're joined by one-of-one Blue and Printing Plate versions.
2017 Panini National Treasures Collegiate Football at a glance:
Packs per box: 1
Cards per pack: 7
Boxes per case: 4
Set size: 25 cards (shell set)
Release date: September 13, 2017
What to expect in a hobby box:
• Autographs or Memorabilia Cards – 6 Total
• Base Cards or Parallels – 1 Total
2017 Panini National Treasures Collegiate Football Checklist
Base
Autographs
Memorabilia
2016 Updates
Comments? Questions? Contact Ryan Cracknell on Twitter @tradercracks.