2017 Panini Immaculate Baseball Checklist Brings Unique Memorabilia, More On-Card Autographs
Some things may change, but 2017 Panini Immaculate Baseball remains focused on the sport's high-end. All but one of the cards in each six-card box come with autographs or memorabilia pieces.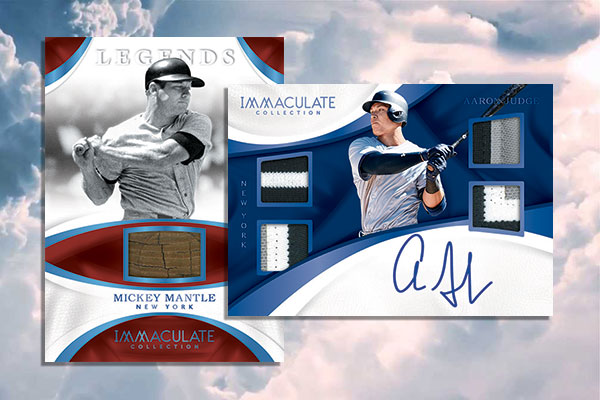 While hits-focus remains the same, 2017 Panini Immaculate Baseball does introduce some new themes for autographs and memorabilia cards.
On the signature side, some of the new autograph inserts include Carbon Signatures, Tweed Weave and Immaculate Home Plate Signatures. Also new are Immaculate Bats, which are signed on a large piece of wood. Parchment Signatures, which have been done in National Treasures Baseball make the jump over to Immaculate.
For rookies, Panini is promising more on-card autographs in 2017 Immaculate Baseball compared to previous years. These come in a variety of forms including some with multiple swatches and lots of patches. Specific sets include Rookie Auto Patch, Immaculate Signatures Patches Rookie, Rookie Auto Premium Patch, and Immaculate Quad Auto Materials Rookie. Parallels for most of these come in three levels, all numbered to 49 or less.
More hard-signed cards can be found in Immaculate Dual Autographs.
As has been the tradition since the brand debuted several years ago, 2017 Panini Immaculate Baseball highlights unique and premium memorabilia pieces as well. Among the jumbo swatch offerings are massive pieces from batting gloves, fielding gloves and letters from the back of a jersey's nameplate.
Shadowbox Materials make their Immaculate debut, providing a design that brings some depth with it.
Other memorabilia inserts in 2017 Panini Immaculate Baseball include Immaculate Material, Immaculate Legends, and Immaculate Super Hero Gloves.
Similar to the on-card signatures, Panini is pledging that the product has more Prime memorabilia swatches compared to past years.
2017 Panini Immaculate Baseball at a glance:
Packs per box: 1
Cards per pack: 6
Boxes per case: 8
Set size: 138 cards
Release date: August 16, 2017
What to expect in a hobby box:
• Autographs or Memorabilia Cards – 5 Total
• Base Cards or Parallels – 1 Total
2017 Panini Immaculate Baseball Checklist
Base
Autographs
Memorabilia
Team Sets
Comments? Questions? Contact Ryan Cracknell on Twitter @tradercracks.