2017 Panini Illusions Football Checklist, Team Set Lists
2017 Panini Illusions Football is a new brand. It's base set doubles up on players, combining a current star with someone from the same franchise's past. And while past and present meet as far as subjects go, designs take a more futuristic approach.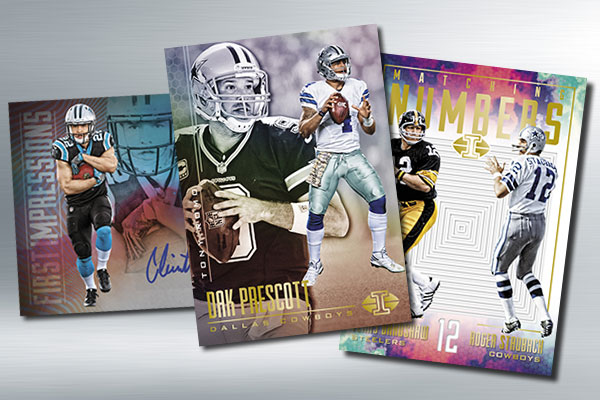 Each hobby box has five total hits: an autographed memorabilia card, two additional autographs and two memorabilia cards.
2017 Panini Illusions Football Base Set
The main part of the 2017 Panini Illusions Football set takes a two-player approach. It's been used before, but usually for doubling up rookies or in subsets. Here, entire shell set has two players. Current players sit in the foreground. They're paired with someone from the past who played for the same franchise.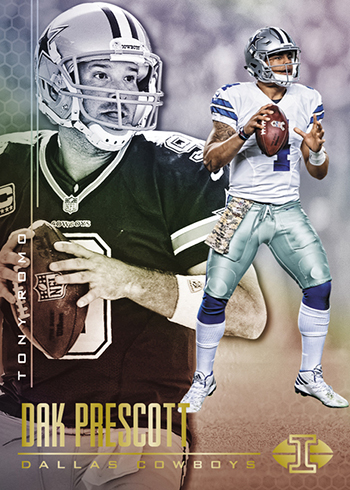 For team collectors, this should keep things relatively straightforward.
Parallels are exclusive to special box topper packs. These fall under the Trophy Collection name and come in a handful of colors: Blue (/100), Red (/50), Green (/25) and Purple (1/1).
Rookies come in a couple of signed subsets. First Impressions are autographed memorabilia cards that have the same colored parallels as the main set. Additional first-year autographs are in Rookie Signs, which has another 50 cards.
Much of 2017 Panini Illusions Football comes on holo foil stock. This is similar to Flair Showcase cards and Select Certified parallels from the mid to late 1990s.
Autographs and Memorabilia Cards
2017 Panini Illusions Football has autographs and relics covering several themes.
Elusive Ink makes the jump to the set. This set highlights signatures from players who don't necessarily have a lot of signed cards. It was last seen in 2016 Donruss Signature Series.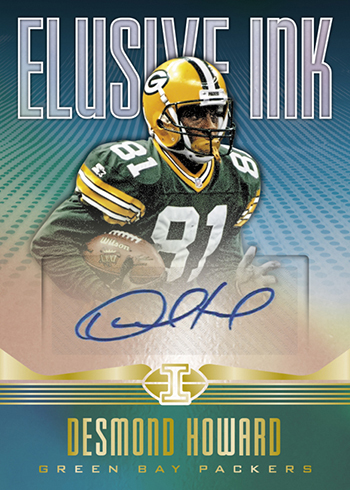 Other single-signed autograph inserts include Rookie Endorsements and Veteran Signs.
Illusions doesn't limit the multi-player cards to the base set. It comes through in some of the higher-end autographs as well. Mirror Dual Signatures, Rookie Dual Signs and Rookie Reflections Dual Autographs are all such sets.
Rookie Reflection Dual Patch Autographs put a memorabilia spin on things. As the name suggests, all have premium swatches.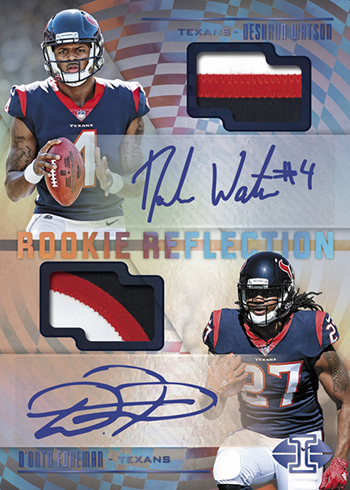 First-year players make up many of the memorabilia inserts. These include First Impressions Memorabilia and Rookie Reflection Dual Patch. Rookie Idols Dual Memorabilia pair a young player with someone older. Legacies Dual and Triple Memorabilia, and Spotlight Memorabilia are some of the other relics on the checklist.
Inserts
Besides the hits, boxes also have five inserts. These switch gears as far as card construction goes, opting for acetate stock.
Matching Numbers continue the pairing-up theme, spotlighting two stars with the same digits on the back of their jersey.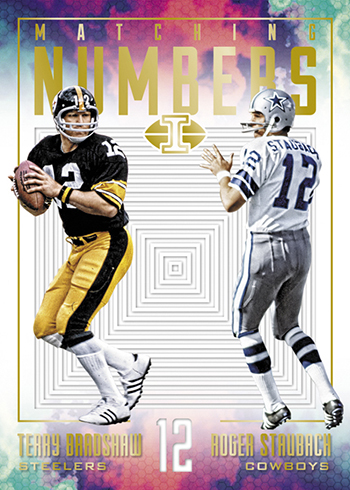 Living Legends, Mystique, Clear Shots and Illusionists are among the other insert sets.
2017 Panini Illusions Football at a glance:
Packs per box: 10
Cards per pack: 5
Boxes per case: 16 (two 8-box inner cases)
Set size: 190 cards
Release date: November 22, 2017
What to expect in a hobby box:
• Autographed Memorabilia Cards – 1
• Autographs – 2
• Memorabilia Cards – 2
• Inserts – 5
• Box Topper Parallels – 1
2017 Panini Illusions Football Checklist
Base
Autographs
Memorabilia
Inserts
Team Sets
Comments? Questions? Contact Ryan Cracknell on Twitter @tradercracks or by email.