2017 Panini Football Checklist and Team Set Lists
Like last year's release, 2017 Panini Football is heading direct to retail. The flagship-style product isn't overly complicated, focusing on both traditional names and folding in content that goes with the company's own branding.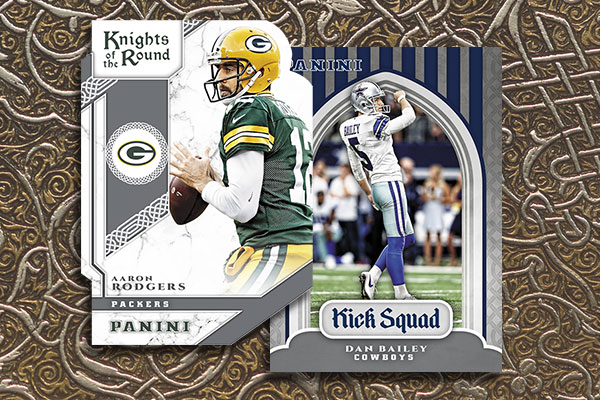 Base Set
The 2017 Panini Football base set comes with 200 cards. The front half are veterans while Rookie Cards make up the second batch of 100 cards. This is just the second set on the market to include the 2017 rookie crop in their NFL uniforms.
All base cards have a total of ten parallels. These come with a couple of different themes. First there are traditional color-based parallels such as Blue Knight and Red Knight.
Autographs and Memorabilia Cards
Regular retail and blaster boxes each come with either and autograph or a memorabilia card.
Base Autographs bring signatures from veteran players represented in the first part of the main checklist. That said, quantities vary greatly from a high of 99 copies down to low of five for several of the key players.
Rookies get the spotlight in 2017 Panini Football's other three autograph inserts: Heir to the Throne Signatures, First Impressions Autographs, and Rookie Calligraphy.
While first-year players make up the majority of the signed inserts, veterans and retired players have the greatest variety of memorabilia cards. Quarterbacks from the past and present are featured in Catapults. Honored Swatches are only Hall of Famers and legends.
Rounding out the veteran and retired memorabilia cards are Quest Materials, Gridiron Warriors Jerseys and Cavalry Materials.
Rookies aren't left out entirely. Squires Jerseys are the first NFL-themed memorabilia cards for the 2017 draft class outside of the 2017 Panini Father's Day promo set.
All memorabilia inserts have Prime parallels that come with smaller production runs and premium swatches.
Inserts
Among the 2017 Panini Football inserts are three sets of Predictors. These attempt to be a crystal ball of sorts for the 2017 Most Valuable Player, Offensive Player of the Year and Offensive Rookie of the Year. Those who have the card of the winning player or the Wild Card, which boils down to "everyone else," win an exclusive set of cards after the season concludes.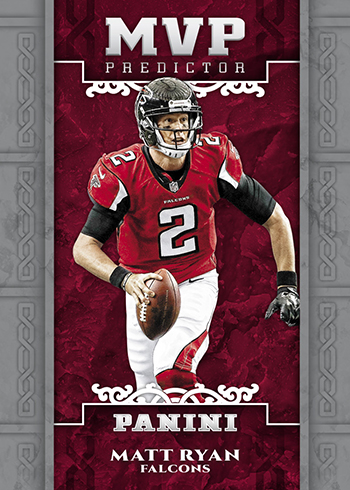 Other inserts for the product opt for themes based on what the Panini brand stands for. Knight School looks at rookies. Knights of the Round, a case hit, use a die-cut design for top players. Legends of the Shield consists entirely of retired stars.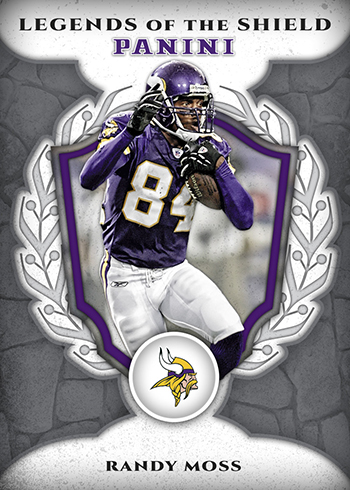 Rounding out the insert sets are The Rooks, Accolades, Kick School and Decorated.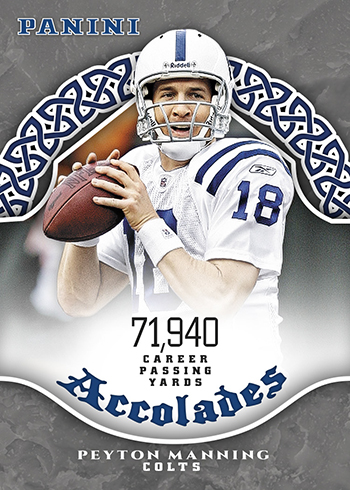 2017 Panini Football at a glance:
Packs per box: 24 (retail), 11 (blaster), 12 (fat packs)
Cards per pack: 10 (retail), 8 (blaster), 20 (fat packs)
Boxes per case: 20
Set size: 200 cards
Release date: July 12, 2017
What to expect in a retail box:
• Autographs or Memorabilia Cards – 1
What to expect in a blaster box:
• Autographs or Memorabilia Cards – 1
• Inserts – 11
• Rookie Cards – 11
What to expect in a fat packs box:
• Inserts – 24
• Parallels – 24
• Rookie Cards – 24
2017 Panini Football Checklist
Base
Autographs
Memorabilia
Inserts
Team Sets
Comments? Questions? Contact Ryan Cracknell on Twitter @tradercracks.