2017 Panini Flawless Football Checklist and Team Set Lists
2017 Panini Flawless Football has gems galore. There's diamonds, emeralds, sapphires and more. And not just regular diamonds. Canary and chocolate diamonds are part of the product's expanding lineup. The ultra-premium focus and elegant designs remain, but there are several new elements including different combinations of autographs and memorabilia cards.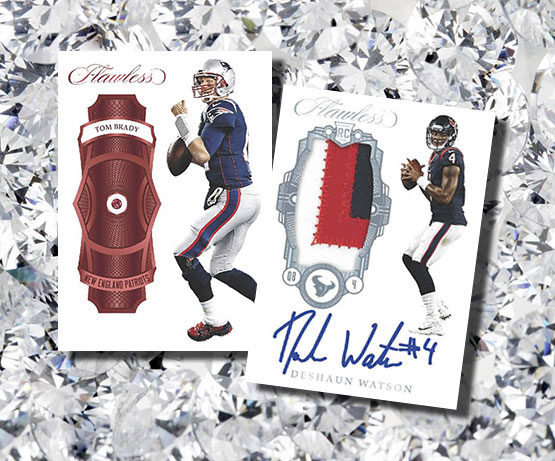 The Gems of 2017 Panini Flawless Football
As has been the tradition with Flawless since its debut, base cards and their parallels have some sort of gem.
Part of what's new in 2017 are more parallels with new gem styles. Parallel versions include Sapphire (/15), Diamond (/10), Emerald (/5), Chocolate Diamond (/4), Canary Yellow Diamond (/3), and Platinum (1/1).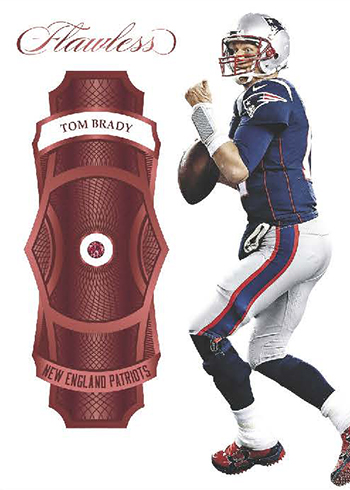 Base cards aren't the only ones with bling in 2017 Panini Flawless Football. Rookie Gems Signatures include top first-year players. Base versions have 20 copies each. Parallels fall in line with the same styles and numbering as the main set.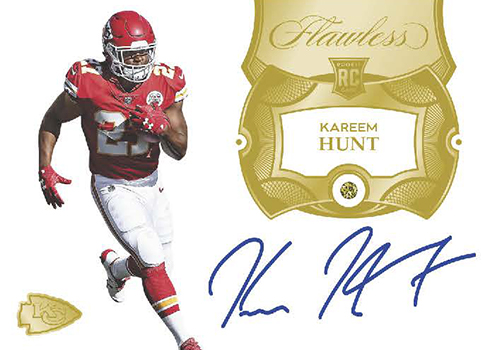 Red, White and Blue inserts come with three gems each.
Autographs and Memorabilia Cards
All autographs in 2017 Panini Flawless Football are either on-card or cut signatures. That means no stickers or labels. According to Panini, the product also has more autographed patch cards than past installments.
As far as first-year players go, Rookie Patch Autographs (/25) cover both bases. The signature is joined by a jumbo swatch. Parallels come in Silver (/20), Ruby (/15), Sapphire (/10), Emerald (/5) and Platinum (1/1).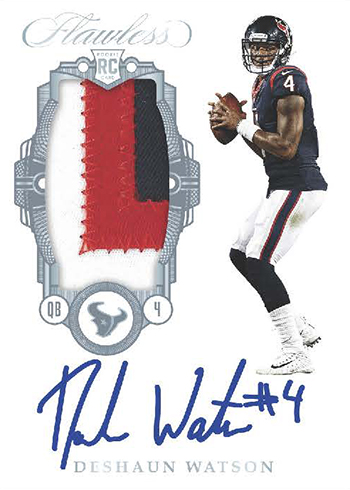 Patch Autographs and Dual Patch Autographs both return with pieces larger than you find in most sets.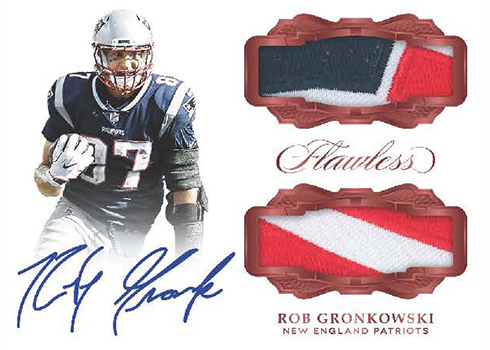 As far as distinct memorabilia pieces go, Symbolic Signatures and Shield Signatures both have instantly recognizable pieces. Symbolic means a brand logo. The shield is just that, in the form of the NFL logo.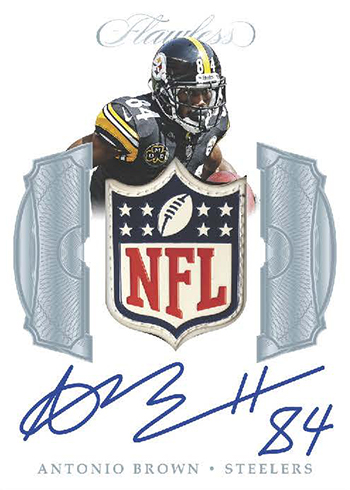 Flawless Penmanship is a new insert for 2017. Brett Favre, Emmitt Smith, Barry Sanders and Peyton Manning are among the signers on this part of the checklist.
Other new addition include Retired Numbers Signatures and Flawless Gloves.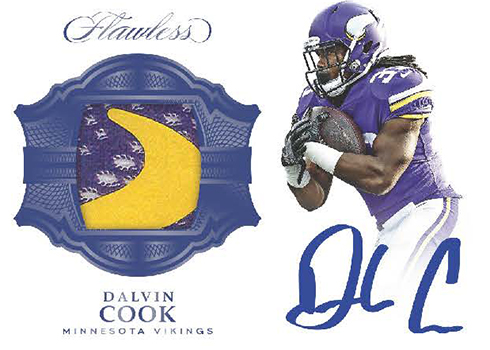 As far as autograph signers go, Panini has several names new to the brand. Drew Bledsoe, Tony Gonzalez, Rodney Harrington, LaVar Arrington, Morten Anderson, Mike Alstott and Jeremy Shockey.
On the strictly memorabilia side, Triple Patches is one of the options. These come with swatches from three different players.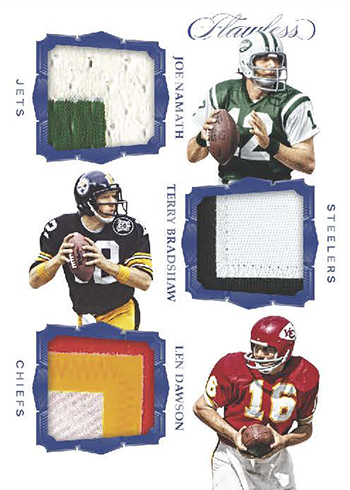 All cards in 2017 Panini Flawless Football are numbered to 25 less.
2017 Panini Flawless Football at a glance:
Cards per pack: 10
Packs per box: 1
Boxes per case: 2
Set size: 190 cards
Release date: April 4, 2018
What to expect in a hobby box:
• Autographs – 6
• Memorabilia Cards – 2
• Gem Cards – 2
2017 Panini Flawless Football Checklist
Base
Autographs
Memorabilia
Inserts
Updates
Team Sets
Get a full breakdown of all 2017 football card releases including checklists, price guide access and more.
Comments? Questions? Contact Ryan Cracknell on Twitter @tradercracks or by email.