2017 Panini Contenders Football Checklist, Team Set Lists
2017 Panini Contenders Football is bringing back the Rookie Ticket Autographs. But given the fact the distinct Rookie Cards have been the focal point of the brand for a generation of collectors and stars, this shouldn't come as a surprise.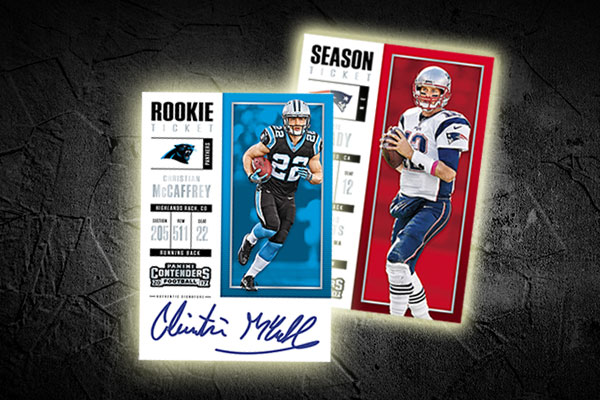 Every 2017 Panini Contenders Football hobby box has at least five autographs (some have six), one or two of which are on-card RPS signatures.
Plenty of other familiar elements return as well, including a broad mix of parallels and inserts.
2017 Panini Contenders Football Main Set
The full 2017 Panini Contenders set is a challenge. Totalling 400 cards, it's breaks down into several parts. The first 100 cards make up the shell set. Featuring veterans, it falls under the Season Ticket banner.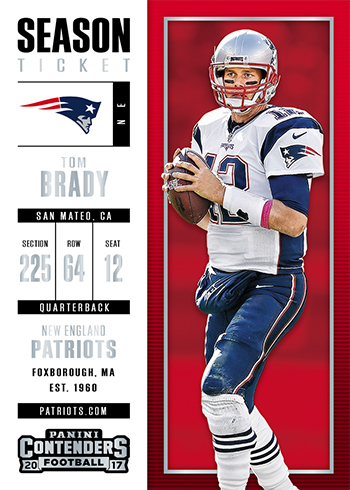 The majority of the remaining 300 cards are the trademark Rookie Ticket Autographs and variations. Forty RPS players have hard-signed cards. The remaining rookies use stickers for the signatures.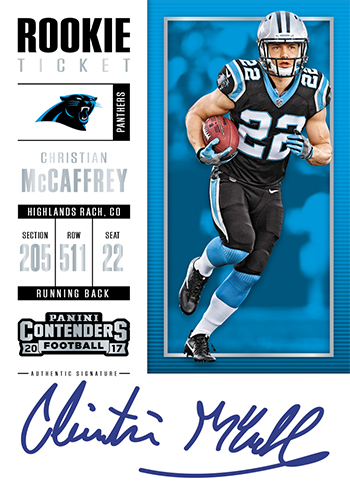 Like 2016 Panini Contenders Football, variations are folded into the main checklist. Once again, these have a horizontal layout and are easy to spot.
Rounding out the 2017 Panini Contenders Football checklist is a single Coaches Ticket Autograph and, new for 2017, 20 Veteran Ticket Autographs. These have on-card signatures.
As usual, several of the Rookie and Veteran Ticket Autographs have short prints that are available in smaller numbers.
Parallels come in several levels and build off the brand's overarching ticket theme. These include Playoff Ticket, Championship Ticket, Cracked Ice Ticket, Printing Plates and Super Bowl Ticket.
2017 Panini Contenders Football is part of the card maker's 1st Off the Line program, which offers collectors early and direct access to a limited number of boxes. 1st Off the Line boxes here are the only place to find Red Zone parallels. Each has one base Red Zone card and one Rookie Ticket Autograph Red Zone parallel.
Autographs and Memorabilia
2017 Panini Contenders has additional ink through a number of signed inserts. Among them is the aptly named NFL Ink, which highlight some of the top players in the league. In addition to the main cards, Gold and Platinum versions exist.
Legendary Contenders (/49 or less) are dedicated to all-time greats.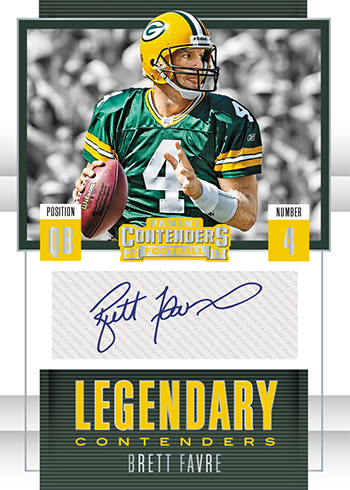 Round Numbers Dual Autographs (/99 or less) come with signatures from two players taken in the same round of the draft.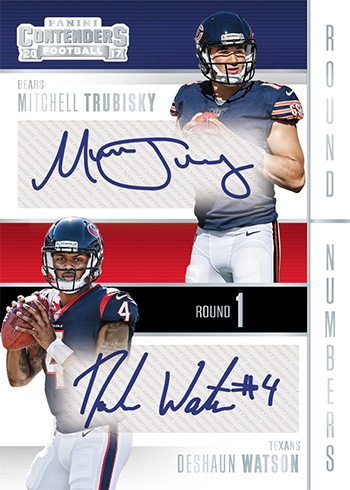 A couple of autographs inserts in 2017 Panini Contenders Football take on a crystal ball of sorts trying to predict potential award winners. MVP Contenders Autographs (/49 or less) has 20 elite veterans while Rookie of the Year Contenders Autographs take a similar approach with first-year standouts.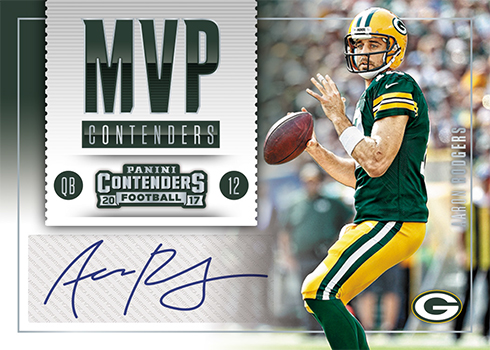 Draft Class Autographs is another place to find rookie signatures. Parallels for these include Gold (/17) and Platinum (1/1).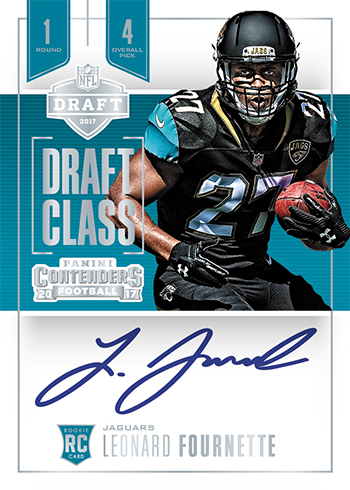 You're not going to find memorabilia cards in 2017 Panini Contenders hobby boxes. However, retail blasters have exclusive Rookie Ticket Swatches cards.
Inserts
With 18 in every 24-pack box, the majority of hobby packs has a regular insert of some kind. Eight-pack blasters have five while retail boxes have 20.
MVP, ROY and Legendary Contenders all return with unsigned versions as does Round Numbers. Team Quads is another insert theme.
Hobby boxes are the only place to find Silver Tickets (/2) and one-of-one Gold Tickets.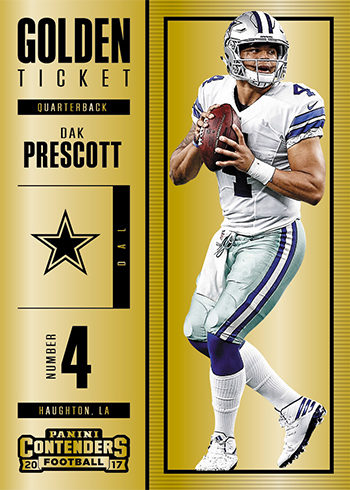 2017 Panini Contenders Football at a glance:
Packs per box: 24 (hobby and retail), 5 (blaster)
Cards per pack: 5 (hobby), 8 (retail and blaster)
Boxes per case: 12 (hobby), 20 (retail and blaster)
Set size: 400 cards
Release date: December 20, 2017
What to expect in a hobby box:
• Autographs – 5 or 6
• Inserts – 18
• Parallels – 1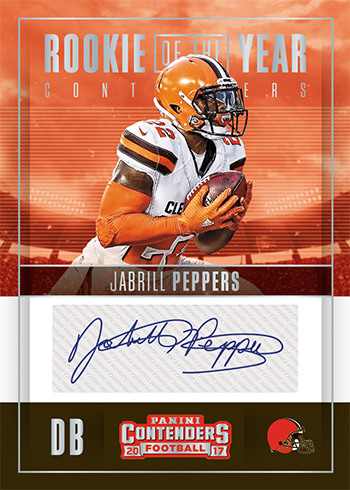 2017 Panini Contenders Football Checklist
Base
Rookie Ticket Parallels
Autographs
Memorabilia
Inserts
Team Sets
Comments? Questions? Contact Ryan Cracknell on Twitter @tradercracks or by email.