2017 Panini Certified Football Checklist and Team Set Lists
The Certified brand has been around for a while. It has found its foothold in the hobby. So 2017 Panini Certified Football doesn't change things up too drastically.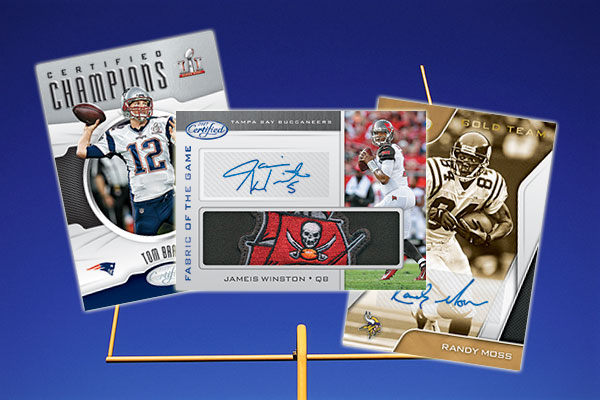 It brings with it a similar configuration as last year, which translates into four total autographs or memorabilia cards per box.
One of those is a Freshman Fabrics Signatures card. In addition to the autograph, this long-running rookie subset includes an over-sized swatch from a player-worn jersey. Parallels come in a variety of colors, the rarest of which include premium pieces from things like logos and tags.
Taking a similar approach mixing autographs and swatches, only with veterans, is Fabric of the Game Signatures. Base versions are numbered no higher than 99 while Prime parallels are limited to 49 or less.
Other autographed inserts in 2017 Panini Certified Football include new Rookie Roll Call, which spotlight 2017 rookies, and Gold Team Signatures. Numbered to 10 or less, Gold Team Signatures are scarce with players being limited to all-time greats.
According to the card maker, every 12-box inner case of 2017 Panini Certified Football should have an autograph numbered to 10 or less and a Freshman Fabrics Signatures card from one of the year's top rookies.
Every pack of 2017 Panini Certified Football should have some sort of insert or parallel as they average ten per box. These include an unsigned version of Gold Team, Certified Champions and Certified Accomplishments.
The 2017 Panini Certified Football main set is comprised of 240 total cards. Veterans make up the first 100 cards for the shell set. Following those are Immortals, a subset dedicated to retired legends, and Rookies. These are numbered to 999. The forty Freshman Fabrics Signatures round out the final 40 spots.
2017 Panini Certified Football at a glance:
Packs per box: 10
Cards per pack: 5
Boxes per case: 24 (2 12-box inner cases)
Set size: 240 cards
Release date: July 26, 2017
What to expect in a hobby box:
• Freshman Fabric Signatures – 1
• Additional Autographs or Memorabilia Cards – 3 Total
• Inserts and Parallels – 10
2017 Panini Certified Football Checklist
Base
Autographs
Memorabilia
Inserts
Team Sets
Comments? Questions? Contact Ryan Cracknell on Twitter @tradercracks.
Please note that the following images are mock-ups and not final cards. They're meant to give an idea of what to expect as far as design goes. Rookies will feature 2017 draft picks.