Finding $30,000 Treasure in 2017 National Treasures Baseball in the Form of a Ruth-Gehrig Cut Signature
A common hope in card collecting is the dream to "pay for my kids' college" with this. History has shown that this isn't usually the case except in the savviest of instances.
For Steve Tingwall, a find in a box of 2017 Panini National Treasures Baseball won't pay for all of his daughter's education but it's going to take care of a large chunk.
Tingwall, owner of Columbia Hobby in Vancouver, Washington, was opening some 2017 Panini National Treasures Baseball when he came across the find of a lifetime — a one-of-one Legends Dual Cuts Booklet with Babe Ruth and Lou Gehrig.

"A week prior to pulling this card, my wife and I were discussing our concern with what it was going to cost to send my daughter to college because she's a junior in high school right now," Tingwall said. "Knowing the school she wants to go to and knowing weren't going to have a way to pay for it. Now all of a sudden we pull this."
It's a card he expects he'll end up selling for about $30,000, enough to cover at least a year's tuition at his daughter's first choice of schools.
Tingwall opened the box during a live stream breaking session at his shop. Initially, the plan was to sell it as a break but when nobody bought in for that one, it became a personal break.
"I just kind of wanted to throw it out there and get some hype going for some baseball," he said. "I open the box and flip it upside down. Out of the corner of my eye, I saw Babe Ruth on there. So I'm thinking, 'Cool, we got a Babe Ruth jersey.'"
It was more than a single-swatch jersey card.
"Then I reached the book and I'm thinking, 'Okay, we have a dual jersey.'"
It was bigger than a dual jersey.
"As soon as I saw cut autos, I lost it. It was pretty crazy," Tingwall recalled.
It shouldn't come as a surprise that potential buyers quickly came forward.
"I've got a few offers already," Tingwall said. "Actually, I had a major league baseball player contact me a couple of days ago and put in an offer for it, too."
Given the strength of some of these offers, Tingwall expects he'll end up parting with the card through a private sale rather than eBay or an auction house.
"When I originally pulled it, I was guessing between $15,000 and $25,000. Right now, it looks like my high offer is $30,000. I'm guessing we finish somewhere in that neighborhood," Tingwall said. "This was a gift and it's really cool. I can do something for my daughter now. It's a good number. I'm not going to let this thing draw out and have a bidding war between people or something like that."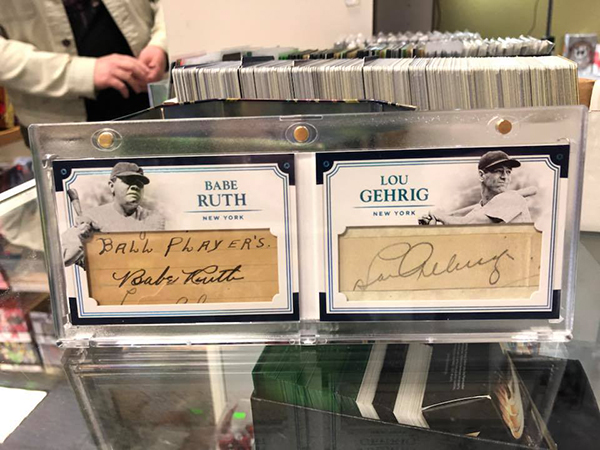 Tingwall expects that he'll complete a sale soon. But beforehand, he made sure to throw a party for his customers and local card community where they could enjoy an evening of breaking together, pizza and seeing the one-of-a-kind card for themselves.
Images courtesy of Columbia Hobby.
Comments? Questions? Contact Ryan Cracknell on Twitter @tradercracks or by email.