2017 National Sports Collectors Convention Autograph Signers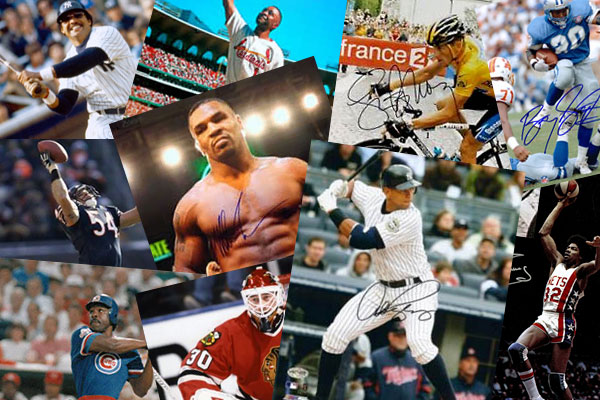 By Ryan Cracknell | Hobby Editor
Every year, the National features dozens of autograph signers spanning several sports. The 2017 National Sports Collectors Convention autograph list is no different.
Organized by TRISTAR, baseball legends make up the largest chunk of signers. Hall of Famers on tap to attend the show in Chicago include Cal Ripken, Frank Robinson, Reggie Jackson, Johnny Bench and Andre Dawson. The recently retired Alex Rodriguez is making his National debut.
Football also has several players scheduled to appear. Among them are Barry Sanders, Jim Kelly, Bob Griese, Jerome Bettis and Deion Sanders.
The 2017 National autograph pavilion will have more hockey players than recent years including Ray Bourque, Brett Hull and Guy Lafleur. Bobby Hull, Chris Chelios, Ed Belfour and Jeremy Roenick are among the one-time Chicago Blackhawks.
Highlights from other sports include Julius Erving, Lenny Wilkens, and WrestleMania 33 headliner Bill Goldberg. There's also cyclist Lance Armstrong making his first National appearance.
Those buying VIP packages for the 2017 National Sports Collectors Convention get tickets for select signers. Vern Law, Ron LeFlore and Scott Williamson are among the initial list of VIP signers for baseball. On the football side are three Heisman winners: Gary Beban (1967), Charles White (1979) and George Rogers (1980). VIPs also get to attend a Wednesday party where Jose Canseco, Nate Archibald and Ron Duguay will be in attendance signing for free.
Autograph tickets can be purchased through the Tristar website.
2017 National Sports Collectors Convention Autograph Signers
Please note that the list is subject to change. We've included the days in which signers are scheduled to appear. Specific times are available on the Tristar website.
* notes signers who are part of the VIP program.
Baseball
Roberto Alomar – Thursday
Johnny Bench – Thursday
Tom Browning – Wednesday
Jose Canseco – Wednesday VIP Party
Steve Carlton – Thursday
Ron Davis* – Saturday
Andre Dawson – Thursday
Dennis Eckersley – Thursday
Bob Gibson – Thursday
Mark Grace – Wednesday
Todd Hundley* – Wednesday
Reggie Jackson – Saturday
Vern Law* – Friday
Ron LeFlore* – Sunday
Mike Montgomery – Friday
Eddie Murray – Thursday
Miguel Montero – Friday
Fritz Peterson* – Thursday
Jim Rice – Thursday
Cal Ripken Jr. – Thursday
Frank Robinson – Friday
Alex Rodriguez – Saturday
Jimmy Rollins – Saturday
Pete Rose – Sunday
David Ross – Friday
Deion Sanders – Friday
Ozzie Smith – Thursday
Pedro Strop – Friday
Steve Trachsel* – Friday
Steve Trout* – Saturday
Scott Williamson* – Thursday
Dave Winfield – Thursday
Kerry Wood – Sunday
Robin Yount – Thursday
Pat Zachary* – Sunday
---
Basketball
Nate Archibald – Wennesday VIP Party
Rick Barry – Friday
Bill Cartwright* – Thursday
Julius Erving – Saturday
Bobby Knight – Friday
Kevin McHale – Sunday
Earl Monroe – Saturday
Oscar Robertson – Saturday
Dennis Rodman – Friday
Lenny Wilkens – Saturday
---
Football
Ken Anderson – Wednesday
Gary Beban* – Friday
Jerome Bettis – Saturday
Dick Butkus – Sunday
John Cappelletti – Friday
Terrell Davis – Friday
Ron Dayne* – Saturday
Eric Dickerson – Friday
Marshall Faulk – Saturday
Joe Greene – Friday
Bob Griese – Sunday
Jack Ham – Sunday
Mike Hartenstine* – Sunday
Lou Holtz – Saturday
Paul Hornung – Friday
Michael Irvin – Friday
Charlie Joiner* – Wednesday
Jim Kelly – Sunday
Willie Lanier – Friday
Steve Largent – Saturday
Marv Levy – Sunday
James Lofton – Sunday
Jim McMahon – Saturday
Bill Polian – Friday
Andre Reed – Sunday
Dave Robinson – Wednesday
Johnny Rodgers* – Thursday
George Rogers* – Friday
Mike Rozier* – Sunday
Warren Sapp – Saturday
Barry Sanders – Saturday
Deion Sanders – Friday
Will Shields – Friday
Mike Singletary – Saturday
Bruce Smith – Sunday
Troy Smith – Saturday
Jason Taylor – Sunday
Lawrence Taylor – Saturday
Joe Theismann – Saturday
Thurman Thomas – Sunday
Brian Urlacher – Saturday
Hines Ward – Sunday
Andre Ware – Friday
Paul Warfield – Friday
Charles White* – Saturday
Ron Wolf – Friday
Jack Youngblood – Thursday
---
Hockey
Ed Belfour – Friday
Ray Bourque – Friday
Chris Chelios – Friday
Ron Duguay – Wednesday VIP Party
Phil Esposito – Friday
Bobby Hull – Saturday
Brett Hull – Saturday
Guy Lafleur – Saturday
Cam Neely – Friday
Jeremy Roenick – Saturday
---
Other Sports
Lance Armstrong, Cycling – Saturday
Roberto Duran, Boxing – Friday
Bill Goldberg, Wrestling – Saturday
Tommy Hearns, Boxing – Friday
---
Entertainment
Henry Winkler – Saturday
Comments? Questions? Contact Ryan Cracknell on Twitter @tradercracks.