Kickstarter Spotlight: 2017 Monsterwax Urban Legends/Shock Stories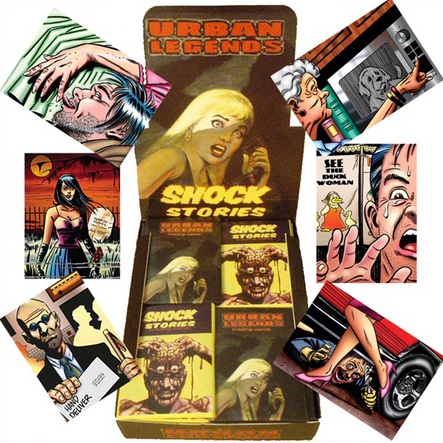 By Ryan Cracknell | Hobby Editor
2017 Monsterwax Urban Legends/Shock Stories is launching as a two-sets-in-one Kickstarter release. Not only that, but the story-focus brings a separate book with it.
Urban Legends and Shock Stories are two separate sets. Each has 50 cards and art work done by veteran artist Terry Beatty.
The inspiration for the set is
113 Tales of Terror
, original stories done in the vein of old-school scary yarns.
Released through Kickstarter, there are several different levels for collectors to get the indie release. For a $32 pledge, you get both sets plus two wrappers and a pair of checklists. Kickstarter is the only way the factory sets will be made available.
Unopened boxes start at $50. Limited to 1,000, these come with 24 packs. Each pack has a 3-D parallel with boxes also coming with a sketch card and 3-D glasses. A master set with all of the various cards in the Urban Legends/Shock Stories release plus a pair of sketch cards is available for $110.
Other pledge levels are available for those wanting the accompanying book as well.
2017 Monsterwax Urban Legends/Shock Stories Trading Cards Kickerstarter Project Overview
• Campaign End Date: June 6, 2017
• Funding Goal: $600 — the funding goal has been reached so the project will be funded and move forward.
• Target Reward Deliver: July-August, 2017 (varies by reward)
If you have a trading card Kickstarter project that's launched or in the works, we'd love to hear about it. Feel free to contact us.