2017 Leaf Best of Football Checklist and Details
2017 Leaf Best of Football is the latest installment in the long-running line that focuses largely on high-end cards from the past. However, it's not entirely a repackaged product. There are some new, exclusive cards as well.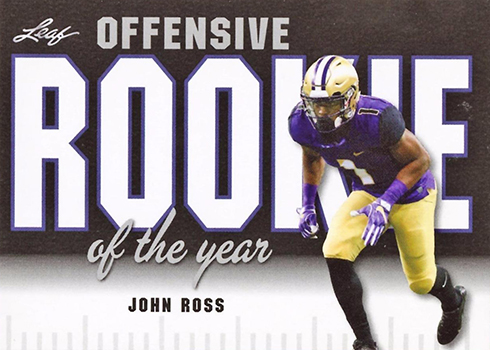 Each box of 2017 Leaf Best of Football comes with just two cards. The first is a repurchased card. Available possibilities cover a wide range of eras and card types. Some are graded rookies, others are autographs and premium memorabilia cards. According to Leaf, redemptions will be randomly inserted for other items. In the past these redemptions have included unopened boxes.
The second card in each box is a Rookie of the Year Predictor. Each has an offensive player slated to debut in 2017. If they win Rookie of the Year honors, the card can be redeemed for a piece of autographed memorabilia. In case a surprise player steps up or someone not on the checklist, there's a Wild Card Predictor as well.
2017 Leaf Best of Football at a glance:
Packs per box: 1
Cards per pack: 2
Boxes per case: 3
Release date: Summer, 2017
What to expect in a hobby box:
• Repurchased Cards – 1
• Rookie of the Year Predictor – 1
2017 Leaf Best of Football Offensive ROY Checklist
18 cards.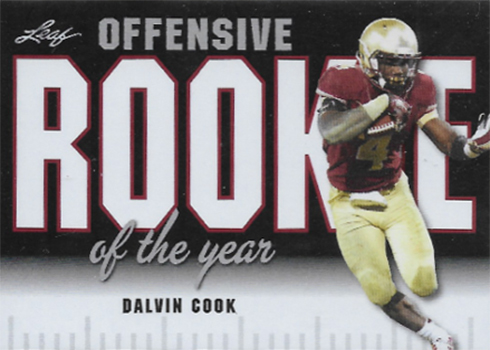 OROY-CD1 Corey Davis
OROY-CK1 Cooper Kupp
OROY-CMC Christian McCaffrey
OROY-CS1 Curtis Samuel
OROY-DC1 Dalvin Cook
OROY-DF1 D'Onta Foreman
OROY-DK1 DeShone Kizer
OROY-DN1 David Njoku
OROY-DW1 Deshaun Watson
OROY-FC1 Field Card
OROY-JM1 Joe Mixon
OROY-JR1 John Ross
OROY-JW1 Jamaal Williams
OROY-KH1 Kareem Hunt
OROY-MT1 Mitch Trubisky
OROY-MW1 Mike Williams
OROY-PM1 Pat Mahomes II
OROY-SP1 Samaje Perine
Comments? Questions? Contact Ryan Cracknell on Twitter @tradercracks.