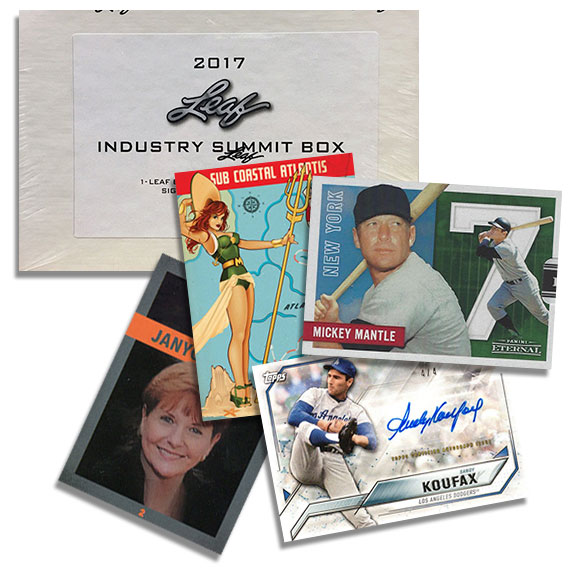 By Ryan Cracknell | Hobby Editor
The Industry Summit is primarily a place for hobby shop owners and others in the industry to meet, hang out and talk business. It's also a place to find some cards that aren't available anywhere else. The 2017 Industry Summit was no different, offering some scarce exclusives from several companies.
While many attendees opt to hold on to their Industry Summit cards or use them as shop giveaways, some of them also end up on eBay and the secondary market. Prices can vary greatly depending on the type of card and subject matter.
Here's a look at what was given away at the 2017 Industry Summit.
2017 Industry Summit Exclusive Cards
Cryptozoic
Although they were previewing several recent and upcoming products at their Industry Summit booth, Cryptozoic gave out three promos at the event. All are for sets that aren't released: DC Bombshells, Outlander Season 2 and The Flash Season 2.
Proving that the Outlander fandom has many passionate collectors, the P3 promo has been a particularly strong seller thus far, consistently selling for $50 or more on eBay.
Leaf
Leaf handed out White Boxes to attendees following Brian Gray's address. Inside each box was an Executive Collection cut signature. The subjects varied. Athletes, celebrities, politicians and public figures were all included.
Before handing out the White Boxes, Gray said that the vast majority of the cut signature cards were one-of-ones.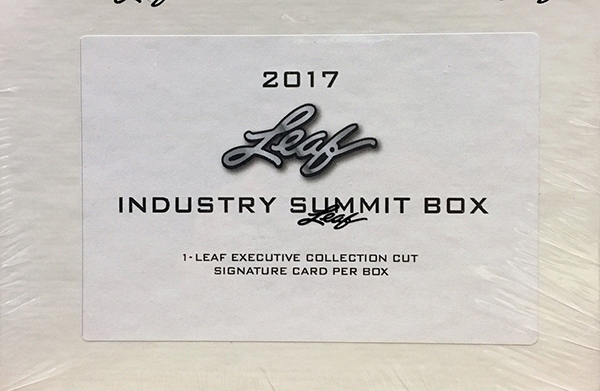 Panini
The Industry Summit coincided with Panini's announcement that they had signed a deal with Mickey Mantle's estate to produce cards of the Yankees legend. That tied into the card they gave to attendees at their NCAA basketball finals viewing party.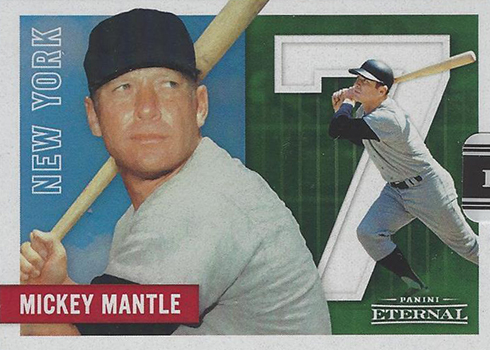 The Panini Eternal Mickey Mantle card has 200 copies.
Topps
Topps was giving out special autograph cards made specifically for the 2017 Industry Summit in their meeting room. Dealers and attendees who paid the company a visit got to reach into a box and randomly pull out a card.
Signers were all prominent baseball names from both the past and the present. Kris Bryant, Mike Trout and Bryce Harper are among the current superstars. Hall of Famers and prospects ranging from Sandy Koufax to Mickey Moniak are also part of the 2017 Topps Industry Summit autograph offerings.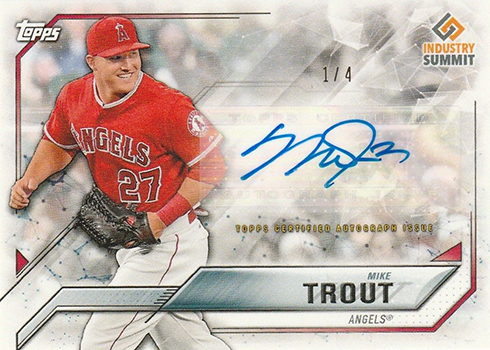 Not all cards were single-signed. A few came with two and three signatures.
Base versions appear to be numbered to 4 with one-of-one Gold parallels also included.
2017 Industry Summit Card Set
For the second consecutive year, cards have been made for the Industry Summit's Partners in Progress recipients and other honorees. These are people involved in the industry and pioneers for the hobby.
The 2017 Industry Summit card set added six cards plus a checklist. The checklist also highlights the 2016 set. The majority of cards were handed out at booths during the show. A memorial card for late Beckett President came with attendees' welcome packages. These cards were also slabbed by Beckett Grading, something that Harwell helped launch.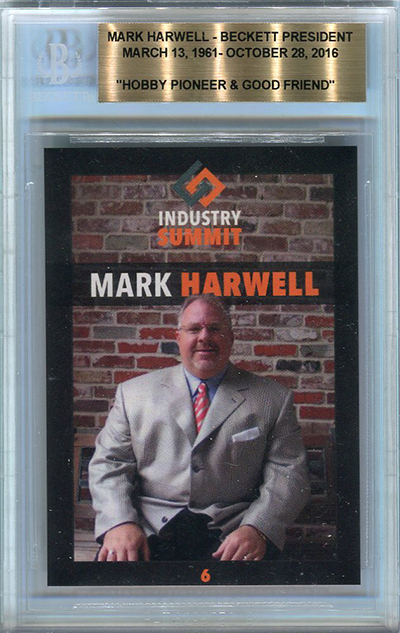 A small number of Harwell variation cards were also produced with him wearing a white shirt.
2017 Industry Summit Card Set Checklist
1 Roger Barry – President, Magazine Exchange
2 Janyce Mabra – TRISTAR, Director of Hobby Sales
3 David Hall – PSA Founder, Collectors Universe President and Director
4 Evan Kaplan – MLBPA, Director, Licensing and Business Development
5 Lynne La Placa – Ultra PRO, General Manager
6 Mark Harwell – Beckett Publications, President
Checklist Card
This year's Industry Summit card set was presented in partnership with the 2017 National Sports Collectors Convention.
Comments? Questions? Contact Ryan Cracknell on Twitter @tradercracks.