2017 Fright-Rags Re-Animator Trading Cards Checklist and Details
After making a name for themselves primarily through horror T-shirts and clothing, Fright-Rags has gotten into the card business. 2017 Fright-Rags Re-Animator trading cards delve into the 1985 horror film in a way that mixes both the classic and modern versions of the hobby.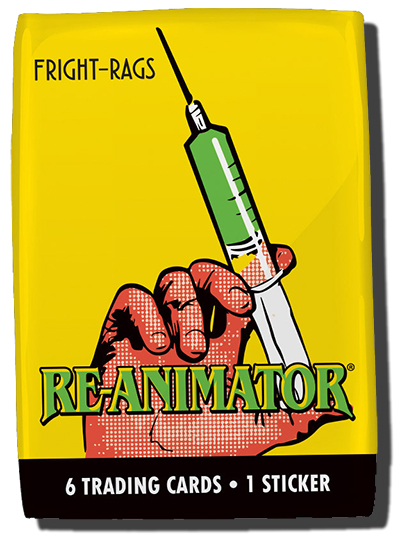 On the one hand, it tackles an old film and cards are designed to look like those Topps and other companies might release for movies at the time. On the other, the configuration includes things like inserts, sketch cards and autographs.
Available exclusively through the Fright-Rags website, the Re-Animator trading cards are a niche product with an extremely limited production run. It's available in three forms. It starts with single packs that cost $5 each. A total of 600 packs were made to be sold on their own.
Next are 200 'factory' boxes that are basically like a premium-style factory set. These run $67 and are limited to 200. They have a full base set, a couple of inserts and either a sketch card or autograph.
Finally, there are 75 total wax boxes of 24 packs. For $107, these packs yield a pair of base sets, all 23 of the inserts, an autograph and a sketch card.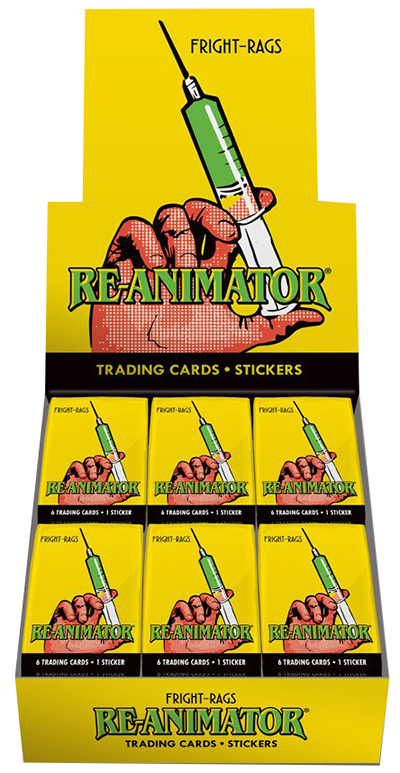 Base Set
The 2017 Fright-Rags Re-Animator base set has 60 cards. Recapping the film, which is based on the H.P. Lovecraft story, they're done on retro-style card stock reminiscent of what you'd find back in the day or in a modern Topps Heritage release.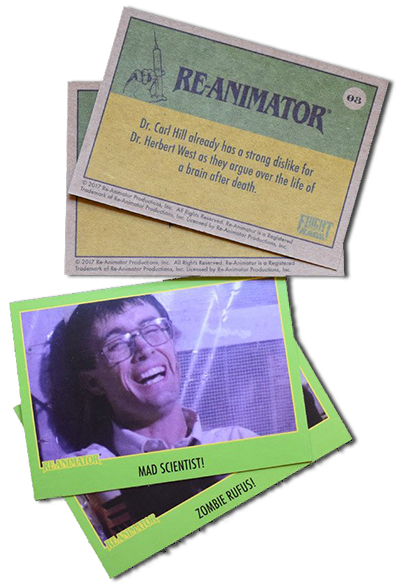 Given the subject matter, it shouldn't be surprising that many of the images are graphic. And those who are interested in this set likely wouldn't want it any other way.
Six cards have parallel versions as well.
Inserts
Inserts come in a couple of forms for the 2017 Fright-Rags Re-Animator trading cards.
Barbara Crampton, who played Meg Halsey, has an autograph card.
Sketch cards feature original artwork drawn directly on the cards. A total of nine artsts contributed to the release including Brent Engstrom who has worked extensively with Garbage Pail Kids, among other trading card products.
The 2017 Fright-Rags Re-Animator checklist is rounded out by eight Character Cards and nine Behind the Scenes inserts.
2017 Fright-Rags Re-Animator trading cards at a glance:
Packs per box: 24
Cards per pack: 7
Set size: 60 cards
Release date: April, 2017
2017 Fright-Rags Re-Animator Checklist
Jump directly to:
Base Set
60 cards.
01 Switzerland Studies
02 Creating a Monster!
03 I Gave Him Life!
04 Sounds Familiar
05 Lovecraft School
06 Body Bags
07 West, Herbert West
08 Infringing on Territory!
09 Lovebirds
10 Creepy Roommate
11 Do We Have a Deal?
12 Troublemaker
13 Taking Great Pleasure in Failing You!
14 May I Take Your Coat?
15 Gruesome Discovery!
16 What's This?!
17 Zombie Rufus!
18 Mad Scientist!
19 Proving Rufus Was Dead
20 Expelled!
21 Sneaking Into the Morgue!
22 Finding a Fresh One!
23 I'll Be Back!
24 Back in the Game!
25 Carnage!
26 Nice Shot!
27 Welcome Back!
28 Death Grip!
29 Total Shock!
30 You Will Be Mine!
31 Fragile Insanity
32 Science!
33 Digging Into Dr. Hill!
34 That's Using Your Head!
35 Making a Monster!
36 Bassstaaard!
37 Labotomized!
38 Aaahhhhh!
39 Looks Familiar
40 Rubber Dummy
41 Grabbing Meg!
42 How Could You?!
43 Headless Hill
44 Zombie Man
45 Gesundheit!
46 I See You!
47 Colors of the Rainbow
48 Making a Zombie
49 Captured West
50 Daddy!
51 Losing My Head!
52 Overdose!
53 That Takes Guts!
54 Intestines!
55 Dean Dies Again!
56 My Notes!
57 Mr. West Gets Pulled Into His Work!
58 Trying to Escape!
59 He Got Her!
60 Coming Full Circle
Parallels
7 cards.
07 West, Herbert West
15 Gruesome Discovery!
25 Carnage!
36 Bassstaaard!
42 How Could You?!
54 Intestines!
Inserts
Autographs
1 card.
Barbara Crampton as Meg Halsey
Behind the Scenes
9 cards.
Beating Exhaustion
Corpse Action!
Corpse Army!
Fangoria Make-Up Contest
Meathead!
Private Parts!
The Smoking Gun!
Team Re-Animator!
Triple the Fun!
Character Cards
8 cards.
Dan Cain
Dean Halsey
Dr. Carl Hill
Dr. Herbert West
H.P. Lovecraft
Mace
Meg Halsey
Rufus
Sketch Cards
9 artists.
Casey Booth
Dan Curto
Brent Engstrom
Christopher Franchi
Nathan Milliner
Scarecrowoven
Matthew Skiff
Matt Tobin
Jeff Zornow
Comments? Questions? Contact Ryan Cracknell on Twitter @tradercracks.