2017 Donruss Racing Variations Gallery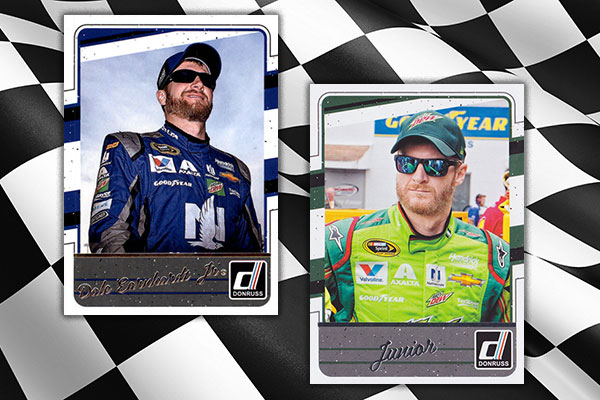 By Ryan Cracknell | Hobby Editor
"Million Dollar Bill," "Iceman," "The Biff" — like any sport, NASCAR has its share of fun and memorable nicknames. Several of them take center stage with the 2017 Donruss Racing variations.
The variations offer an alternate take on 18 of the base cards in 2017 Donruss Racing. The big giveaway on the front is that the racer's first and last names have been replaced by their nickname.
But the variations go beyond that. Like a lot of variations in other sets and sports, they also have different photos on the front. Even the backs are different — although that might be tough to tell if you don't have the two copies side-by-side.
2017 Donruss Racing variations also have a full run of parallels, just like the base cards:
• Gold Foil – /499
• Blue Foil – /299
• Green Foil – /199
• Gold Press Proof – /99
• Press Proof – /49
• Artist Proof – /25
• Printing Plate Black – 1/1
• Printing Plate Cyan – 1/1
• Printing Plate Magenta – 1/1
• Printing Plate Yellow – 1/1
Parallels have the same print runs as base versions, so they're not short prints.
The regular versions don't appear to be all that tough to pull either. This is in line with other recent Donruss Baseball variations.
Want to know exactly what you should be looking for with the 2017 Donruss Racing variations? We've got a detailed (and growing) gallery below.
2017 Donruss Racing Variations Gallery and Checklist
We're still working on completing this gallery with both the 2017 Donruss Racing variations and their base counterparts. In a couple of instances, variation parallels are included. Everything is the same on these except the foil and/or border.
37 Dale Earnhardt Jr.
38 Matt Kenseth
40 Kevin Harvick
44 Kyle Busch
45 Carl Edwards
47 Jimmie Johnson
48 Kurt Busch
50 Jamie McMurray
57 Greg Biffle
60 Ryan Newman
182 Terry Labonte
183 Richard Petty
184 Bill Elliott
185 Ned Jarrett
186 Jeff Burton
187 Harry Gant
188 Tony Stewart
189 Daniel Suarez
Comments? Questions? Contact Ryan Cracknell on Twitter @tradercracks.