2017 Donruss Optic Baseball White Sparkle Parallels Arrive on Panini Rewards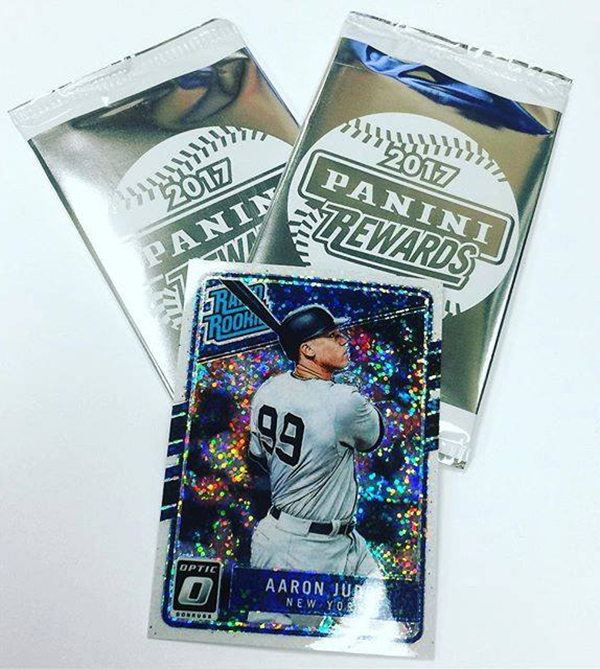 If you're working on a 2017 Donruss Optic Baseball rainbow — or chasing Aaron Judge and Cody Bellinger — some of the toughest parallels in the product have landed. But the White Sparkle cards aren't in regular hobby or retail packs.
They're exclusive to the Panini Rewards program.
Unlike most cards available for redemption through Panini's points program, you don't get to choose the specific 2017 Donruss Optic Baseball White Sparkle parallels that you want. Instead, it's a special pack.
It costs 1,000 Panini Points for a foil pack of three cards.
There is a limit of three White Sparkle packs per household.
With a checklist of 175 cards, it would take nearly 60 packs with perfect collation to build the set. To be exact, it's 1:58.333 White Sparkle packs for any particular card.
While Panini hasn't released print runs for the cards, they're not normally easy to find. White Sparkle cards from past Prizm and Donruss Optic releases over the past couple of years have proven to command strong asking prices. Even commons. It's not just the production numbers but the different distribution as well that contribute to this.
In addition to the main redemption website, Panini also has their Panini Rewards app that acts as a dedicated mobile face for the program.
Comments? Questions? Contact Ryan Cracknell on Twitter @tradercracks.