2018 Cryptozoic Supergirl Season 1 Checklist and Details
2018 Cryptozoic Supergirl Season 1 trading cards mark the first time the hero has starred in her own set the 1984 film. And no offense to Helen Slater and the rest of the movie's cast but that movie was terrible in many ways. And those cards weren't much better.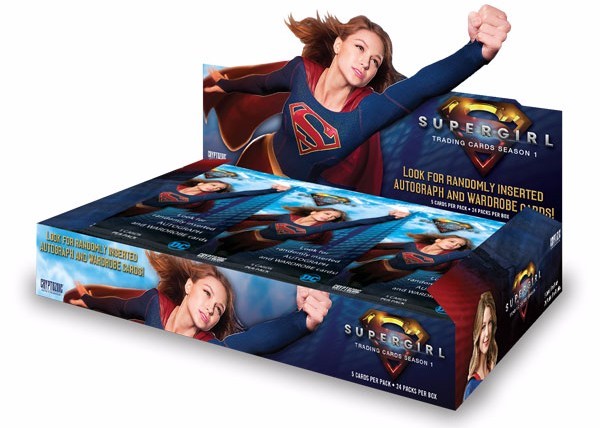 This new set of Supergirl trading cards is all about the television show starring Melissa Benoist as Kara Danvers (and her cape-wearing alter ego).
Following much the same template as many of Cryptozoic's other sets, 2018 Supergirl Season 1 trading cards come with both an autograph and a memorabilia card in each box.
The 72-card base set breaks down the first 20 episodes of the show. Major storylines and key moments are all included. Parallels include both foil and Printing Plate versions.
2018 Cryptozoic Supergirl Season 1 has three confirmed regular insert sets intended to compliment the main set checklist. Character Bios spotlight the main cast. Locations look at where episodes take place. Finally, there's Cat Quotes, recapping some of the memorable lines spewed out by Cat Grant, who is played by Calista Flockhart of Ally McBeal fame.
The 2018 Cryptozoic Supergirl Season 1 autograph checklist includes Chyler Leigh (Alex Danvers), David Harewood (Hank Henshaw) and Jeremy Jordan (Winn Schott).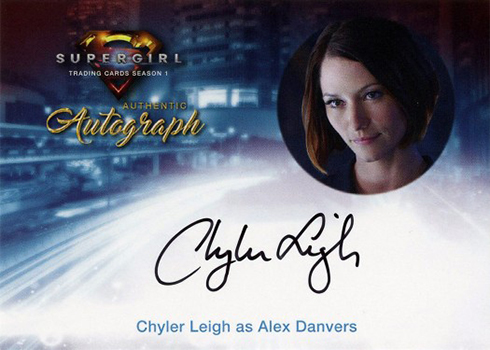 Oh, yeah — Melissa Benoist, the show's lead star also has autographs in 2018 Cryptozoic Supergirl. She was a very late addition to the checklist. Benoist has three different autograph cards for different spins on her characters: Kara Danvers, Supergirl and Red Kryptonite Supergirl.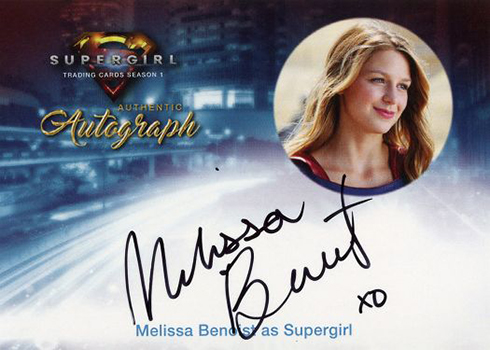 Among the other notables are a couple of "Super" veterans, Dean Cain and Helen Slater. Cain starred as Superman in The Adventures of Lois and Clark. Slater played Supergirl in the ill-fated 1984 film.
The one-per-box Wardrobe cards come with both single- and dual-swatches from show-worn costumes. A handful of Prop Cards are also available.
2018 Cryptozoic Supergirl Season 1 has a custom binder. Available separately, it comes with an exclusive Wardrobe card that's not available in packs.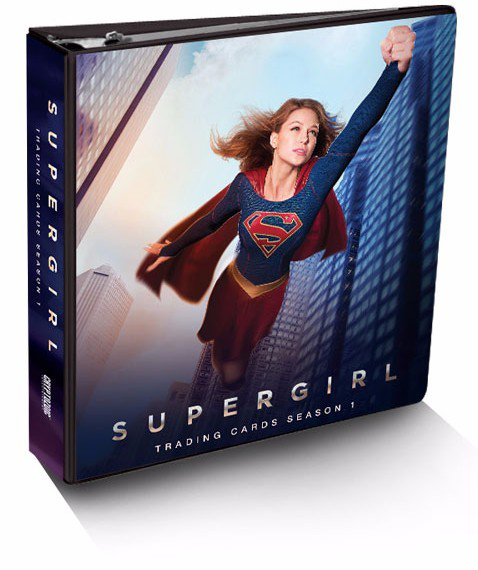 2018 Cryptozoic Supergirl Season 1 trading cards at a glance:
Packs per box: 24
Cards per pack: 5
Boxes per case: 12
Set size: 72 cards
Release date: September 14, 2018
What to expect in a hobby box:
• Autographs – 1
• Memorabilia Cards – 1
2018 Cryptozoic Supergirl Season 1 Checklist
Base
Autographs
Memorabilia
Inserts