2017 Bowman's Best Baseball Checklist Combines Prospects, Veterans, Autographs and More
2017 Bowman's Best Baseball has many of the hallmarks of other Bowman-branded releases. But in many ways, it's different. Autographs and prospects are both key components, but there are also bolder designs than Bowman and Bowman Chrome as well as many levels of inserts.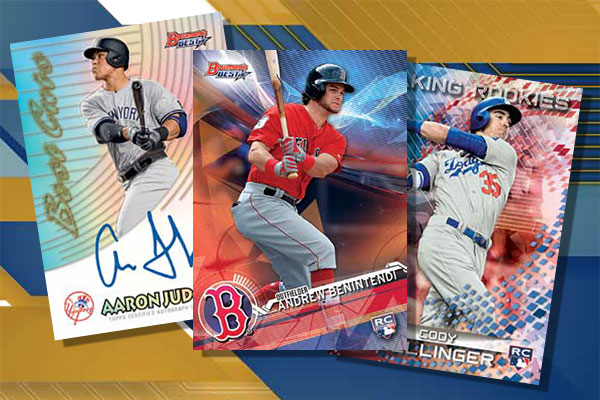 There's also the configuration of 2017 Bowman's Best Baseball. Each hobby box is packaged as a pair of six-pack mini boxes. Every master box comes with a total of four autographs. Every pack has a Refractor, making for at least a dozen parallels per master box.
Base Set and Prospects
The 2017 Bowman's Best base set centers on top players, both veterans and rookies. They have chromium-style stock as Bowman Chrome but the design has a lot more going on, bringing in colorful abstract backgrounds.
Upcoming players and 2017 draft picks make up the similar but separate Top Prospects portion of the product.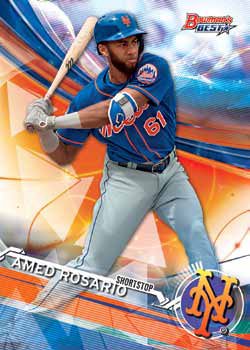 Parallels for both come in the form of Refractors. There's a regular Refractor in every pack and one Atomic Refractor per master box. Other Refractor colors include Purple, Blue, Green, Gold, Orange (/25) and Red (/5). Of course, Superfractors (1/1) are also randomly inserted.
2017 Bowman's Best Baseball Autographs
The main signed content in 2017 Bowman's Best Baseball comes in the Best of 2017 Autographs. The checklist has ink from current players, draft picks and other prospects.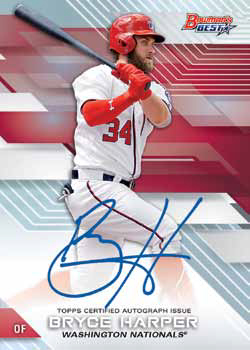 Parallels come with a mix of Refractors including Green, Gold, Atomic (/25), Red (/10) and Superfractors (1/1).
Monochrome Autographs are new to 2017 Bowman's Best Baseball. Included as a case hit, signers are limited to 2017 first round picks, MLB stars and top-level prospects. These come hard-signed and have numbered Gold Refractor, Atomic Refractor (/25) and Superfractor (1/1) parallels.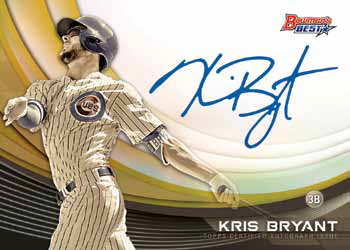 Dual Autographs comes with a pair of on-card signatures. The only parallels here are Atomic Refractors (/10) and Superfractors (1/1).
Inserts
The other inserts in 2017 Bowman's Best Baseball are a mix of new themes, retro designs and one returning set that's synonymous with the early days of the brand.
Among the new inserts are Raking Rookies, which highlight top-hitting first-year standouts from 2017. Baseball America's 2017 Dean's List grades prospects and young veterans.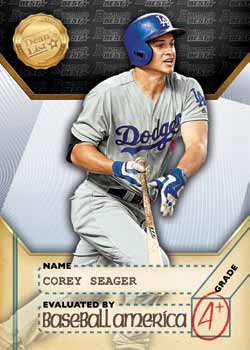 1997 Best Cuts goes back to the original run of Bowman's Best. The 20-year-old design has been adapted to create cards of current players and prospects.
Mirror Image has long been connected with Bowman's Best. It's back for another year, matching up two players.
All four of these insert sets have Atomic Refractor, Gold Refractor and Superfractor parallels. Two 1997 Best Cuts and Dean's List Atomic Refractors are in each eight-box case. Mirror Image Atomic Refractors are a case hit.
Select cards in Dean's List, Raking Rookies and 1997 Best Cuts also have rare autographed versions.
2017 Bowman's Best Baseball at a glance:
Packs per box: 12
Cards per pack: 5
Boxes per case: 8
Set size: 65 cards
Release date: December 20, 2017
What to expect in a hobby box:
• Autographs – 4
• Atomic Refractors – 1
• Refractors – 12
2017 Bowman's Best Baseball Checklist
Base
Autographs
Inserts
Team Sets
Comments? Questions? Contact Ryan Cracknell on Twitter @tradercracks or by email.