The 2017 Bowman Mega Box Is Back at Target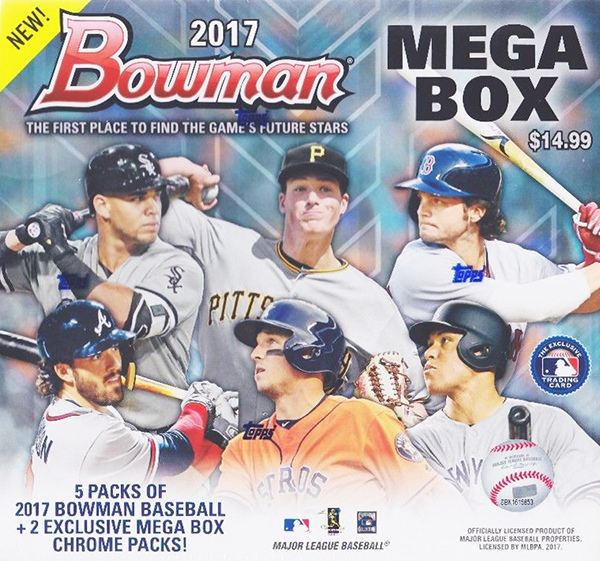 A few months back, 2017 Bowman Mega Boxes started showing up on Target shelves. Not only did they have packs of 2017 Bowman Baseball but some Chrome exclusives as well. Among those exclusives was the first North American card of Japanese super-prospect, Shohei Otani.
And then they were gone.
But now the 2017 Bowman Mega Boxes are back, again at Target.
This isn't a surprise, though. During the Topps Meet and Greet at the 2017 National Sports Collectors Convention in July, Topps' David Leiner said they would be back on store shelves.
When the 2017 Bowman Mega Boxes first arrived, they were an immediate hit. The combination of an already-popular product being packaged with the Otani and other exclusives made it a hot seller at the $14.99 shelf price. Many collectors don't have access to a Target as well, which forces them to the secondary market. Add to that the fact that the Otani card has big international appeal and you've got a recipe for a run on a product.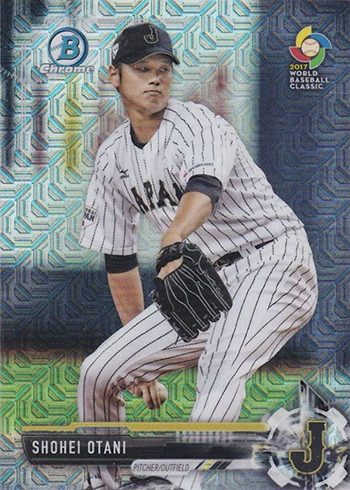 But even for a hot product, the Mega Boxes seemed to disappear quickly and without restocks.
Speculation started swirling that they were recalled, perhaps because of the Otani card. Although he was slated to play in the World Baseball Classic, an injury prevented it from happening.
This wasn't the case.
Not a Recall
"The product was not recalled," said Leiner during the question and answer session. "We work with a distributor, Excell Marketing, who is a fantastic partner of ours. That product went out to market. We recognized early on that there were a couple of issues and asked that our distributor press pause on putting any additional product on the shelf for the time being until we sorted through some issues."
Although Leiner didn't go into the specifics of the issues surrounding the 2017 Bowman Mega Boxes, he did say that no changes were made to the checklist.
"No players will be subtracted. Nothing will be different about the product," he said.
Secondary Market Prices Adjusting
Now that the Target-exclusive boxes are back, prices are settling back down.
In mid-July, sealed boxes were selling for close to $150 on eBay. That's $135 more than what they were originally. That's for five regular 2017 Bowman Baseball retail packs and a pair of the Bowman Chrome Mega Box packs.
That price has dropped to closer to $35 to $40 for the time being, which is still a lot more than what they cost at Target.
2017 Bowman Mega Box Shohei Otani cards have also slipped with the fresh supply. Once pushing $200 raw, some have recently sold for less than half that. That could change once again, though, as it sounds like Otani could be on his way to MLB in the near future.
Comments? Questions? Contact Ryan Cracknell on Twitter @tradercracks.