2017-18 Upper Deck Overtime Hockey Checklist and Team Set Lists
For the past few seasons, collectors that have purchased hobby boxes of hockey products produced by Upper Deck have been able to obtain special Overtime bonus packs from retailers affiliated with Universal Distribution in Canada and GTS Distribution in the United States.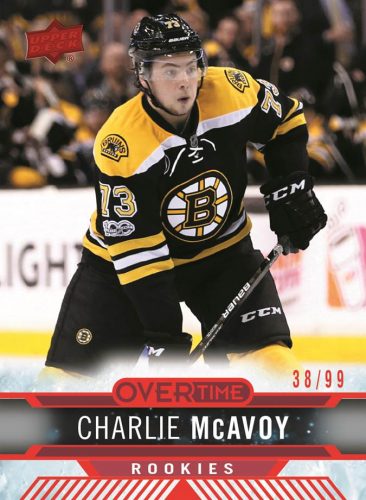 Back again for another year, packs of 2017-18 Upper Deck Overtime Hockey will be given out over the course of the upcoming season with the purchase of as of yet undetermined releases from the company. The packs come in three waves, yielding a mix of cards that includes parallels, inserts, and autographs.
 Base Set and Parallels
Over the course of three waves, collectors will be able to put together a 180-card 2017-18 Upper Deck Overtime Hockey base set. Evenly split into 60 cards per wave, the first series has 40 veterans along with five Legends (1:7) and 15 carryover Rookies (1:3). The second and third wave sets are each have 40 vets as well along with 20 rookies.
There are two unsigned parallel editions for each card. For the first wave, Blue parallels come for regular cards (1:3), Legends (1:40), and Rookies (1:14). All subsets have a Red parallel which is numbered to 99 copies.
As for the subsequent waves, the formula is essentially the same with Blue (1:3 regular, 1:10 rookies) with Red parallels being limited to 99 once again.
Inserts
Each wave of 2017-18 Upper Deck Overtime Hockey has a distinct insert set which sees cards seeded once per pack.
The fun starts with Ice Cold in the initial wave, and these cards are followed by Next In Line and A-1. Each collection has Red (/25) and Blue (/10) parallels (Ice Cold are Red Rainbow and Blue Rainbow) along with a Gold Autograph parallel which is going to be a very tough pull since they are limited to just three copies per card.
Autographs
Speaking of autographs, 2017-18 Upper Deck Overtime Hockey has a Gold Autograph parallel for many of the base cards. Established players are inserted at a 1:90 rate in all three waves, but the first series does have Legends Gold Autographs (1:540). There are also plenty of Rookie Gold Autographs (1:66 for Wave One, 1:60 for Waves Two and Three).
2017-18 Upper Deck Overtime Hockey Checklist
Base
Autographs
Inserts
Team Sets
Stephen Laroche can be found on Twitter @Stephen_Laroche.