2017-18 Upper Deck Ice Hockey Checklist Keeps Its Cool
Acetate cards can be found in a lot of products these days. More often than not, they're as inserts. But sometimes they're the focal point of  a brand. 2017-18 Upper Deck Ice Hockey carries on the trend for the sport, bringing back many of its most popular elements.
Like Ice Premieres Rookie Cards.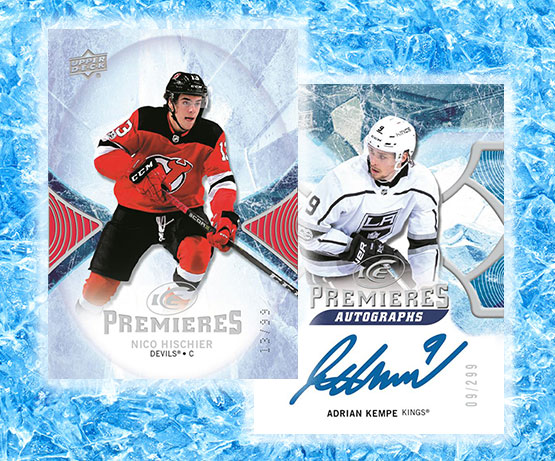 Virtually everything in 2017-18 Upper Deck Ice Hockey is done with the plastic card stock. The exception comes from the second batch of 2017-18 Upper Deck Exquisite Hockey cards.
Base Set
The main 2017-18 Upper Deck Ice Hockey set is divided into two section. The first part consists of 100 base cards. All are done on acetate.
Rookies are part of the Ice Premieres subset, which fall two per hobby box. All are serial numbered, although the take a tiered approach. As with past years, there's quite a range between the most common cards and the rarest.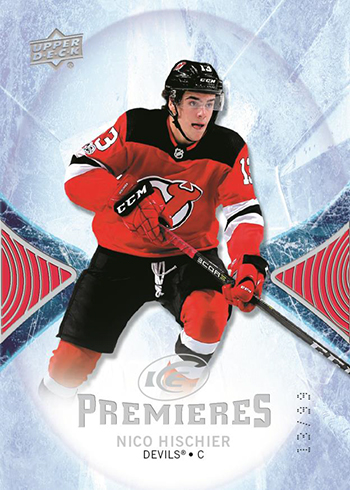 With just 99 numbered copies, Ice Premieres Level 1 are the toughest to pull. This also makes them some of the scarcest Rookie Cards of the season in the sport. Remaining Ice Premieres tiers include Level 2 (/249), Level 3 (/499), Level 4 (/999), and Level 5 (/1299).
The Ice Premieres theme continues with Retro (/149) and one-of-one Black versions. There's also Ice Premieres Autographs (Level 1 – /99, Level 2 – /199, Level 3 – /299), Jerseys (1:15 packs) and Autograph Patch (/10) cards.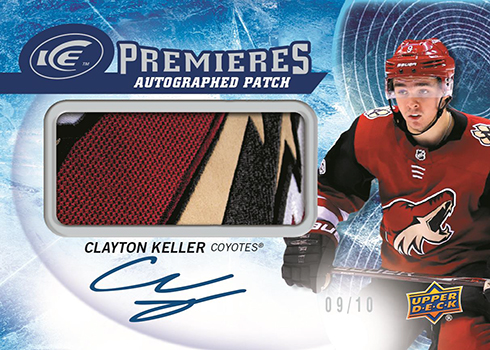 Autographs and Memorabilia Cards
Autographs, memorabilia and Exquisite cards combine to land two per 2017-18 Upper Deck Ice Hockey hobby box. Spread out across the entire production run, rookies, veterans and retired stars are among the set's signers.
Superb Script comes with a couple of forms and tiers, all numbered between 15 and 49 copies.
Rinkside Signings (1:60 packs) and Glacial Graphs (1:65) both return with distinct acetate designs. Glacial Graphs also have Black parallels (1:240).
Frozen Foursomes (1:151), which have swatches from four different players, and Rookie Relics Jumbos (/199) are among the memorabilia inserts in 2017-18 Upper Deck Ice Hockey. Both come with rare Red parallels. There's also Signature Swatches, which add an autograph as well.
Inserts
Sub Zero, which mix acetate and foil, return as the main regular insert in 2017-18 Upper Deck Ice Hockey. These have veteran (1:7), rookie (1:11) and legend (1:60) lineups, all with Gold parallels. For vets and retired players, Sub Zero Gold cards have eight copies. Rookies are more plentiful, but still rare, with 24 copies.
Rookies also have variations (1:120) that come with Black (1:700), Gold (/8) and Red (1/1) parallels.
Exquisite Collection
Super-premium Exquisite Collection cards get their second installment of the year in 2017-18 Upper Deck Ice Hockey. The first came in 2017-18 Upper Deck Black Diamond. The idea is that all of the portions put together form a full 2017-18 Exquisite Collection Hockey release.
Things start here with Exquisite Vets (/149) and Exquisite Legends (/99). Platinum Rookies come numbered to either 275 or 175.
As for autographs, there's Rookie Signatures (/199 or /99), Exquisite Signatures and Exquisite Material Signatures.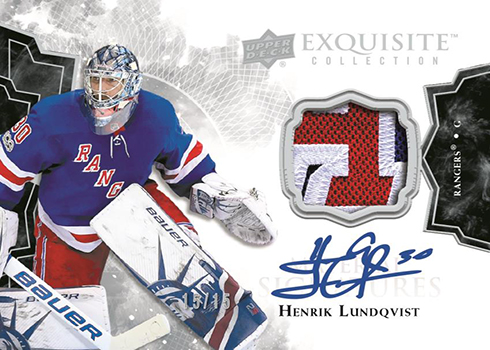 Looking back to Upper Deck's past are Rookie Tribute and Rookie Auto Patch Tribute cards based on 2007-08 and 2008-09 Exquisite designs. All of these have 25 copies each.
2017-18 Upper Deck Ice Hockey at a glance:
Cards per pack: 4
Packs per box: 6
Boxes per case: 20 (two 10-box inner cases)
Set size: 100 base cards plus TBA Rookie Premieres
Release date: April 25, 2018
What to expect in a hobby box:
• Autographs, Memorabilia or Exquisite Cards – 2 Total
• Sub Zero Inserts – 1
• Additional Inserts – 1
• Ice Premieres Rookie Cards – 2
2017-18 Upper Deck Ice Hockey Checklist
Base
Autographs
Memorabilia
Inserts
Exquisite
Updates
Team Sets
Comments? Questions? Contact Ryan Cracknell on Twitter @tradercracks or by email.